20 World Book Day Kids Costumes: Which One Is Perfect For YOUR Child?
World Book Day is fast approaching! Are you ready with great world book day kids costumes for the upcoming dress up day at school or daycare? We've got you covered!
To Buy or To DIY?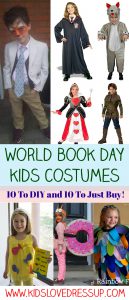 Not all Moms and Dads are into "DIYing" a dress up costume for a dress up day at school.  Maybe that's just not their thing, maybe they have no time for it, or maybe the costume "went wrong" last year… or maybe they just prefer the simplicity of ordering a fun costume and being done with the challenge. Their child will look great, be easily identifiable, and they'll have something fun for the dress up box for months to come.
But some parents really get a kick out of creating a unique and home made costume for their kids for dress up days at school. World Book Day kids costumes can be pretty much any book character from any genre – the options are limitless! You can DIY something super simple, or go really crafty and extravagant!
(As an Amazon Associate I may earn a small commission from qualifying purchases made through links on this page, at no additional cost to you. Full Disclosure.)
Let's take a look in this post at 10 awesome DIY ideas, and 10 super-popular world book day kids costumes you can quickly order online for a great price.
---
10 World Book Day Kids Costumes You Can DIY!
All of the following are costumes that amazing Moms (or other caregivers) have made for their children. Each idea can be clicked to see the instructions for how to make that costume.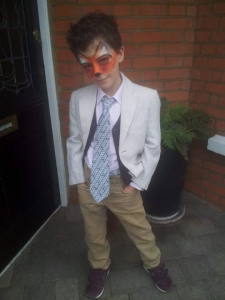 Fantastic Mr. Fox
Idea at theguardian.com
You may just have most of these items already in your boy's closet! A jacket, vest, tie and dress shirt… all you need is some face paint!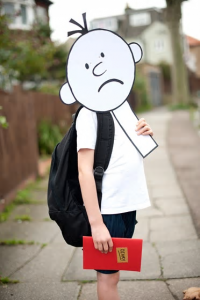 Diary Of A Wimpy Kid
Idea from theguardian.com
Want a super simple DIY? Other than making a big cutout head in the expression of your choice and pasting it on a big ruler, have your child wear white and black and you're all set. Instructions for the face in the link!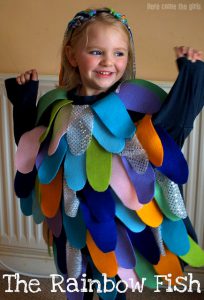 The Rainbow Fish
Idea from Here Come The Girls Blog
Isn't this simply beautiful? All you need is some felt, an old t-shirt, a headband, some streamers, and some simple sewing skills. Super cute!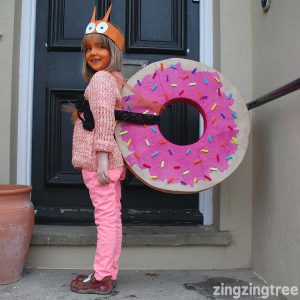 Norman The Slug With The Silly Shell
Costume idea by ZingZingTree
Norman wants to have a silly shell, and be different… if you make your child a sweet costumes like this one, your child will be unique AND cause a lot of laughs!  Book by Sue Hendra – it's really cute!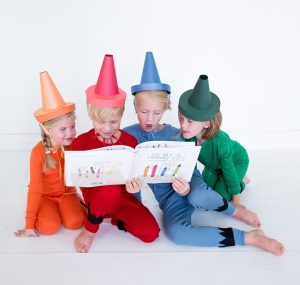 The Day The Crayons Quit 
Costume tutorial here at The House That Lars Built
This is such a fun book! It tells the story of crayons – in their voices – who have simply had enough! Simple DIY costume, with lots of potential for groups or families.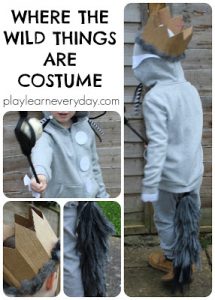 Max,
from
Where The Wild Things Are.
DIY costume tutorial here at PlayLearnEveryDay.com
How adorable would your son look dressed up as Max, from a childhood favorite "Where the Wild Things Are", by Maurice Sendak? You'd likely have most of the supplies to create this amazing costume already at your house!
One Fish, Two Fish, Red Fish, Blue Fish!
A DIY Dr. Seuss costume idea by Homemade For Elle
This one is a seriously easy costume, especially if your child has a yellow shirt, outfit, or sundress… all you need is construction paper, googly eyes, and some safety pins and your child's Book Costume will be a snap! Great for Dr. Seuss Days, World Book Day dress ups, and more!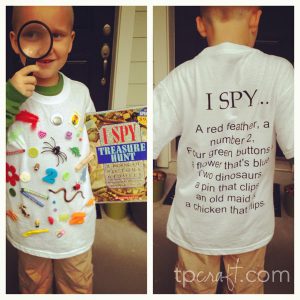 I Spy! Costume. Idea by Tpcraft.com
Have an "I Spy" book fan in the house? Why not make a fun and super interesting shirt with all sorts of "I Spy" items glued onto the front, and the "list" written on the back? Fun to make together!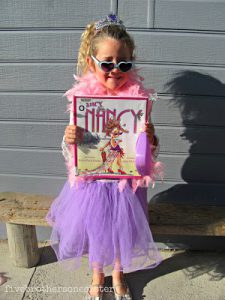 Fancy Nancy – costume idea at FiveBrothersOneSister
Fancy Nancy books by Jane O'Connor and Robin Preiss Glasser are a huge hit with pretty much any and every little girl who loves Princesses and pretty things and going "over the top" pretty with scarves, tutus, jewelry, tiaras and more girly stuff. Just raid your dress up box for as much glittery, fancy stuff, and deck her out… and she'll be all set for the Book Day Parade!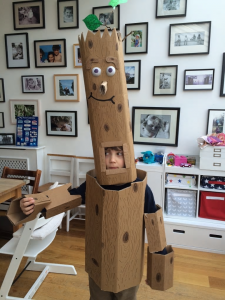 Stick Man
– idea at
theguardian.com
The story Stick Man, by Julia Donaldson, is a really cute rhyming story of a stick man who gets separated from his family, and the journey he goes on to get back to them. (Spoiler alert: Santa returns him, in the nick of time.) This costume can be made from several old boxes, ping pong balls, some black markers, and lots of tape. Fun, isn't it?
---
10 World Book Day Kids Costumes You Can Just Buy!
Snow White Costume!
Long before Disney made the Snow White feature film, Snow White was a well-loved story. A book… yes, a book that your little Princess lover can use for inspiration for her World Book Character dress up day.
This is the "ReliBeauty" Snow White outfit – available on Amazon.com (click the pic for details). Your little princess will get a LOT of use out of this gown LONG past World Book Day!
Click the picture to see details!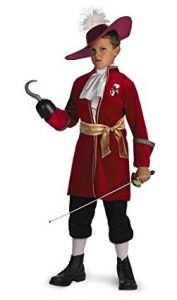 Captain Hook Costume
Captain James Hook- the villain in Peter Pan, by J.M. Barrie
If you and/or your boy aren't into "Super Hero" dress up, but you want a cook outfit for his World Book Day costume, why not go with the coolest villain of them all, Captain James Hook? Tick-Tock, Tick-Tock… time's running out to grab this one!
There are multiple sizes, and accessories sold separately.
Click the picture to see details!
The Wonderful Wizard of Oz
The classic story by L. Frank Baum has captured the imagination of children from many generations. This wizard costume will be fun to wear and to dress up in for lots of different occasions, including World Book Day! There are several other Wizard of Oz costumes of friends or siblings if you want to make a set!
Click the picture to see details!
The Indian In The Cupboard
The Indian In The Cupboard is a book (with sequels) by Lynne Reid Banks about a boy named Omri who discovers that he has a magical cupboard that can bring toys to life. Omri unawares brings Little Bear to life, and the two have many interesting experiences together. Many schools have this book on the curriculum in middle grades, so it may be a book your son has read or will be reading soon!
This Native American Indian costume can be used for many different dress up days!
Click the picture to see details!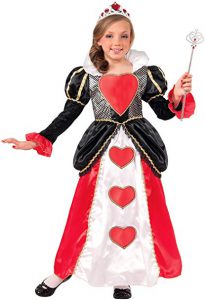 The Queen of Hearts from Alice In Wonderland
Alice in Wonderland costumes for kids that could be used for World Book Day!  The Queen of Hearts is such an interesting character – and the costumes for her will be MUCH enjoyed by girls who love dressing up as princesses!
This Queen of Hearts costume has a near-perfect customer rating (4.8/5 stars).
Click the picture to see details!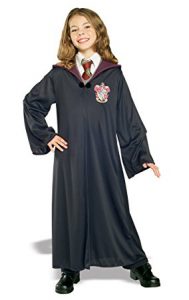 Hermione – Harry Potter
There are very few kids who haven't been enthralled by Harry, Hermione, Ron, and all of the other fabulous characters in J.K. Rowling's Harry Potter series. With this awesome robe and costume, your child can join in the Hogwarts imaginative fun on World Book Day!
Click the picture to see details!
 The Big Bad Wolf!
Is your child a fan of "The Three Little Pigs" or "Little Red Riding Hood"? If so, why not order this comfy/plush wolf costume? It's the perfect choice, because it's both "scary" enough to be cool, but "cute" enough to not be gruesome or "really" scary for other kids.
AND this purchase is one of those costumes that will be perfect to toss in the dress up box – animal costumes like these get a lot of play time!
Click the picture to see details!
Robin Hood
The story of Robin Hood and his merry men, of Maid Marian and the Sheriff of Nottingham, of Little John and Prince John, is one that holds appeal for many, many children (and adults). The fight between the rich and the poor, for justice, and the story of Robin Hood is rightly so a classic.
This costume comes with the tunic and hood, and the boot covers – no pants or accessories included. Still, it's great value for your money, and your child can reuse these for Medieval dress up day at school, for Robin Hood plays, and more!
Click the picture to see details!
Where's Waldo?
Everyone's favorite Search & Find book character can be a favorite Book Week or World Book Day dress up idea! It's a simple costume – include the iconic red and white striped shirt & hat, as well as his circular glasses (just the frames, no lenses). Your child will have fun attempting to blend into his surroundings as well as possible dressed up like Waldo!
(By the way, if you have a daughter who likes these books, this costuem will totally also work for Wendy, Waldo's girlfriend. Just wear a jean skirt and you'll be all set!)
Click the picture to see details.
Lady Bug Girl!
The Lady Bug Girl Books are fantastic books for little girls who love to play outside and use their HUGE imaginations! If your daughter loves these books, this set of accessories (worn over a white shirt and black leggings) would be a fantastic idea!
I'm guessing you'll be seeing your own little Lady Bug Girl a LOT more than just on World Book Day!
Click the picture to see details!
---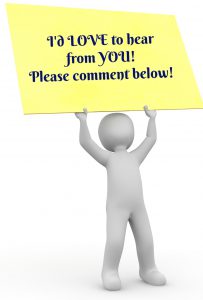 It's my hope that you found the answer to your costume conundrum up above in the 10 DIY or 10 BUY World Book Day Kids Costumes shared! Which one did you pick? Or what other awesome idea have you come up with?
Please share below… I'd love to hear from you what costume you ended up going with for your kiddos!
If you want a few other ideas, check out  the following:
Cheers!
Marlaine