The Melissa and Doug Train Engineer Role Play Costume Set Review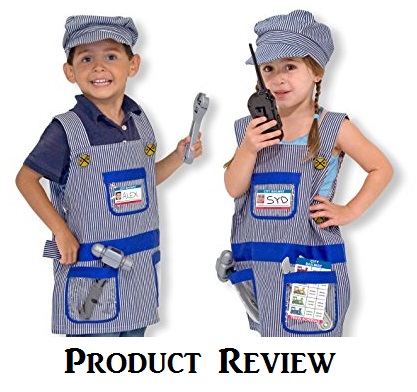 The Melissa and Doug brand of dress up role play costumes is well known to be simply, 
good stuff
.  But is the Melissa and Doug Train Engineer Role Play Costume Set as good as the other super popular costume sets?  Let's take a good look at this one.
(As an Amazon Associate I may earn a small commission from qualifying purchases made through links on this page, at no additional cost to you. Full Disclosure.)
The Melissa and Doug Train Engineer Role Play Costume Set
Like the other role play costume sets in the Melissa and Doug line, the Train Engineer set comes with one main costume part (in this case, an apron/overalls), one hat, and several accessories that help with role play fun.
The Melissa & Doug Train Engineer Role Play Costume Set includes the following:
Engineer's Smock/Overalls
Engineer's Hat
Train schedule card – plastic
Hammer for fixing train tracks when there's a need
Wrench for tightening loose bolts on the tracks
Walkie-talkie that has fun sound effects
A name tag for pencil personalization.
General Product Specs
Price: runs usually between $20-$30
Best Deal: Found at Amazon.com — usually with free shipping on top of the lowest price too! 🙂
Customer Rating: 

4.7/5 stars

by over 130 reviewers.  (Side note: I review a lot of costumes on this site – 4.7 is almost the highest you'll find for any costume. This one had zero 1 or 2 star reviews… and only 7 "3-stars", which were due to batteries dying in the walkie-talkie, or sizing concerns.)
Manufacturer's Age Recommendation: 3-6 years

Product Information and FAQs
I actually read through EVERY comment, Q&A, and review on this item over at Amazon for you and summarized the findings below. I hope you find it helpful!
The Overalls
Is the costume well made? YES! The costume is thick – it's good quality material (NOT thin polyester), with strong stitching. Reviews say it will stand up to lots of playing and multiple washes. The buttons are sewn on tightly, and the pockets are made of a thick clear plastic that won't rip easily.
Are the overalls machine-washable?  YES!
Is there a tool belt? No. The big pockets and belt give the look of a tool belt – your child can put all of the accessories into those pockets, and more!
Will the overalls fit my child? The straps and belt are adjustable so they will fit most children!
Will my child be able to put it on by himself, or will I need to help him? No zippers, snaps, or the like… just Velcro on the sides! He/she should easily be able to put it on by him/herself!
The Hat
The back of the hat has elastic in it, so it can fit most children's heads comfortably.
The Walkie-Talkie
Requires one 9-volt battery (not included)
Makes "train noises" and lights up.
The Accessories
The hammer and wrench are plastic, but decent for lots of "train fixing" and "track building".
The name tag and train schedule are plastic coated and dry erasable.
---
My own evaluation: 
I'm giving this a full 5 stars!  The Melissa and Doug Train Engineer Role Play Costume Set is a solid buy.
Like all of the Melissa and Doug role play sets, this one is great quality, comes with fun accessories, looks sharp, and basically, your child can get a LOT of play time out of it before it starts to look ratty.
You should seriously consider adding this one to the dress up collection IF:
you have a boy or girl who is really into trains (playing with, watching, etc.)
you have a child who loves role playing "when I grow up"
you are a pre-school or early years teacher who wants something fun for a dramatic play center
you have a "Thomas the Tank Engine" lover in your house
your child loves the "Polar Express" book/movie
your child needs a costume for Career Day at school
you want to encourage active and creative play

Anything you'd like to add to this review? What do YOU think, if you own this one already? I'd love to hear from you… please comment below!
Cheers,
Marlaine
---
Check out some of my other reviews!