What Are The Best Toys for 2 Year Old Boys? Here Are Our 12 Favorite Choices!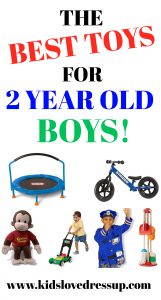 2 year old boys are AWESOME! Yes, very busy, very challenging, but very FUN. They love to explore, to run, to jump, to chase, and to build. They play hard, and they love hard.  If you're here wanting to know what are the best toys for 2 year old boys, you'll find here a collection of 12 toys 2 year old boys will love!
The toys on this list are all toys that are meant to keep your boy busy and happy! Many of them are items that my own 2 year old boy has and loves – I'm pretty certain that YOUR 2 year old boy will enjoy them too! Let me know what you think in the comments below!
---
(As an Amazon Associate I may earn a small commission from qualifying purchases made through links on this page, at no additional cost to you. Full Disclosure.)
Melissa & Doug Police Officer Role Play Costume Set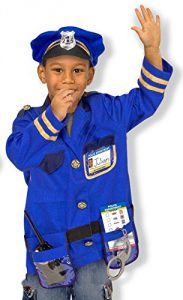 Little boys love heroes! And police men are some of their first real life heroes – 2 year old boys will love dressing up and role playing in this police costume – which comes with all of the necessary gadgets, of course.
Melissa and Doug role play costume sets are FABULOUS. If you haven't checked them out yet, you're missing out! They are incredible quality, and a great price… and if police officers aren't your boy's thing, there are many more amazing choices (see our reviews on the Fire Chief and the Doctor sets!)  They come in just one size (approx. 3T-4T, by my 2 year old son just wears his large – and loves them! Lots of years of play ahead!)
Currently rated 4.7/5 stars by almost 1600 people!


Little Tikes 3′ Trampoline
2 year old boys are ACTIVE. It's almost a given. These 3′ Little Tikes Trampolines are PERFECT for getting out some of their (endless) energy indoors on a rainy day or during the cold winters!
Mini trampolines are also great for improving your child's balance, coordination, and athleticism! The handlebar is perfect for giving them added stability and making them "braver" to practice bigger jumps!
I have yet to meet a 2 year old boy who hasn't LOVED these things.
Currently rated 4.2/5 stars by over 2000 people!


Little Tikes First Slide, Red/Blue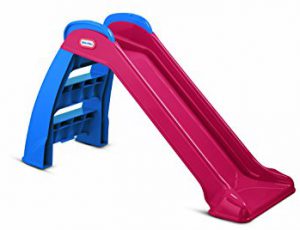 Not everyone lives in a neighbourhood where there's a great playground, or on a property that can fit a large backyard swing set. And even if you do, your 2 year old boy will probably still love these "first slides" that can fit anywhere… including indoors!  They fold up for storage really easily too!
Currently rated 4.2/5 stars by over 3,030 people!


Black & Decker Junior 14 Piece Toy Tool Belt Set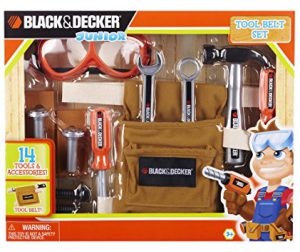 Little boys simply LOVE pretend tools. Especially ones that look "just like Daddy's" (or Grandpa's).  A set like this, which includes the kid-sized tool apron, is perfect for the boy who is into everything, wants to "fix" things, and wants to trail after his hero with his own tools.
Although it says 3+ on the box, 2 year olds are easily able to enjoy this. And honestly, they DO!  (My own 2 year old son, and ALL of the other boys in our church nursery on Sundays – tools are the most popular toys by far for the little guys!!)
Currently rated 4.4/5 stars by over 185 people!


Learning Resources Pretend & Play Doctor Set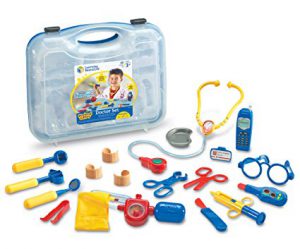 Playing doctor is a GREAT game for little kids, especially with a fun kit like this one (the current Amazon Best-seller), which comes with all of the necessary doctor supplies!
There are many benefits to having a doctor kit for your son to play with – aside from learning the parts of the body and what to do with each of the medical tools, there are also the skills of compassion, conversation, cooperation, and more that get worked on during play!
Currently rated 4.7/5 stars by almost 2,750 people!

Strider – Classic Balance Bike
If you know a little boy who wants to keep up with bigger kids, is really into playing outside, and loves bikes, a Balance Bike will be perfect for him! These pedal-less bikes are AWESOME for kids, as they get them practicing their balancing, coordination, and beginner-bicycling skills!
My 2 year old boy can't get enough of riding "his bike"! Boy… can he FLY on that thing! (But he has control too… love it!) For a parent who wants her child to love being active, these are simply fantastic!
Currently rated 4.7/5 stars by over 565 people!

Little Tikes Gas 'n Go Mower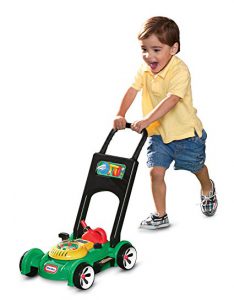 Many 2 year old boys are in love with lawn mowers, and watching Daddy or Mommy cut the grass is often a highlight of their week. This kid sized lawn mower toy is just the thing to have him "helping" and playing away happily!
We have this exact toy… and really, it is one cool, well-built kids lawn mower. It gets played with a LOT… it even gets brought with on walks to the mail box. 🙂 (I do find it VERY noisy when played with indoors on non-carpeted floors… but outside or in the carpeted playroom it's not too bad. Just a heads up though.)
Currently rated 4.6/5 stars by almost 1,400 people!

VTech Spin and Learn Color Flashlight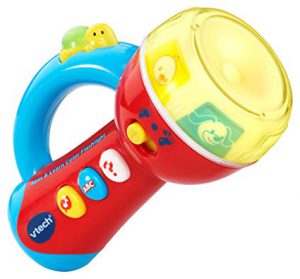 There's something irresistible about flashlights to little boys – whether they are real ones from Mommy's closet, or toy ones like this, lighting up in the dark is exciting!
This particular flashlight is made for kids who love to fidget and flick – they can turn it to various colors, learn about colors and animals, listen to nature sounds or fun songs, and generally, have fun with it! And the battery automatically turns off when it's not in use, so you don't have to worry about kids forgetting to turn off the light all the time. Love this one!
Currently rated 4.4/5 stars by almost 2,000 people!

Step2 Naturally Playful Sand Table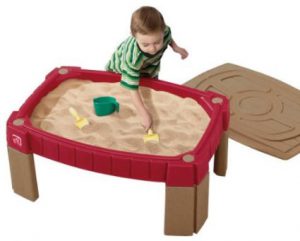 There are 2 things that little boys just LOVE to play with: Sand and Water. Sand tables like this one by Step2 keep kids much cleaner overall than full out sand-boxes, and they can be just as much fun with the right toys (buckets, cars, sifters, hidden treasures, etc.).  You can also fill it with water on a hot day and let them have a blast!
The lid on this one has a fun car track, so on days when you want the lid to stay on for one reason or another, your 2 year old can still have fun with this table!
Currently rated 4.4/5 stars by over 680 people!

Melissa & Doug Let's Play House Dust! Sweep! Mop! 6-Piece Pretend Play Set

I have NO idea why, but several 2 year old boys I know have a strange fascination with brooms, mops, dusters, and the like. Perhaps because they seem like "tools"? Or because they are interesting shapes or textures? Who knows!  But what I do know is that this pretend play set gets a lot of play time! Check out the reviews on this one (click through) and you'll see what I mean!
Currently rated 4.6/5 stars by almost 1,350 people!

Curious George Stuffed Animal
Currently rated 4.8/5 stars by almost 1,400 people!

Winnie The Pooh Deluxe Two-Sided Plush Jumpsuit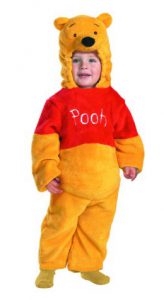 Dressing up is fun for toddlers, especially when they recognize the character they are role playing! Winnie the Pooh is as favorite around our house, so dressing up as Winnie himself in this super comfy costume would be very exciting! Whether it's for Halloween or just for everyday dress up fun, toddlers will love this plush character costume!
Currently rated 4.3/5 stars by over 65 people!

---
Did you find something "just right" here in your search for the best toys for 2 year old boys? Are these items you can see YOUR boy enjoying? What makes a toy something that 2 year old boys will love in YOUR opinion? Let me know in the comments below!  And have a great day!
Marlaine
Related Posts: