The Best PAW Patrol Costumes For Kids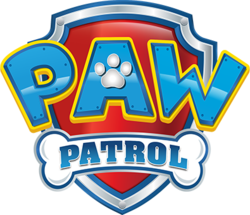 PAW Patrol.
If you haven't heard of it, you're likely not a parent to a young child. If you HAVE heard of it, then my guess is you are likely
more than just a little bit familiar
(to put it mildly) with the names of
Ryder,

Chase

,

Marshall

,

Rocky

,

Skye

,

Zuma

,

Rubble

,

Everest

, and

Tracker

.
And if you've found your way to this web page, it's likely because your kids love PAW Patrol so much that dressing up as one of the pups (or Ryder) is something they'd absolutely love. And you're looking for the best PAW Patrol Costumes for kids!
You've come to the right place! I've done some digging around through reviews and customer comments, and will be showcasing the top-reviewed and most loved PAW Patrol Costumes for Kids today. Enjoy!
What is PAW Patrol?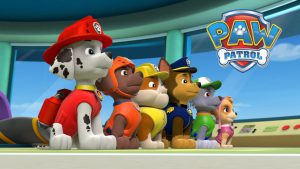 Very briefly, before we jump in to all things PAW Patrol dress up, a quick explanation for those of you who are maybe shopping for a gift for a grandchild or friend's child who apparently "really likes PAW Patrol", but you don't know much about it.
PAW Patrol is an animated kids TV show by Spin Master Entertainment. The general story line is that there is a boy named Ryder who runs a team of (talking) rescue pups called the PAW Patrol. They perform rescues for and protect the citizens (animal and human) of a shoreline community called Adventure Bay.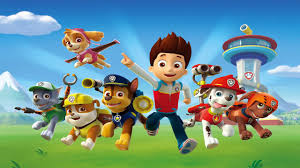 Each of the pups has their own special rescue skill, their own rescue pup-house-turn-vehicle, and their own customized "Pup Pack" with tools they can use for their rescues. (For example, Marshall is the Fire Rescue pup. His pup house turns into a firetruck, and he has water canons and in his pup pack.)
PAW Patrol is a great show for kids, in my opinion. The episode themes are appropriate for children, focusing on teamwork and good citizenship. The language is decent, and the characters are respectful and kind to each other (no mouthing off, sarcasm, etc.).  AND, the specialized skills for each pup make playing PAW Patrol an easy thing for creative kids! DRESSING UP as the pups is even better!
PAW PATROL COSTUMES FOR KIDS
(As an Amazon Associate I may earn a small commission from qualifying purchases made through links on this page, at no additional cost to you. Full Disclosure.)
Chase PAW Patrol Costume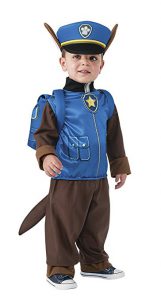 "Chase is on the case!"   Chase is the rather serious German Shepherd pup. He has skills as a Police Pup, Super Spy, Tracker, and Traffic Cop.

This costume is, at the time of writing, the top-reviewed and top-selling PAW Patrol Chase Costume at Amazon.com.  It comes in two sizes: toddler and small (which according to comments will be fine up to even 5T.)  This cute costume comes is an officially licensed PAW Patrol costume, and comes with the jumpsuit, headpiece and usable backpack.  
It's rated 4.4/5 stars by over 205 reviewers!
 Marshall PAW Patrol Costume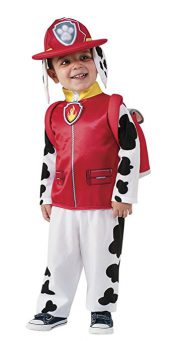 "I'm fired up!"  Marshall has skills as a fire pup and medic. He is a somewhat clumsy Dalmatian pup, and as he says "I'm good at fighting fires, but not so good at entering the elevator!" 🙂  Marshall has a big heart.

This Marshall costume is adorable, isn't it? Quickly recognisable and comfy for kids, it comes with the jumpsuit, hat/headpiece, and backpack. He'll be "ready for a ruff, ruff, rescue!" in this one! Sizes available are toddler and small – like the Marshall one above, small fits up to approx. size 5T.   It's rated 4.4/5 stars by over 225 reviewers.
Rocky PAW Patrol Costume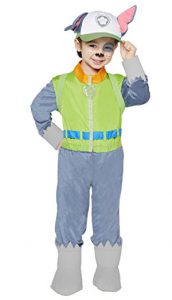 "Green means go!" Rocky is a mixed breed pup. He is resourceful and energetic, and his skills are fixing things, especially in an eco-friendly way. Rocky HATES getting wet – except in the "Pups Save A Mer-Pup" episode!

This is a polyester jumpsuit set (with the cute hat with ears, and boot-covers). It's soft, comfortable, and definitely cute! Your little eco-conscious child will love this one!
Rubble PAW Patrol Costume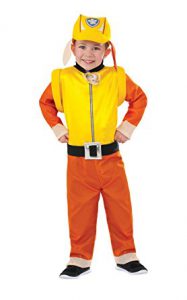 "Rubble, on the double!!"  Rubble loves to dig and build – he's the Construction Pup who, although a bit gruff looking, is very sweet. He is an English bulldog, and joined the PAW Patrol last (other than Everest).
This Rubble costume for kids is one of the few available -at this point- for commercial sale. It's from the same maker (Rubie's) as the Chase and Marshall dress up outfits above,

but this one isn't reviewed as highly – just an average of 3.6/5 stars (by 17 reviewers). Their main concern is the quality – the ears and belt apparently have needed some reattachment by glue gun, according to several reviewers. That being said, if your child is desperate for a Rubble dress up outfit, this one is easy on the wallet, and one that absolutely looks the part!
Skye PAW Patrol Costume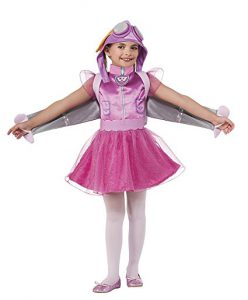 "This Pup's got to fly!" Skye is the sweet natured Cockapoo pup who loves to fly! She's the Air Rescue dog, flies a helicopter, and uses her wings to jet around when needed. Skye is the only regular member of the PAW Patrol who is a female.

This is such a fun costume! It's the officially licenced Paw Patrol Skye costume – comes with the dress, headpiece, and backpack. The wings are attached. Can you just picture your little Skye fan zipping around the yard or playroom in this getup? Note: Reviewers claim the sizes run big, so buyer beware!
Zuma PAW Patrol Costume
"Let's dive in!" Zuma is the water rescue dog, driving a hover craft and comfortable with scuba gear and swimming. Zuma is a Chocolate Lab pup, and loves a good laugh.
Your little Zuma fan will like this orange onesie style costume, complete with pup pack and cap/hat.

Everest PAW Patrol Costume
"Ice or snow, I'm ready to go!"  Everest is the excitable second female pup in the PAW Patrol. She lives with Jake on his mountain, helping him with his job there at the Ski Resort when Ryder doesn't need her for ice or snow rescues. Everest joined the PAW Patrol in Season 2, and quickly became a much loved addition to the squad – and a fan favorite. (See more Everest PAW Patrol Costumes here!)
This is an adorable Everest dress up outfit, especially for the awesome

price! It comes with the dress, hat, and backpack. When you look at the customer pictures in the review section at Amazon.com (click link →), you'll see that the colors in this image are a bit off – it's actually a more vibrant purple and teal… very pretty!  Reviewers give it a 4.4/5 star rating!
Tracker PAW Patrol Costume!

"I'm all ears!"  Tracker, the 8th and newest PAW Patrol pup, drives a Jeep, lives in the Jungle, and has FANTASTIC hearing! He's rather afraid of the dark, but is still one brave pup! His pup pack has grapping hooks and he loves having adventures with his pals!


This Rubie's costume is toddler size (available in XS and S), and will be perfect for your Tracker-loving child's Halloween costume this year – and of course, lots of fun in the dress up box later!
---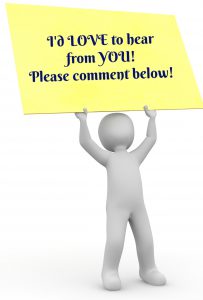 And there you have it! A collection of the best PAW Patrol Costumes for Kids! Do you have a favorite pup? Ok, probably the better question is, does your CHILD have a favorite pup? 😉  Do you think these kids play dress up clothes would be a big hit? I'm guessing for a PAW Patrol fan – especially one who enjoys dress up fun – these costumes would be GREAT gifts. Just a thought.
Have a great day!
Marlaine
---
LOVE THIS POST? PIN THIS!