10 of The Best Gifts For 2 Year Old Boys Under $30 – Chosen By A Mom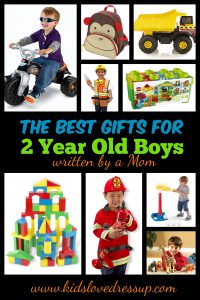 What are the best gifts for 2 year old boys?
If you're on the hunt for a fabulous gift for a two year old in your life, look no further! Here are 10 fantastic ideas
– all under $30 –
for you that will help you bring a huge smile to his adorable little face. (Update in 2022 – prices aren't all under $30 anymore… but I still recommend them!)
Two year old boys are AWESOME. They are crazy, energetic, cuddly, fiercely independent at times and yet a baby at other times. They love to explore the world around them and play with both baby toys and big kid toys… so picking out gifts for 2 year old boys isn't all that hard, really.
But maybe I say it's not hard because I HAVE a little boy who just turned two. It was hard to LIMIT the gifts we picked out for him! And being from a big ol' Dutch family I have a slew of nephews (nieces too) and cousins. I know what I'm talking about when it comes to buying gifts for 2 year old boys. 🙂
And they don't have to break the bank to be great gifts! All of these listed below cost less than $30 – some even less than $20. Perfect! Check them out!
10 Gifts for 2 Year Old Boys That Will Be Well Loved!
(As an Amazon Associate I may earn a small commission from qualifying purchases made through links on this page, at no additional cost to you. Full Disclosure.)
Little Tikes T-Ball Set 

A two year old boy is just at the age where they like to HIT stuff WITH stuff. Why not coral that energy and "early athletic ability" down a proper channel with the Little Tikes T-Ball Set? He'll be SO proud of himself playing "baseball" and successfully hitting the ball to Daddy or Mommy, or to his big brother or sister! Talk about starting Baseball off on a positive note!
This particular set is VERY highly reviewed on Amazon, and is currently less than $20!

Tonka Classic Steel Mighty Dump Truck Vehicle
A heavy duty Tonka truck like this one is almost an essential for a little two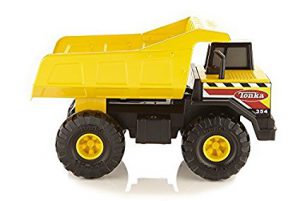 year old boy if he has a sandbox in his back yard, or if he loves dump tucks (which most do). These are fairly large, the truck bed is made of steel (so at our place these are outdoor toys to save our walls and furniture), and they are amazing. No plastic junk here.  At less than $25 currently, and with their lifetime warranty, you can't go wrong with this one!

Fisher-Price "Harley Davidson" Tough Trike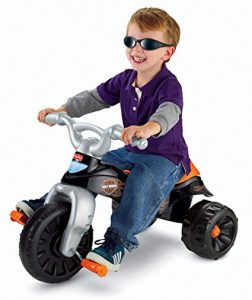 Two year olds are ready to have some fun outside with trikes (no 2 wheeler yet, for the most part), and this "tricked out trike" by Fisher Price is one of the good ones. It has big foot pedals that make it easy for little riders to get rolling, is very stable, has easy grip handle-bars, and even a secret storage compartment under the seat for those little treasures he finds while you're out for a ride together.

Fire Chief Role Play Costume Set by Melissa & Doug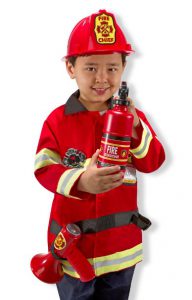 If you're looking for gifts for 2 year old boys that inspire them and get them playing creative games like "firefighting" and "heroes", the Melissa and Doug Fire Chief Role Play Costume Set (click to see my review) is something you simply shouldn't pass by.
It comes with the jacket, hat, bull-horn (makes a siren noise), "fire extinguisher", badge, and name tag. Our son LOVES his set! It's comfortable, fantastic quality, machine-washable, fun, and cute as anything!

Thomas & Friends My First Look and Find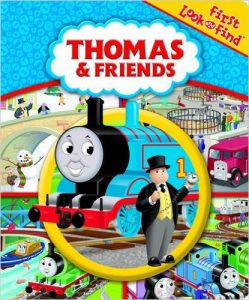 There are many different themed "First Look & Find" books available – this particular one is my two year old boy's favorite as he loves trains. These large padded-cover board books, with bright and colorful pictures and simple items to find on each page are wonderful for little kids!
They are less than $10 new, but don't forget to check the book shelves at your local thrift stores too – I often find them for just a buck and seriously, they are perfect for 2 year olds!

LEGO DUPLO Creative Play All-in-One-Box-of-Fun
Duplo… how can I not include it in a list of the best gifts for 2 year old boys? There are many fun Duplo Sets available, but going with a basic box like this one (with a case – Mom will love that), is always a classic hit. Little boys can never have enough "Lego" – just ask their Dads. Duplo is the easiest version of Lego – it's better quality by far than the cheap Mega blocks.

Skip Hop Zoo Little Kid and Toddler Monkey Backpack
Two year old boys are often not yet toilet trained, but often Mom is getting a little tired of dragging around the big diaper bag everywhere she takes him. Why not give the little guy a fun backpack that is just for him – this (seriously awesome quality!!!) monkey backpack! Boys LOVE wearing their own backpacks!
This one is big enough to fit the essentials for a day out: a change of clothing, diapers/wipes, snacks, and a favorite toy or sleep item.  If you know he isn't into monkeys, Skip Hop Zoo also makes other animal themed backpacks too.

Melissa & Doug Kids Construction Worker Role Play Set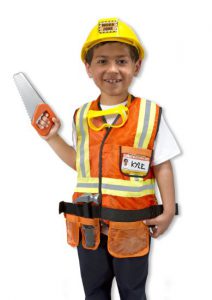 Little boys are usually FASCINATED with tools, and with building/hammering/drilling/fixing anything, especially if it makes him "just like Daddy" or "just like Grandpa".
This construction worker outfit by Melissa & Doug is great! It comes with the cool construction vest (with attached utility belt), safety hat, safety glasses, and some basic tools to get the little guy ready to get to work! Melissa & Doug role play sets are awesome quality, so you know it's not a wear-once/play-with-once type gift.

Learning Resources Jumbo Jungle Animals
This set of Jumbo Jungle Animals (non-toxic plastic) is something little boys will likely play with A LOT.  Jungle animals are huge favorites for little boys, and this set has large and realistic looking animals that he'll love to set up and cart around!   Great quality, high reviews, and it even won a Gold Seal award!
I have yet to meet a little boy who doesn't love lions and tigers, and playing with them!  This is a no-brainer "great gift".

Melissa & Doug Wooden Building Blocks Set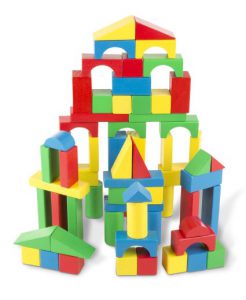 A good set of building blocks is something that every child 100 blocks (4 colors, 9 shapes) by Melissa and Doug IS a Good Set.
Although the item description says that it's recommended age is 36 months (3 years), blocks are pretty much age-less, I think. So does my 2 year old son, who plays with ours already a fair bit. There's something really fun for him about building a tower as high as he can, and then crashing it down. And over and over again.  Blocks are great gifts for 2 year old boys!

---
So, what do you think? Was this helpful? What will you pick?  Or do you have another amazing idea for a little guy, that you know will bring a smile on your face?
If you're a fellow Mom-of-A-2-Year-Old, what does YOUR little man like to play with most?
I'd love to hear from you! Please comment below!
Marlaine
Related Posts:
What Are The Best Toys For 2 Year Old Boys?
What Are The Best Toys For 2 Year Old Girls?