List of Books For Kids Who Love Dressing Up
Dressing up is one of the many pleasures of childhood. And for good reason! It is all about imagination! 
And so are BOOKS.
  Stories can take you anywhere, and their characters can guide the readers to be anything, go places they've never dreamed of, and have good ol' fun of all sorts.
This page of Kidslovedressup.com  is dedicated to sharing several kids books that will be a hit with YOUR kids if they love to dress up! The main character in each one is big into imagination, costumes, and pretend play.  If your kids need a quiet time activity, check out these books for kids who love dressing up.
Local libraries will likely have most of these available, so definitely look there if you want to give them a try.  If not, or if you're looking for a gift for a child who loves dress up, clicking on the link beside each book will take you to Amazon.com.  
I hope to grow this list over time, and I'd love, love, love your input! If you come across a book or recall a great series where the main character just loves dressing up and pretend play, PLEASE let me know in the comments below! I'll happily give you credit for the "addition"!  Thanks in advance! 🙂
Books for Kids Who Love Dressing Up
(As an Amazon Associate I may earn a small commission from qualifying purchases made through links on this page, at no additional cost to you. Full Disclosure.)
Ladybug Girl series, by David Soman and Jacky Davis.
From simple board books for toddlers to longer ones for preschoolers, the Ladybug girl series will totally capture your daughter's imagination.
When Lulu puts on her ladybug costume (which she does every day), she becomes Ladybug Girl, a superhero who uses her imagination to have grand adventures, right in her own backyard. With Bingo the basset hound by her side, and friends Grasshopper-Girl and Bumblebee Boy, she proves that they are not too little to make their own big fun.
(My 3 year old daughter is completely in love with Ladybug girl lately. We order a new one from the library almost weekly! – Marlaine)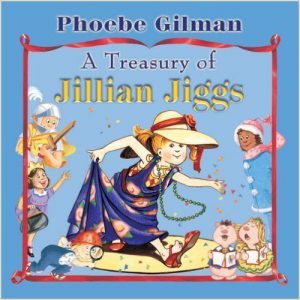 Jillian Jiggs by Phoebe Gilman
"Jillian, Jillian, Jillian Jiggs… It looks like your room has been lived in by PIGS"!
You will seriously LOVE this strong and spunky girl, with an imagination that inspires and entertains her little sister and friends, leading them through game after game of dress up and adventure.
There are 5 Jillian Jiggs books – all nicely in this Treasury – they are all equally wonderful. The author's rhyming words and clever phrases and use of repetition make Jillian Jiggs books fun to both read and listen to.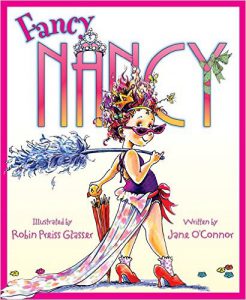 Fancy Nancy series, by Jane O'Connor
Meet Nancy, who simply loves to be FANCY.  And more is always better when it comes to being fancy… something she wants to teach her very "un-fancy" family. From the tip of her tiara to the soles of her sparkly studded shoes, Nancy hopes to show them that fancy is always more fun!
Your little girl will love Nancy and her best friend and fellow fancy-lover, Bree. She's sweet and respectful, creative and interesting, brings fun and fancy wherever she goes.
Nancy will keep your child reading for a long time… the author has also begun to add early chapter books to the series for older readers who loved Fancy Nancy. She's known as Nancy Clancy in those. You and your daughter will love the illustrations and the sweet stories!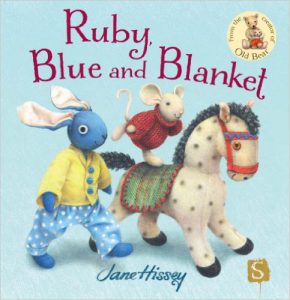 Ruby, Blue, and Blanket – by Jane Hissey
My 3 year old daughter pulled this one off the shelves at the library today and she LOVES it. It's the beautifully illustrated, rhyming story of 3 cuddly, plush friends who basically, are having fun playing dress up.
From Publishers Weekly:  "Though her pals settle on costumes in a flash-princess garb for Blue and a unicorn horn for Blanket- Ruby can't decide what "disguise" to choose. Her imagination catapults her through a host of options, including pirate, fairy, ghost, mermaid, and spaceman. ….Blanket eventually comes to Ruby's rescue, suggesting that they mix-and-match costumes to solve her indecisiveness. An inviting tale of friendship, innovation, and cooperation."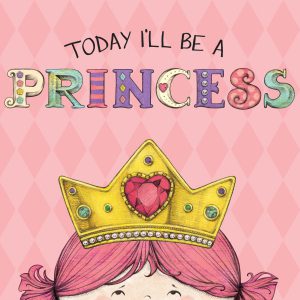 Today I'll Be A Princess – by Paula Croyle
This super-cute 12pg board book is about a little girl who dreams of being a princess… and thinks that everything would only be perfect if she really WAS a princess. It's a cute story of how she eventually learns that "the grass isn't always greener" – princesses can't play outside in the mud. 🙂
Age range is suggested at 3-5 years old, but I'd guess a bit younger would be a-ok, myself.
Franklin's Halloween – by Paulette Bourgeois & Brenda Clark
The "Franklin" series is beloved by generations now of children! It follows the friendly young turtle and his friends as they learn about and experience the world around them. This episode is about Halloween, the fun costume contest, and the mystery of just "Whoooo" is dressed up as the Ghost at the Halloween party!
Recommended for ages preschool – grade 3.