Guidecraft See and Store Dress Up Center – Is This The Best Dress Up Storage Unit?
Is the Guidecraft See and Store Dress Up Center the best option for your kids dress up storage needs? According to Amazon stats, it's the most popular one on the market. But, does that mean it's the best? Keep reading for the full review of this product!
What is it?
The
Guidecraft See and Store Dress Up Center 
is a piece of kids furniture for play rooms or bedrooms. It is intended for easy and attractive storage and organization of dress up clothes and accessories.  While it's target audience is girls, boys too can easily use this product.
This dress up storage unit has a section for hanging princess gowns or other costumes (superhero costumes, career dress up, etc), 3 storage shelves for toys and dramatic play accessories, a spacious and deep-sided bottom tray and a full-length acrylic mirror.  It certainly does look like it would do the trick and organize everything nicely, doesn't it?
Let's take a look. First, an overview, then we'll delve deeper.
(As an Amazon Associate I may earn a small commission from qualifying purchases made through links on this page, at no additional cost to you. Full Disclosure.)
A Quick Product Overview

Guidecraft See and Store Dress Up Center – Item Details
Average (current) Customer Rating: 
Size, Assembled: 36″ L x 14″ W x 42″ H
Weight, Assembled:  34.3 pounds
Price Range: $$$  (Click to see current best price. Varies by color and vendor availability.)
Recommended Ages: 3-12 years old
Crafted Of: MDF
Instructions for Assembly:  Simple, step-by-step pictoral instructions included.
What is Included: The storage unit, the mirror, two storage boxes (with exception of natural color), but no accessories
Available Colors: Grey, Pink, Sage/Light Green, Lavender/Purple, and Natural. See image below.  (On Amazon site, it lists white, but Guidecraft corrects this in the Q&A section – not available in white)

---
Let's Take A Deeper Look
Size:  The product dimensions, once assembled, are 36″ long x 14″ wide x 42″ tall.  However, from the pole to the bottom of the inside storage unit it is 38″- which means that dresses can be fairly long before they start to bunch at the bottom.  When asked, one individual said that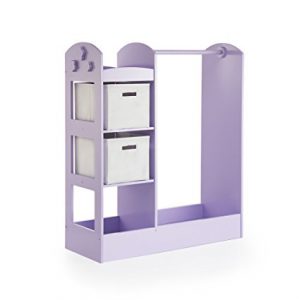 it fits costumes sized 6-8 just fine.  The bottom tray is deep and perfect for wings, swords, boots and the like.
Age Recommendation:  Reviewers have purchased this for younger than 3 year olds, but as a Mom of two littles, I'd be assuming the parents then do all of the hanging up of the costumes (my 2/3 year olds would not be able to hang up their costumes by themselves yet).
Mirror: The full-length mirror is shatter-proof and acrylic (not a "real mirror"). Reviewers on various sites that I dug through for information state that it is a very decent mirror, much better than expected, not a "fun-house mirror".  The mirror can be hung on the right or left side – the pieces are interchangeable.
Ease of Assembly: Reviewers claim difficulty level is easy to moderate. Adult assembly required. Some parts are much easier to assemble with two people.  "Very sturdy once assembled."
Product Materials: All except the Natural color is made of MDF. It's easy to clean, resists stains and scratches. It is NOT solid wood, but rather MDF. The dowel is however, made of sturdy wood.  The Natural color is constructed of Birch wood and has a child-safe polyurethane finish on it.
So, IS it the Best Kids Dress Up Unit?
Overall, this is a very good option for your child's dress up storage needs. It is my personal top choice.
Pros and Cons!
Pros:
In general:  The Guidecraft See and Store Dress Up Center is a very cute, child-sized, well-constructed piece of kids furniture that is perfect for the home or nursery-school or pre-school.  If you don't mind dresses and costumes touching up against each other, it can hold a lot of costumes and gear on the dowel, in the bottom tray, and on the side shelves.
Kids can put away their own dress up clothes – and then FIND what they want to wear, very easily, as everything is nicely in view. No hidden compartments… it's all visible.
The footprint isn't huge. It is a decent sized unit, but won't take over a room.
It is solid and well-constructed – sturdy so you won't have to worry about it falling over.
Cons:
Several reviewers of this product (I saw about 10 or so who mentioned this in all of the reviews I read through on Amazon, Wayfair, Toys R'Us, and more) mention a chemical-like smell on the product once they unpackage it. Most call it a "paint" smell, one wrote "formaldehyde". It does wear off after several days, they write, but it isn't the most pleasant.
Won't hold a HUGE amount of dresses or costumes on the dowel – especially if you don't like to squish them in together. The dowel is slightly under 2 feet.
For boys, there ARE little flowers that come with on the one side. They can come off (one reviewer claimed they came off "too easily" on her daughter's unit, actually).
Do You Want This Product – or More Information?
I've looked at multiple places online, and the best price you can find for the Guidecraft See and Store Dress Up Center is at Amazon.com.  There, you'll also find lots of reviews straight from people who have purchased it already.

Grey, Pink, Lavender, Green

Natural and Pastel
---
Thanks for taking the time to read through this review! I hope it was helpful for you! Feel free to drop me a comment or ask a question below!
For more kids dress up storage ideas, check out the following posts: