Boys Dress Up Clothes: Superhero Costumes For Boys Who Plan To Save The World!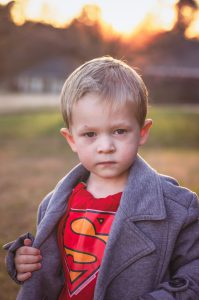 There's a
Superhero
in every little boy that is just waiting to be let out… someone strong, brave, super-fast, willing to go up against all odds and conquer the Bad Guy. 
Boys dress up clothes
that are all about superheroes are popular indeed, because every little boy wants to be one!
Welcome to this page dedicated to boys dress up clothes of the Superhero variety. (Girls often like Superhero play too… keep reading if you have one in your household who does!)
(Click here to read more on boys dress up in general.)
Let's take a look at 9 very popular boys superhero dress up outfits.
(As an Amazon Associate I may earn a small commission from qualifying purchases made through links on this page, at no additional cost to you. Full Disclosure.)
CAPTAIN AMERICA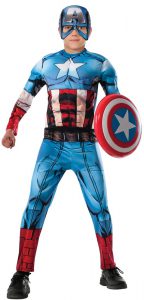 Check out this Avengers Assemble Captain America's Muscle Chest Kid's Costume! Boys everywhere will really love play acting in this, being a patriotic superhero like Captain America! Fighting to protect truth and justice, your little guy will have a blast in this get-up!
This costume ensemble comes with the jumpsuit and headpiece – putting it on will make him ready to join the Avengers and take on the world!
THE FLASH Costume
"Life is locomotion. If you're not moving, you're not living." So says The Flash, the fastest member of the Justice League!  Even if you don't know WHO "The Flash" is, you might like this get-up for your own resident "Flash".  (I know my little guy is FAST 😉 — I'd sure get a kick out of seeing him in a Speedy Superhero dress up outfit!)
Your little guy can save the day, dressed up in this Deluxe Muscle Chest Flash Child Costume.  The costume ensemble includes the jumpsuit with boot tops, belt, and headpiece.
THE HULK Boys Costume
Little boys just love to stomp around the house being BIG and SCARY and NOISY, don't they? I certainly get a kick out of watching my little guy do that! 🙂
The HULK will no doubt fascinate many boys with his size and strength, and of course, that interesting green skin!
This is a detailed full jumpsuit and mask from the Hulk in the Avengers 2 movie.
SUPERMAN Boys Costume
This Superman Costume is sure to become a quick favorite for your little guy! Which boy DOESN'T want to be a) called Superman? b) fly? c) perform daring rescues including incredible feats of strength, and d) be a symbol of hope?
This is the Deluxe Kids Man of Steel Superman costume, and includes the jumpsuit with boot tops and the cape.  Definitely one of my personal favorites!
SPIDER MAN Boys Costume
If your little guy is a big Spider-Man fan (a Spider-Fan?), then this boys dress up clothes addition is THE Spider-Man outfit he might go crazy over… it is reversible to the Venom costume (The Black Spiderman). Very cool!
This a reversible black to classic fiber filled costume and comes with a reversible fabric mask. It's an officially licensed Spider-Man costume.
Wearing this one, he'll be web-slinging to victory of the Bad Guys like only he can!
BATMAN Boys Costume
This is one superhero costume that would be recognized anywhere… the classic BATMAN! Your little guy will look muscled and ready for anything in this Muscle Chest Batman outfit.
No doubt you'll be hearing that "Nana-nana-nana-nana…. BATMAN!!! song line over and over and over and over if you do purchase this one. Fair warning, friends. You may just have to retreat "To the Bat-Mobile!!" 🙂
Costume ensemble comes with headpiece, cape, jumpsuit with boot tops, and belt.
(Also check out my post on the Best Batman Costumes For Kids to see other top choices!)
ROBIN Costume
And then there's Robin… Batman's trusty sidekick, Boy Wonder, and unofficial leader of the Teen Titans!
When little boys play Super-Heros together, having both a Batman and a Robin outfit certainly comes in handy as they can team up to defeat evil. Fighting crime together, in sync, as only they can, your boys will have a blast!
This is a super awesome Muscle-Chest Deluxe Robin dress up outfit, and includes the jumpsuit with boot tops, cape, belt, and eye mask.
BUMBLEBEE Boys Costume 
Although I have yet to see the new Transformers movies (I know, I know… but my little guy is just a toddler yet… 😉 ), I have many memories of Transformers being THE COOLEST TOYS ever for my brothers when I was growing up in the late 80s. No doubt they have been made EVEN COOLER now, so I felt I HAD to include this incredible looking Bumblebee costume.
This yellow, black and silver jumpsuit, with chest-piece, and AWESOME mask will let your little guy transform completely into Bumblebee in robot mode! Transformers, roll out and check out this Deluxe Kids Costume!
IRON MAN Boys Costume
If your boy is an Iron Man fan, especially as featured in Captain America: Civil War, then he would probably really love having this outfit as part of the boys dress up clothes collection at his house.
This costume comes with a lightweight jumpsuit (attached shoe covers) and also the plastic half mask that makes millionaire Tony Stark unfamiliar when he goes into his alter ego mode as Iron Man. Lots of good, hard fun here! 😉
SUPER ME!!
I know the title of this page says "9", but I think we need a "10th Super-Hero Costume" suggestion.  Because sometimes the BEST Superhero is the one your child dreams up himself – the one that has unique super-powers and skills that only HE can dream up. And sometimes parents don't want their house inundated with brand names and Hollywood… this Generic Super-Hero set might be the answer to both.
Comes with the shirt, removable cape, and reversible eye-mask!
---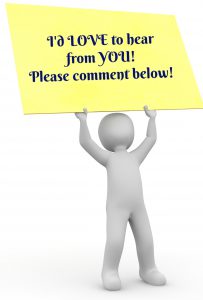 Boys certainly love their Super-Hero play. Don't get me wrong…
girls can and DO play Super-Hero/Super-Heroine too
!  And that's why I made a page about Superhero GIRLS costumes… check it out! For now though, know that each of the above costumes would also provide a lot of fun to a little girl! I sure know one in our household who probably never take off "The Flash". 🙂
Superhero Costumes For Girls: Fighting Crime, In Style
Oh hey… check this out if there's a need for some organization in your dress up room: Boys Dress Up Trunk Types 
Let me know in the comments if you have any questions or if I've missed a particularly popular Super-Hero! And I'd sure love to hear from you which is your little guy's favorite!
Marlaine
LIKE WHAT YOU SEE? 
PIN THIS GRAPHIC AND COME BACK ANYTIME!