The Melissa And Doug Doctor Role Play Costume Set Review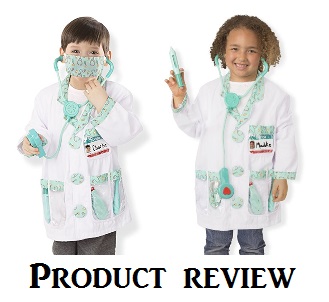 "Can we play check up, Mommy?" I hear those words VERY often. My 3.5 year old daughter just LOVES to play doctor. If I'm unavailable, often I'll discover her giving her 2 year old brother or stuffed animals a "check up". It's adorable, especially when "the Doctor" is all suited up in the Melissa and Doug Doctor Role Play Costume Set.
At our house, my husband and I really encourage creative play such as "playing doctor" (or fireman, teacher, etc). Not overtly, but we like to make sure our kids have things to play with that will stretch them to be creative and imaginative. A kids doctor set is a "must".
There are many doctor costume sets on the market. So what makes this one the one to buy?  Is the Melissa and Doug Doctor Role Play Costume Set as good quality as their other sets?
Let's dig into it and take a look!
The Melissa and Doug Doctor Role Play Costume Set
(As an Amazon Associate I may earn a small commission from qualifying purchases made through links on this page, at no additional cost to you. Full Disclosure.)
Like the other role play costume sets in the Melissa and Doug line, the Doctor set comes with one main costume part (in this case, the jacket), one head piece (here, the face mask), and several accessories/"medical tools" that help with role play fun.
The Melissa & Doug Doctor Role Play Costume Set includes the following:
Surgical face mask
Stethoscope with sound effects (batteries not included)
Reflex hammer
Ear Scope
Syringe
Thermometer
Reusable name tag (dry erase marker not included)
General Product Specs
Price:  fluctuates with sales and availability but averages around $20US.
Best Deal: Found at Amazon.com (Tip: Amazon is THE place to get costumes… best prices and often free shipping! 🙂 )
Customer Rating:  currently

4.7 / 5 star average rating by 561 reviewers

Colors Available: Only white with green trim/green accessories – as per the photos.
Sizes Available: "One Size Fits All"
Manufactured Recommended Age: 3-6 years
Product Information and FAQ's
There are 561 reviews currently on the Melissa and Doug Doctor role play costume set at Amazon.com. That's a LOT of reviews and Q&As. I skimmed through all of them to help you get all the details, but I have something better – my own first hand information. You see, we bought this exact set for our doctor-loving, stethoscope-obsessed daughter for Christmas 2016, so this info is current and "for real".  I can answer ANY question about it. 🙂
The Doctor Coat
Is it well made?  Yes, absolutely. It's made of a polyester/cotton blend. Soft, yet sturdy material. It won't be easily ripped or even easily wrinkled! The sewing is also of high quality. Thick stitches, finished seams.
What does the back look like:  Ours is blank – just white. There is a photo in the reviews of a child wearing a jacket saying "Medical Staff" in bold red lettering, but ours does not have that. The date for uploading of that picture was Aug 2016, so I am not certain if they have two stocks piles or if the Canadian and US stock is different. (I'm Canadian.) What i'm saying is, don't rely on the lettering being there.
Is it machine washable? Yes!!
Are the jacket buttons flimsy or difficult? They actual are just there for show – the jacket has Velcro closures beneath each button.
What is the plastic like for the pockets? Will it tear with lots of use? It's very thick plastic and the edges are nicely contained in the fabric. My daughter also stuffs her other doctor tools into them alongside the M&D ones, and they have held up well.
Does the green pattern look more masculine or feminine?  It's a very generic/neutral pattern, nice light teal green with little stethoscopes, bandaids, and ear-scopes (otoscopes). Fine for boys or girls, in my own opinion.
Will it fit MY child?  This is an incredibly popular question… but the answer is that it's a one-size-fits-all. My son who wears 2T wears it and it's very large on him… but it works and he loves it.  It'd guess it'd be almost a size 5 or 6, as my daughter who wears size 3T/4T has plenty of room yet to grow before it's too small. Thankfully the great thing about dress up clothes like this is that they don't have to fit "just so".  There are no pants, so you don't have to worry about length.
The Surgical Face-Mask
How does it work? There are elastics on either side that are supposed to tuck around your child's ears, holding the strip of material in place over their noses and mouths.
How thick is the material? Thin… thinner than the jacket material. Kids CAN breathe through it. (I tried it before letting my kids play with it.)
Will it get used? Depends on your child. Neither of my kids like things over their mouths/faces, so they occasionally try it on for a few seconds because they think it looks funny, but they don't really like it. It's usually stuffed in a pocket or left behind somewhere in the play.
The Accessories / Medical Tools
How it comes packaged.

This is a decent set of toy medical instruments. The items are good quality plastic, heavy enough weight to feel like "tools" instead of dollar-store toys.

How do they compare to the Fisher Price Set?  It does NOT have a blood pressure cuff like the Fisher Price set has, but it DOES have a reflex hammer. They both have a syringe ("needle"), stethoscope, ear/nose scope (otoscope), and thermometer with movable parts.  The Fisher Price set is more colorful, and comes with a medical bag… which is a bit handier than jacket pockets, I think. (Honestly, both sets are played with equally at our house – although the M&D stethoscope wins hands down over the Fisher Price one.)
What kind of noise does the stethoscope make, and does it require batteries? The M&D stethoscope makes heart-beat sound effects when held against something. It takes 2 AAA batteries, not included… and one of those super tiny screw-drivers 🙂
---
My Own Evaluation: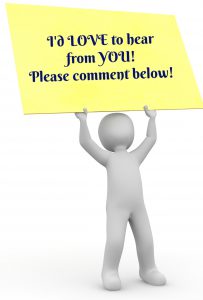 I'm giving this a full 5 stars. If you're looking for a good doctor costume and tool set to add to your child's dress up collection, this is a great choice!
We have this exact one. So this is a true "customer review".  We purchased it for our daughter for Christmas in 2016, after watching her "play doctor" with her Fisher Price Doctor Kit for hours and hours. She often expressed that she wanted "more doctor tools" – and as she loves to play dress up, we thought she'd get a kick out of this. Yes, she and our son both love it.
And so do I. It's great quality, comfortable, machine-washable, fun-looking, interesting (a heart beat from the stethoscope!!), and will fit them both fine for years.
I love watching my kids take care of each other, or of me or their Dad, or even do check ups on their stuffed animals to make sure they are feeling well. It's wonderful witnessing their compassion and imaginations at play!
I encourage you to add this one to the dress up collection today!

** Also check out my reviews of
and
---
Want to see the Doctor Costume Set in action before you head away? I found a cute video of a little toddler enjoying it on YouTube! Check it out! 🙂