Melissa & Doug Fire Chief Role Play Costume Set REVIEW!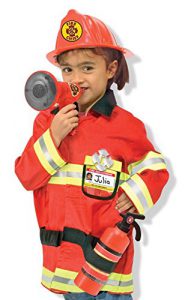 The Melissa & Doug Fire Chief Role Play Costume Set is one of the top selling costume sets by this top-selling world-wide toy manufacturer. Is this a good buy? Should you be purchasing it for your child's dress up collection, Halloween costume, or Christmas gift?
Dress up dramatic play is a fantastic part of childhood, and there are many children, both boys and girls who love to pretend they are brave and heroic fire fighters. Having a quality fire fighter outfit and hat, as well as some fun accessories is a great help in sparking their imaginations.
My husband and I purchased this exact fire chief role play set for our son for Christmas – so this review is an actual, hands-on, "here's what it's like" truth. 
(As an Amazon Associate I may earn a small commission from qualifying purchases made through links on this page, at no additional cost to you. Full Disclosure.)
Is THIS the fire chief outfit to buy? Let's take a look at it.
What's Included:  jacket, helmet, badge, fire extinguisher, bullhorn and reusable name tag.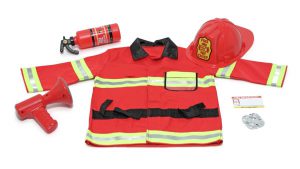 Pricing: runs between $20-30, depending on sales and shipping deals.
Target Gender:  Neutral
Target Age: 3-6
Size: This is a "One Size Fits Most" costume set, but in the "Q&A"s you can see that it is usually a bit big for a normal 2 year old, and even many 3 year olds.
Looking At The Fine Details
The Jacket
Size is approximately 4T-6.  It is a "One Size Fits Most" type costume set, available only in this size.
It is machine washable (!!!)
Closes in the front with three Velcro tabs
Red with yellow highlights and silver reflective trim
Says "Fire Chief" on the back
It's made from flexible and soft material… it's NOT plastic.  (It's actually a blend of 80% Polyester and 20% Cotton.)
There's an attached black utility belt with spots for the tools
According to a reviewer, the coat is 19 1/2″ long and arm length is 13″ from shoulder to cuff
The Fire Chief Hat
Has a plastic sizer strap inside so you can adjust it to fit your child's head
The opening (not including the adjustable strap) is 7 1/2″ by 8 1/2″
It's a hard plastic material, not floppy. Good quality and sturdy, but still a toy hat.
Has a fire department emblem on the front.
Extra Accessories (that all come with the set).
All accessories are made of sturdy but light weight plastic
Shiny silver "Fire Chief" badge and a name-tag you can personalize both add some "flair"
Bullhorn:  Does NOT amplify your child's voice, but rather just makes a repeating siren noise. 2 AA batteries are required (not included)
Fire Extinguisher: Just for play – does not shoot water.
Looking at Customer Reviews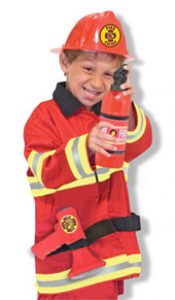 Over 2,900 people had reviewed this product at Amazon.com at the time of writing, and had given it an average of 4.8/5 stars!! That's pretty great!
I dug through the comments to get the real scoop, and I must say, the reviews are rather glowing. "He wears it all day!" "Like all Melissa and Doug costume sets, this one did not disappoint!" "My child loves it! Great, authentic looking fireman's uniform!" Etc., etc. etc.
But you're probably reading this review to see what kind of negative stuff there is, right? To make sure if you buy it, it's worth the price.
So, at time of writing, there were 46 negative reviews (just 46, out of over 2,900… that's about 4%). I read through them all – so that you don't have to.
Some of the negative reviewers had this to say:
The plastic sizer piece inside the hat doesn't always stay put or work as well as it should, so the hat is sometimes too loose and falls off a lot. (Oddly enough, there were several of these complaints, BUT in the "positive reviews" side, lots of "It's a great hat!" comments…)
The set doesn't come with pants.  "My son thinks his set is missing the pants!", one reviewer said. (Cute, huh?) Others said they just use black splash pants.
The bullhorn and fire extinguisher do tend to fall out of the utility belt during very boisterous play.
The bullhorn broke quickly.
If you get the fire extinguisher wet, the sticker falls off quickly.
The reflective bands frayed and came loose for a few of the reviewers.
There were some packaging and shipping issues as well.
Overall Thoughts 

I definitely give this product 5 stars!
   The Melissa & Doug Fire Chief Role Play Costume Set is a
good purchase
. It's a great dress up set built by a reliably good company. A good price for a role play costume set that will give them lots of play time and opportunities for imaginative play. Check it out for yourself!
---
Any questions or comments on this outfit or the post in general, I'd love to hear from you! I'd be happy to be of service!  I can EASILY pull out our costume and answer any questions you might have!
Cheers,
Marlaine
Related Posts:
The Melissa & Doug Train Engineer Role Play Costume Set Review
The Melissa & Doug Doctor Role Play Costume Set Review
When I Grow Up: Career Costumes For Boys