7 Gorgeous Mermaid Costumes for Girls You Don't Want To Miss!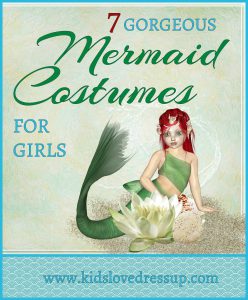 There's something
magical, mystical, and FUN 
about mermaids. Something that intrigues girls everywhere, and that inspires the imagination. There are very few girls who wouldn't love to dress up in 
mermaid costumes for girls
like the gorgeous selections here!
I've collected 7 of the best-selling and highest rated mermaid costumes for girls to share with you today! They are all gorgeous!
[All of these are available on Amazon by clicking on their links or the pics below. Yes, you can obviously get mermaid outfits in other places (Walmart, Target, for example), but in all of my work doing research on online costumes for this site, Amazon provides consistently the best price and the most options – it's definitely the best place to get your dress up costumes!]
7 Mermaid Costumes for Girls You Don't Want to Miss!
(As an Amazon Associate I may earn a small commission from qualifying purchases made through links on this page, at no additional cost to you. Full Disclosure.)
Ariel Sparkle Classic Kids Mermaid Costume
The Little Mermaid
, very loosely based on Hans Christian Andersen's story of the same name (see Wikipedia article
here
for a good summary), made the idea of mermaids exciting and popular with little girls. The beautiful red-headed mermaid who dreams of love with human Prince Eric is a very popular princess for dress up.
This gown by Disguise is rated an average 4.4 / 5 stars by 80 reviewers.
Customers are thrilled with the quality of this gown,  and their daughters are too! A few notes I gleaned from the reviews: Buy a size up for easier walking, the color is a more vibrant green than that seen on the image (more like Ariel's color), and if the top is slightly "itchy", have her wear a tank top underneath.

ReliBeauty Girls Sequins Little Mermaid Costume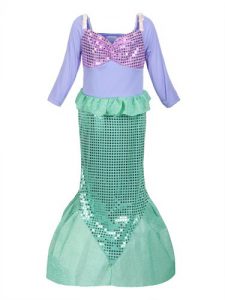 ReliBeauty is becoming known for their great quality dress up clothes – the reviews on their gowns and costumes are really, really good! This mermaid gown with "scale-like" sequins another very well liked dress up choice – you can count on getting more than just one night of play time out of it!
What I like about this costume is that it's suitable for a CHILD. It's not "too old" or "mature" for a young girl, but still has that distinct mermaid look on both top and bottom. It's comfortable, designed with kids in mind who like to actually MOVE in it, and very pretty! (And so is the matching headband that comes with it!)
This girls mermaid costume is rated an average 4.5 / 5 stars by over 215 reviewers.

JiaDuo Kids Girls' Princess Mermaid Dress Party Costume
Girls love dressing up as princesses AND mermaids, so why not combine the two and have her be a Mermaid Princess? This is a sweetheart of a costume by JiaDuo Kids – it glitters and shines nicely in the light, has a comfortable cotton lining, and is oh so pretty!
Note: This costume seems to run rather long – even the manufacturer says so. If you have a taller child, it might be exactly the one you need! Check out some of the reviewers pics of the real thing by clicking through to Amazon below – it's so, so cute!
This girls mermaid costume is rated an average 4.3 / 5 stars by 25 reviewers.

InCharacter Costumes Tween Mysterious Mermaid Costume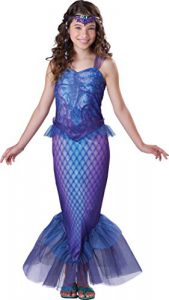 This mermaid costume is for girls who are a bit older – for young teens or "Tweens". It comes in sizes 8 – 14.  It's very much "Mermaid" but not at all "Ariel", which older girls may appreciate.  Comes with the dress (polyester print) and head-dress.
The deep blue/purple color is seriously gorgeous, isn't it? I wouldn't mind wearing this one myself! 🙂  Reviews on it are very good! Check them out by clicking through below!
This older girls mermaid costume is rated an average 4.5 / 5 stars by over 110 reviewers.

Magical Mermaid Child Costume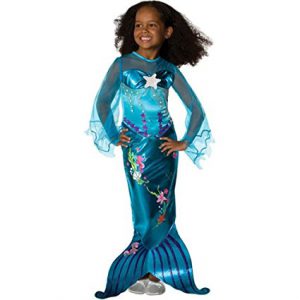 Here's another "Not Ariel" mermaid costume for girls! The deep teal blue is a fun and appropriate color for a sea princess! This is a one piece costume with printed accents, and a foam tail, and it's available in sizes 2T – 10!
This older girls mermaid costume is rated an average 3.8 / 5 stars by over340 reviewers. Most of the negative reviews are sizing issues, so please read reviews before selecting your size.

Little Girls Princess Dress Up Mermaid Costume
This is a stunning princess dresses for little girls with real "garment" material (not cheap Halloween costume stuff) and it has very high reviews. You won't be sorry with this one! It'll get lots of play time if your daughter is into dress up!
This girls mermaid costume is rated an average 4.3 / 5 stars by almost 300 reviewers.

Mermaid Tail Costume
This mermaid tail is made of sparkly spandex-type material, is available in several colors and shimmers much like a "real mermaid's tail" would! You can get it in sizes 2T-14!
This girls mermaid costume is rated an average 4.0 / 5 stars by 60 reviewers.

---
Do you have a little girl who loves mermaids? Is that what she wants to be for Halloween or her upcoming dress up party? Is the in love with Princess Ariel and The Little Mermaid?  Mermaids are a magically fun dress up idea!
What do you think? Do you love these costumes as much as I do? Which of these mermaid costumes for girls is YOUR favorite? (Mine is the deep blue tween Mysterious Mermaid one… I just love how the colors shimmer!)
Comment below!  🙂
Cheers!
Marlaine