Adorable Everest PAW Patrol Halloween Costume Options for Little Girls
PAW Patrol… if you are a parent to a child between the ages of 1 and say, 10, you'll VERY likely be more than just a little acquainted with PAW Patrol.  My kids and pretty much every child I know… are obsessed. It's PAW Patrol this, PAW Patrol that.
"No job is too big, no pup is too small!"
This page is highlighting Everest PAW Patrol Halloween Costume options – also see "The Best PAW Patrol Costumes For Kids" if your child prefers other pups… but we're focusing Everest today, because she's my own daughter's favorite pup! When I ask her which pup she likes best, she always starts with Everest – (but within seconds adds:  "and Skye… and Marshall… and Chase… and Zuma… and Rocky… and Rubble!" Seriously. Asking a child to pick a favorite pup is tough on them LOL.)
"Paw Patrol, we're on a roll!"
What is PAW Patrol?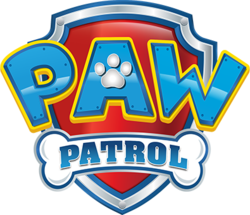 If you haven't heard of it, PAW Patrol is a TV series for kids by Spin Master Entertainment that's based on a boy named Ryder who leads a pack of rescue pups know as The Paw Patrol in protecting the citizens of a shoreline community called Adventure Bay. There are 6 main pups, each with their own special rescue skill. The 7th pup is Everest – the "new" girl pup who helps out on special missions.
"Whenever you're in trouble, just yelp for help!"
Who is Everest?
Everest is a feisty and cute female husky pup that little girls everywhere have completely fallen in love with. Everest was discovered by Jake when she rescued him on a visit to the South Pole, and she now lives with him on "Jake's Mountain" where she helps him do all sorts of mountain rescues with her snowmobile and grappling hook. Girls just love her!
And when a little girl is in love with something, dressing up as that character becomes a big hit! Thus, this page on Everest Costumes For Girls!
"Ice or snow, I'm ready to go!" – Everest
Ready to see some Everest PAW Patrol Halloween Costume Options?
(As an Amazon Associate I may earn a small commission from qualifying purchases made through links on this page, at no additional cost to you. Full Disclosure.)
First off, we have the Rubie's brand Everest Paw Patrol Costume that you see on your right. This is an officially licensed Paw Patrol costume set, and includes the dress, hat, and pup pack. The dress is one piece, and has a glittery skirt, light blue bodice, and an attached orange belt. The pup pack is orange and blue, and the hat (with super cute husky pup ears) is matching and faux-fur trimmed.
Check out the customer comments (on Amazon.com – best price by at least $10 from any other place I found it on the web) to see more pictures – the colors are actually somewhat bolder than how it looks in the stock picture here, I'd say. More of a deep purple and a turquoise. Quite lovely!!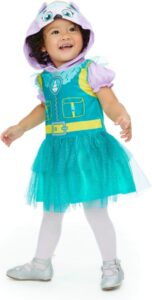 Next is more of an Everest Outfit, but some kids genuinely prefer comfortable and more "clothing like" costumes to full out one pieces. And so do some parents. This Everest Cosplay Tulle Costume Dress and Tights by Nickelodeon comes in sizes from infant size 12 months to child size 8, depending on availability. With the beautiful and recognizable teal outfit, the adorable hoodie with Everests' pretty eyes and ears, your little girl will be loving it, and so will you.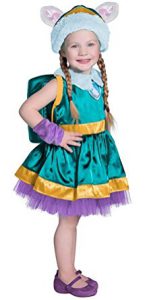 Next we have another cute option! It's the Paw Patrol Everest Deluxe Costume for Toddlers, by Princess Paradise.
This one here is a bit pricier than the one above, but it's also very cute, and comes in a bigger variety of sizes.
Princess Paradise describes this outfit as follows: You will be well-prepared for the winter season in this Paw Patrol Toddler Girl's Everest Deluxe Costume. Lead a search and rescue team for any lost snowboarders and skiers as the latest member of the Paw Patrol. This outfit comes as a teal dress with yellow borders along the waist and hem. Her Pup Tag comes with an evergreen tree on the front and is attached to the neckline. There is also purple glittering mesh hanging from the bottom of the skirt. You receive a pair of purple arm warmers and Everest's hat with two dog ears sticking up from the top. You even get a backpack resembling Everest's pup pack which she uses to store a snowboard and grappling hook. We provide plenty of fun accessories and props to include with your Everest Deluxe costume.
Personally, I love this costume!! Beautiful colors, lovely materials… It's so girly, yet obviously "Everest", especially with the pup tag, arm bands, and ears. 🙂
---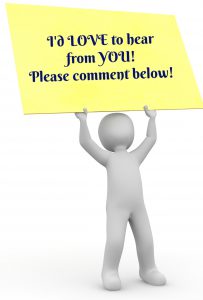 Everest PAW Patrol Halloween costume options are so much fun for Halloween or anytime girls dress up fun! The "rescue/help others" and "friendship" themes of the show are also very appealing to parents. Cute pups, catchy phrases, interesting story lines, fun "human" characters… PAW Patrol is a winner!
Everest is a hard pup to find a lot of costumes for, unfortunately, maybe because she's still "the new pup". You CAN find a FEW other options on sites where they are custom made, like Etsy, but expect to pay a pretty penny.  
Which pup is YOUR child's favorite? Which pup shall I feature next in the PAW Patrol costumes for kids theme? Let me know in the comments below!
Cheers!
Marlaine