The BEST Pirate Costumes For Kids That You'll Find Online
What kids don't love a good pirate joke, an exciting pirate story,
or amazing pirate costumes for kids?  
Children everywhere love playing pirates: hunting for buried treasure, swaggering on deck of their ships, brandishing their "swords", commanding "captives" to walk the plank, and generally, just having a fun time playing "bad guys". Having one of the
best pirate costumes for kids
is a great way to enhance their play!
What we have done here for you is gathered a collection of the best pirate costumes for kids that you'll find online… ones with the highest reviews and the best looking, pirate costumes for girls, pirate costumes for boys… and even some adorable pirate costumes for babies! Arrggh… you'll love them all, matey! 🙂  
---
Pirate Costumes For Boys!
Let's take a look at some of the BEST pirate costumes for boys! Of course, these are also a-ok for girls too, especially girls who don't particularly care for skirts or dresses! 🙂
(As an Amazon Associate I may earn a small commission from qualifying purchases made through links on this page, at no additional cost to you. Full Disclosure.)
Melissa & Doug Pirate Costume Role Play Set
When looking for good quality kids dress up clothes, you simply can't go wrong with ANYTHING from Melissa & Doug. They are simply put, AWESOME. (See these reviews for their fire chief and doctor role play sets.)  This kids pirate role play set is no exception! Quality fabric, excellent details, fun props, machine washable!!, and easy for kids to get off and on… and a GREAT price. Check this one out first, I'd say – ESPECIALLY if you're looking for pirate costumes for kids that turn into dress up clothes that get worn a LOT!
4.7 / 5 stars by over 315 reviewers

Rubies Halloween Concepts Children's Costumes Pirate King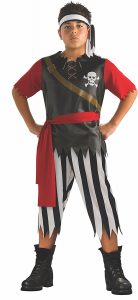 This is a great Halloween costume – high reviews, kids look great in the customer submitted photos (see amazon link below), and fantastic cheap price. HOWEVER… be warned that this likely won't last a long time in your dress up box. It's your typical Halloween costume synthetic material. Perfect for one night or two of fun! (But… compared to the Melissa & Doug one above, there's not much to it.)
Comes with the sash, head band, pants, and shirt.  Boots not included.  Available in Child Sizes S, M, L.
4.5/5 stars by almost 190 reviewers

Spooktacular Creations Boys Pirate Costume for Kids Deluxe Costume Set
Comes with everything you see on the picture!  including the fun eye patch!
4.7 / 5 stars by over 1200 reviewers!
California Costumes Little Boys' Ahoy Matey Pirate Costume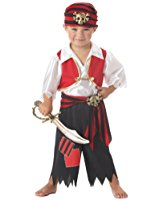 This is also one of the most frequently purchased pirate costumes for kids online… and it's very well received! They'll definitely look like smooth and dashing pirates in this one!
There are 3 parts to the costume – the red and gold details all either attached or printed right one. The sword is unfortunately not included. Reviewers say it runs small, so order a size up!
4.4 /5 stars by almost 300 reviewers

---
Awesome Pirate Costumes For Girls!
California Costumes Precious Lil' Pirate Toddler Costume
This pirate costume for girls got the highest overall rating and has rave reviews. The bandana, the tights, the dress (with white shirt and belt attached), and boot tops are all included, and reviewers claim it's very well made for the (excellent!) price!!
Available in sizes 3-4 (Toddler M) and 4-6 (Toddler L)
4.7 / 5 Stars by over 215 reviewers!

Rubie's Let's Pretend Princess Of The Seas Costume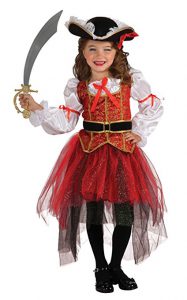 Love this one! There are some seriously great details with this outfit that make it a fabulous girls pirate costume! Labeled as a "Pretty Princess Pirate", this costume will appeal to your "girly girl" who needs (or wants) a pirate costume for a dress up party, or likes the idea of going "wild" for Halloween… yet still loves glitter, gold trim, and fun bows. Lots of great reviews, and some super cute customer pics (click through to Amazon to see)!
4.4 / 5 stars by almost 300 reviewers

Disguise Disney's The Pirate Fairy "Pirate Tinkerbell" Costume
Here's a twist on pirate costumes… if your little girl needs a pirate costume for one reason or another, but isn't really into them, why not pick up this adorable "Pirate Tinkerbell" Pirate Fairy costume?? It's girly – sparkly and pretty, comes with the detachable wings and a character cameo, and is a ton of fun!
4.3 / 5 stars rating by nearly 50 reviewers

Fun World – High Seas Buccaneer Girl Toddler Costume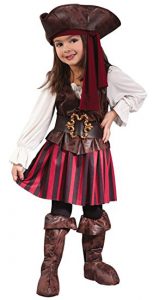 This Buccaneer costume for girls is also a great buy! It includes the dress, belt, hat with bandana and boot top covers – all she needs to look the part of a (very cute) little pirate girl! Although brown items look like leather in the pictures, reviewers advise that they are more of a felt-like material – just a head's up. Overall, very, very well received though!
4.5 / 5 stars by almost 230 reviewers

---
Can You Get Any Cuter Than These Pirate Costumes For Babies?
InCharacter Costumes Baby's Cap'N Stinker Pirate Costume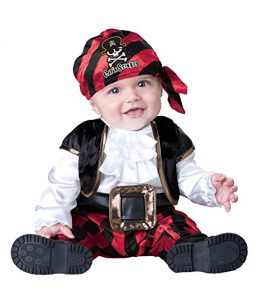 Sometimes it's only fair that babies get in on the pirate dress up too. That Pirate Party on the Disney Cruise you're taking, the family Halloween dress up theme… whatever the reason, this "Cap'n Stinker" costume is just the cutest thing ever, isn't it? LOVE the bandana! And that (soft) gold "bling" belt buckle with the striped pants and the frill shirt… this is just too much fun!
4.5 / 5 stars rating by over 125 reviewers

Infant Captain Cuddlebug – Pretty Little Pirate Costume
Rated 4.2 / 5 stars by almost 70 reviewers
---
And there you have it, friends! The Best Pirate Costumes For Kids that you'll find online… pirate costumes for girls, pirate costumes for boys, and pirate costumes for babies! Which one is YOUR favorite?
Have a wonderful time with your pirate dress up, and let me know if you end up purchasing one of these for YOUR kids! I'd love to see a pic of your little buccaneer! 🙂
Marlaine