Need A Girls Dress Up Clothes Trunk? Feminine And Fun Options She'll Love!
Are you on the hunt for the perfect girls dress up clothes trunk? Well, you've come to the right place! We'll be looking dress up trunks that are cute, feminine, and fun… and all TOP PICKS by Kidslovedressup.com.
First, why is a girls dress up clothes trunk a good idea?
Trunks have LIDS. (At least, they should, in my opinion.) And a lidded box means the mess and clutter can be fully concealed inside. Know what I mean? Toss everything in… dresses, animal costumes, hats, shoes, wands, wings, aprons, jackets, capes… everything… and then close the lid. Suddenly the room is looking rather clean, no? 😉
Simple clean up. Your daughter can EASILY be able to help put away her dress up things at an early age if you have a designated dress up trunk. Pretty self-explanatory, but there's something to be said for making "it's time to clean up" an easy chore for her.  No hooks, no hangers, just "put it in the trunk".
They look great! They can become a cute piece of furniture in your daughter's room or in the play room! If you get a sturdy one, they can also be extra seating (or a launch pad for jumping off of, if your kids are like mine… sigh.)
Where Can You Find Girls Dress Up Clothes Trunks?
We can help with that! First off, if you're a DIYer, there are plenty of tutorials for making your own dress up trunks. Check out my post called Awesome DIY Dress Up Storage Solutions for some ideas.
But if you're in a rush, or simply not a DIYer  (and there's nothing wrong with that, my husband always reassures me 🙂 ), I've dug around and found some seriously great options for dress up trunks for you that are available online.
---
Fabulous Girls Dress Up Clothes Trunk Ideas!
(As an Amazon Associate I may earn a small commission from qualifying purchases made through links on this page, at no additional cost to you. Full Disclosure.)
Light Weight or Collapsible Dress Up Boxes
Collapsible dress up trunks are great ideas – and also likely your most inexpensive option other than a cardboard box. This option is good for shorter term storage – your little girl very, very likely will outgrow her favorite character sooner than later.
They come in different sizes, different colors, different brand characters, and different styles. But all can be folded down when not in use, and are soft yet sturdy. No snagging costumes, no hinges where fingers might get caught, light-weight enough to be dragged across a playroom floor.
This style seen here is also available in the following themes: Disney Princess, PAW Patrol, Finding Dory, Frozen, Minnie Mouse, Inside Out, My Little Pony, Sofia the First, Dora the Explorer, and Doc McStuffins (pictured). Likely more as well. I'm certain you can also find them in non-brand colors/themes, but these are definitely very popular right now. 🙂
Beautiful Wooden Girls Dress Up Clothes Trunks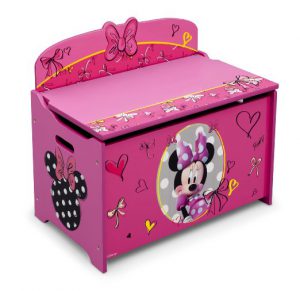 Wooden Toy Boxes are really great for dress up storage – or for storage of any other sort that your little girl wants to use it for, really. Being wooden (or engineered wood), these toy boxes are heavy duty, and can handle some serious play time.
This particular one here (pictured on the left) is one of the Delta Children Deluxe Toy Boxes. It come in 5 styles (Minnie Mouse, Disney Princess, Dora, Cars, and Mickey), and has received high ratings by many reviewers.
What I love about these wooden storage boxes is that they are safe for kids to open and close – no little fingers are going to get slammed in here due to the extra spaces they put in. There's actually a "Slow Close" mechanism that stops slamming from even happening, and the edges are all carefully smoothed.
Personalized Girls Dress Up Trunks
personalized storage trunk
for her dress up clothes is a great idea!
This particular chest that I'm highlighting here is a bit of a different idea for a dress up trunk than the ones above. It's not OVERLY girly, but it is definitely still very feminine. And the personalization (available in a variety of colors) is beautifully done.
The design is timeless. This is more of an investment piece for your daughter – she wouldn't mind having a trunk like that in her own house some day. It's so pretty!
And, it's LARGE (it will fit a LOT of dress up gear)! Handcrafted. Solid wood, with an optional cedar base. The lid has kid-safe lid supports (which means that in any lid position, it will not drop). The (white or espresso color) finish is kid safe as well.  Definitely check this one out for something unique and classic!
Double Duty: Benches With Storage Can Turn Into Girls Dress Up Clothes Trunks!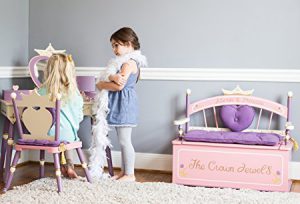 When you're looking for a girls dress up clothes trunk, why not make it a fun piece of furniture for your daughter's dress up play area?
Benches with storage do double duty in a room… and there are quite a few GREAT girls benches that'll do the trick very nicely for your daughter's dress up clothes!
Seriously, how cute is the Princess Throne Bench in the picture?? Your little princess lover would be pretty excited to have her very own throne bench, complete with crown, tassels, heart-shaped pillow… and of course, "The Crown Jewels" painted on it in gold!
The one draw back to this one is that it's not all that BIG. But perhaps it's perfect for all of the accessories, and some fancy hooks on the wall will do for her gowns? 🙂
Other Girls Dress Up Clothes Storage Ideas
Like this Multi-Bin Toy Organizer, which is currently an Amazon Best-seller! It'd be absolutely fantastic for dress up storage! The largest bin on the bottom would fit quite a few dresses or costumes, and the smaller ones would be perfect for hats, shoes, jewelry, and other accessories!
It's sturdy yet has light-weight bins, uses vertical space well (which is great in smaller spaces), and comes in many different character brands  (Disney Princess, Doc McStuffins, Hello Kitty, Dora, Disney Fairies, Finding Dory, Skye & Everest from PAW Patrol, Minnie Mouse, and more – just search for her favorite!).
---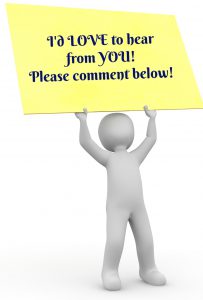 I've also written a few other posts that might be of interest to you if you're looking for more dress up storage ideas:
Which of the types of dress up trunks is the best type for you? Which is the one your little girl would just LOVE to have in her play room? Am I missing a favorite style here?
I'd love to hear from you with your comments!  (And don't forget to follow me on Pinterest!)
Cheers!
Marlaine
---
Want To Find This Article Back? PIN THIS!