Princess Dresses For Little Girls: 10 Seriously Adorable Best-Sellers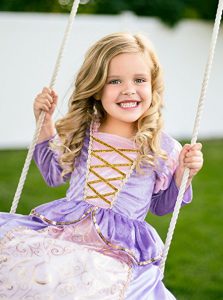 Inside of every little girl there is a princess. I'm sure you've heard that before… maybe even SAID that before. Likely you've seen it when watching your own little girl at play.
Glitter, glamour, beautiful materials, ribbons, sparkles, sequins, "diamonds", lace,  you name it… they love it. And they love wearing them: Princess Dresses for Little Girls.
It can be tricky to know if a particular princess gown will be a good purchase, especially when shopping online and you can't touch or examine it before buying. And returns are a hassle that no one wants to deal with… especially when your little Princess has seen and tried on the gown and loves it. (When you don't.)
This is where this post comes in handy!
I've dug through all sorts of reviews and comments on various princess gowns for you (Amazon.com being the BEST place to buy costumes – cheapest and most variety… as well as most reviews). I've selected my Top 10 Choices – based on their popularity and high reviews.
To make "the cut" for this list of "Top Princess Gowns For Little Girls", the dresses needed:
at least 100 reviews
at least a 4/5 star overall review
have many written comments describing the actual dress received
have pictures of the dress worn by actual kids (in the review section of each product)
10 Best-Selling Princess Gowns for Little Girls
(As an Amazon Associate I may earn a small commission from qualifying purchases made through links on this page, at no additional cost to you. Full Disclosure.)
#1 

Disney's Frozen Elsa Deluxe Girl's Costume by Disguise
Current Rating: 4.7 / 5 Stars by nearly 6,000 reviewers
See Current Price at Amazon.com
#2 – Disney's Frozen Anna Coronation Gown Deluxe Girls Costume by Disguise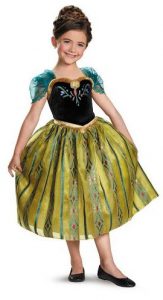 "For the first time in forever…" she'll look JUST LIKE Princess Anna in this lovely coronation gown! The dress has a black bodice, a long gold skirt and cute cap sleeves. There is glitter detailing (of course) and a beautiful snowflake character cameo.
Current Rating: 4.5 / 5 Stars by 429 reviewers
From reviewers: It's soft and comfortable, not cheap looking – a great dress for the price. Like the Elsa dress above, you can get it "floor length" if you want, by ordering a size up.
See Current Price at Amazon.com
#3 – Little Adventures

Classic Rapunzel Princess Dress Up Costume for Girls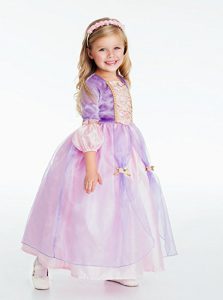 If your daughter is a fan of Rapunzel, or if she simply loves the color purple, like mine does, she'll love this option!
There are actually 4 slightly different purple princess dresses for little girls here in this option – all very, very cute. Purple crushed velvet bodices/shoulders, and lovely gold trim, puffed skirts, glitter… it's hard to choose which is the loveliest, but I do think the one pictured here is my personal favorite. 🙂
Current Rating: 4.8 / 5 Stars by 147 reviewers
From reviewers: "Surprisingly good" quality, can even hold up to washing, very comfortable, perfect for the pink & purple princess lover!
See Current Price at Amazon.com
#4  JerrisApparel New Cinderella Gown
Ok – the dress is just SOOOO pretty, isn't it?? Seriously, take a look at some of the pictures that reviewers uploaded of their little girls in this gown and you won't be looking at any others. (Click here to see what I mean.)
Current Rating: 4.6/5 stars by 1,600+ reviewers 
From reviewers:  It's full skirted, soft, brilliant in color just like the movie.
I love this brilliant blue one, but there's also a stunning butterfly-covered light blue option, and a third shimmery one.
See Current Price at Amazon.com
#5

Little Adventures Yellow Beauty Princess Dress Up Costume for Girls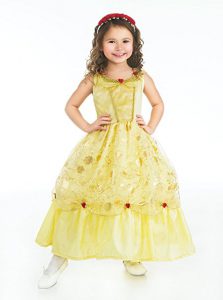 Once again, Little Adventures has come out with a dress that is comfortable, WASHABLE, soft, stretchy (easy to get off and on), and super pretty.  She'll be the Sunshine Princess (or Belle) in this lovely yellow princess gown!
Current Rating: 4.6/5 stars by 153 reviewers 
There are 3 different style options for this gown: traditional, deluxe, and satin. Pictured here is the Traditional option. The detailing on it is amazing!!
From reviewers: It's soft and stretchy, most comfortable and favorite gown in the dress up box.  Quality and detailing exceeded expectations!
See Current Price at Amazon.com
#6 Little Adventures Traditional Scandinavian Princess Girls Costume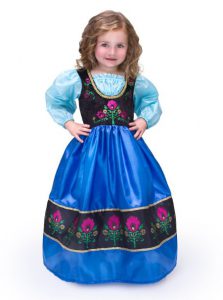 This gown is lovely and soft, well made "Scandinavian Princess" gown… perfect for dressing up as Princess Anna, of course.
Little Adventures dresses are good quality – the company was started by Moms who were tired of cheap costumes that fell apart after one wear, and were uncomfortable to boot.  This dress is just as well liked.
Current Rating: 4.8 / 5 stars by 200 reviewers 
See Current Price at Amazon.com
#7 

Melissa & Doug Children's Princess Role Play Costume Set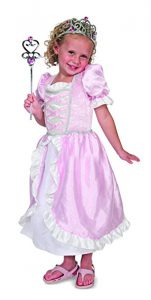 If you have children into dress up, particularly into role playing, you'll be familiar no doubt with Melissa & Doug role play costume sets. This princess one received great reviews just like their other costumes.
It comes with the tiara, wand, and gown (shoes not included).
Current Rating: 4.6 / 5 stars by 280 reviewers
From reviewers: The dress itself is soft and comfortable… and washable! The wand and tiara are well constructed with painted on jewels instead of cheaply glued on ones that fall off quickly… but they look nice! "You can't go wrong with Melissa & Doug".
See Current Price at Amazon.com
#8

Child's Red and Black Spanish Princess Costume by Rubie's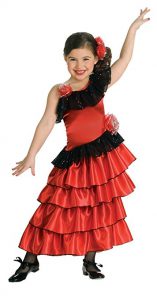 This Spanish Princess dress will be a lot of fun for a girl who loves to dance! It'll sway and spin along with your little senorita as she dances the day away!
I love this bold red and black combo, don't you? And I love the ruffles and the single shoulder style – it says "exotic" and "beautiful", doesn't it? And yes, the headpiece is included.
Current Rating: 4.1 / 5 stars by 128 reviewers
Tip from reviewers: The sections between the ruffles are mesh = see through. Leggings/shorts may be needed if using this for a performance/not just at home play.
See Current Price at Amazon.com
***See also The Ultimate Princess Elena of Avalor Costume Collection – if you are looking for something similar, but don't care for this one in particular!***
#9

JerrisApparel Snow Party Dress Queen Costume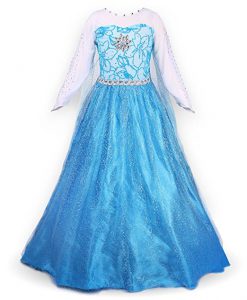 So of course, this IS another Elsa dress… although as it's not an official Disney gown, they can't call it such. It IS a gorgeous dress for a "Snow Queen" or "Ice Queen"… or simply a beautiful blue, shimmery princess gown with mesh sleeves and wintery, glittery detailing.  It's just lovely, whatever you chose it to be.
Current Rating: 4.7 / 5 stars by 485 reviewers
Tip from reviewers: It has a LONG attached train (longer than the dress), which can be both positive and negative.  Very "Elsa".
See Current Price at Amazon.com
#10

JerrisApparel New Princess Party Dress Costume With Flower Cape

 
The train is light/sheer and flowing, the gown soft and silky-like.
Current Rating: 4.5 / 5 stars by 114 reviewers
From reviewers: This is a really fun one to have in the dress up box! Accessories are super cute!
See Current Price at Amazon.com
---
So what do you think of these choices? Too many "Frozen" themed ones, perhaps?  The top dresses just happen to be Anna and Elsa gowns… those designers and marketers for Disney really know what they're doing, don't they? They sure are beautiful gowns!
Here are a few fun pics of gorgeous princess gowns to look through on this cute video to give you some more ideas of what's out there!
Do you have a favorite? Which gown would YOUR little girl go crazy for?
Chime in below… I'd love to hear from you! 
Cheers,
Marlaine