Disney Frozen Dress Up Trunk Review: Is It Worth Buying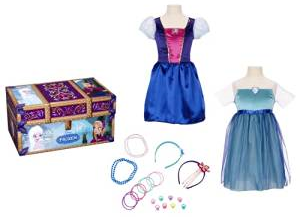 Do you have a big Frozen fan in your life? Are you looking for a great gift for a very decent price for your little Elsa and Anna lover? Perhaps "The Disney Frozen Dress Up Trunk" is the item to purchase. Or perhaps NOT. Let's take a look.
We're here to help you figure out if it's a good buy.
Amazon.com is a great place to find out all sorts of information on a very popular product like the Disney Frozen Dress Up Trunk. I've done some reading, note-taking, some digging, and some putting the info together for you. Save you time.
(As an Amazon Associate I may earn a small commission from qualifying purchases made through links on this page, at no additional cost to you. Full Disclosure.)
First off, the Basic Specs:
Price:  $ — see current price  (fluctuates with sales and availability – normally around or under $25, with free shipping often available.)
Rating:  

4.1/5 stars

by over 630 reviewers!
Included: 20 Items Total. An Anna and an Elsa dress, two headbands, two necklaces, rings and bracelets, the decorative "reusable" trunk
Manufacturer Recommended Age: 36 months – 6 years.
Reviewers Recommended Age: 2-7 (depending on child's size and enjoyment of dress up)
Item Weight for Shipping: 1.3 lbs
More Detailed Information on the Disney Frozen Dress Up Trunk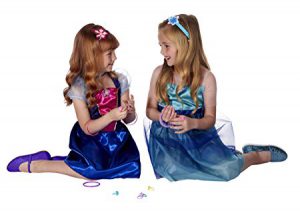 After doing a lot of sifting through the reviews (there are 631 at time of writing this post so it took a while), I gathered a fair bit of information about it.
So here's the most important thing you need to remember when considering this trunk:
You get what you pay for!
Don't expect awesome quality dresses that will stay beautiful for years.
Don't expect jewelry that is more spectacular than your standard cheap costume jewelry.
Don't expect a wooden trunk. You aren't paying what you'd pay for a wooden trunk. 🙂
---
If you like the price though… here's more info on what you'd be getting with the Disney Frozen Dress Up Trunk!
Tell me about the trunk:
It's made of thick, glossy, laminated cardboard. Not plastic. Not wood.  (Yes, not wood… but considering price of the set, that makes sense, doesn't it? 🙂 )
It's sturdy, but not strong enough to handle children climbing on it.
Box size is 14 x 9 x 7.2″
ALL commenters who mentioned the trunk say that it's really cute, lovely, beautifully decorated, etc. Their complaint is that isn't not extremely durable.
Girls can use it as a "Treasure Box" for their Princess dress up items.
Comes assembled with the items in a bag inside.
Tell me about the dresses:
They are washable! Wash on gentle, hang to dry (or dry with very low heat)
They have glitter on them, but reviewers say it's not the kind that comes off.
They do not come with a cape.
Don't expect amazing quality. Little Elsa and Anna fans love them, although parents aren't always impressed by the quality of the cuts, stitches, and fabric. (Again, expect to get what you pay for. On the plus side, commenters mentioned that they feel more comfortable letting their little Princesses wear these cheap dresses everywhere and all the time – like they want to – including to bed or outside… way less fears of wrecking/snagging something more expensive. On the negative side, the dresses ARE inferior in looks and quality to the pricier Elsa and Anna gowns… some commenters said they felt a bit embarrassed about the lower quality look at Frozen Themed parties.)

What size are the dresses?

It's a "one size fits all" with elastic and Velcro closures
Best for approx. 3-6 year olds from reviewer comments — fitting between 3T-5T
Fits to just below knees on most children
Tell Me About The Accessories:
Not super great quality. (Again, consider the overall cost of this set.)
Plastic rings, plastic bracelets
Headbands are not "Frozen" branded, but do match the colors and styles of Elsa and Anna
Does not come with shoes (like in the picture of the two girls).  See Princess Dress Up Shoes options here.

---
My Personal Opinion?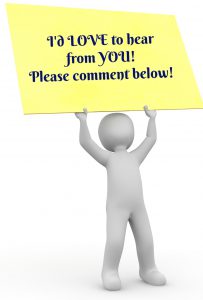 I would buy the Disney Frozen Dress Up Trunk, easily. And probably will, next birthday.
My daughter is, like many others little girls I know, not always all that careful about her play things… I would much rather see her having a fantastic time playing hard in a cheaper looking gown, really thinking she was Elsa or Anna, than spend bigger bucks on a more authentic or well made looking dress and having to be careful with it. Plus, cheap accessories means it's ok if we lose some. Because let's be real… they won't all stay nicely together in a set. They'll be under the couch in no time. 😉  And the decorative Frozen trunk? While it lasts, she'll enjoy it. When it doesn't look great anymore, I'll be tossing it.  And not worrying too much because the whole thing didn't cost me an arm and a leg. 
What do YOU think?