Princess Dress Up Shoes: She Needs Some Shoes To Go With Her Gown, Mom!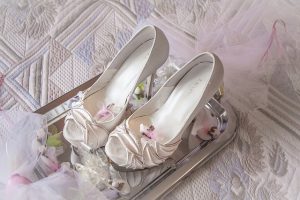 Princess Dress Up Shoes – every dress up collection for a little girl who is "into" girly stuff and all things Princess should definitely have a pair. Or two pairs. Or three pairs… because Princesses need wardrobe options, right?
When you think "Princess shoes for kids", you're probably, like me, thinking of those hard plastic ones. They are absolutely cute – but not exactly comfortable-looking, am-I-right?
But are they her only option if she needs shoes to go with her princess gowns?  No.
A least that's what I discovered after digging into princess dress up shoes for this post. There is actually QUITE a variety of styles when it comes to princess dress up shoes! Let's take a look a 4 main styles today – in each one, there are many, many options for your princess' pretty toes! 
(As an Amazon Associate I may earn a small commission from qualifying purchases made through links on this page, at no additional cost to you. Full Disclosure.)
The "Traditional" Plastic Princess Shoes
There's a good chance you came to this post because you ARE looking for some "classic" plastic dress up princess shoes that are either Disney-princess specific, or Generic princess style.  So let's start with them.
Slip-On Dress Up "Heels"
My husband, I must say, doesn't care for them as he worries she'll roll an ankle (like I've done in my heels, I must admit). "Little girls shouldn't wear heels", he says. There's some truth to that – why are we always encouraging our babies to grow up so fast?? – but in her dress up play she sure has fun with them.
One down-side to the slip-on dress up heels is that sizing is a bit tricky… being that they are made "to fit a range of sizes", there's a chance that they'll be either too big (she'll easily get her toes in but have the backs of the shoes flapping as she walks), or too small (the plastic will pinch the tops of her feet).
In truth though, for the rather cheap price you pay for a pair, it's not too bad. She'll figure out how to  make them work. Especially if they are pretty shoes. CLICK HERE to see more details!
The Buckle/Heel Strap Style
You'll probably prefer this style if you're going to get heels for your girl. They have just a tiny lift and there's a buckle to adjust sizing so they stay on her little feet a bit better… and a lot longer, as she can adjust them as she grows. Plus, HOW CUTE are they???  Here are 5 popular Disney Princess ones, but the others are all there at Amazon.com too!
Flats Costume Shoes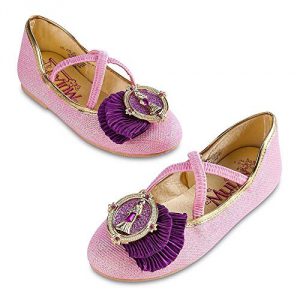 There are also some really cute Princess Dress Up Shoes that are Flats!! No slippery, possibly dangerous heels! Yay!
Again, you can find pretty much whichever Princess is her favorite, as well as Generic pretty Princess shoes! CLICK HERE
 to look into more "Flats" options!
Going the "flats" route definitely gives the shoes more of a wear-ability factor – think school dress up days, Halloween, theme parties… would you want your young daughter to go to school for a whole day in some slippery and probably slightly tricky to wear heels? Flats can be definitely be worn for longer periods of time.
AND, another plus? They can sometimes transition into "real" shoes as well. I mean, I'd see no problem with letting my daughter wear these adorable Princess Mulan flats (see right) to a party or when we go out somewhere – they are "sensible" yet super cute!
A CON, though… flats they are definitely more "size specific" purchases – meaning, you'll need to replace them sooner, as we all know, kids feet grow So Fast!  NOTE: If you're shopping online, reading through some of the reviews will let you know if the sizes run big or small.
Ballet Slipper Style Princess Shoes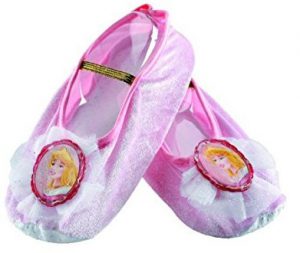 Dainty and soft, pretty colors, pretty textures, ballet slippers can be great princess dress up shoes for her princess dress up collection. They stretch to fit, and are easy for her to prance around in with ease… no awkward (and loud) stomping and clacking around but more waltzing and dancing.
They don't look exactly like Cinderella's glass slipper, but if you can get her excited about a pair of these, you might be doing her and you a bit of a favor.  They're definitely more comfortable, I'd think. But then again, I'm not a young child anymore LOL.
 CLICK HERE
to find her favorite Disney Princess Ballet Slippers set!
Warm & Fuzzy Princess Slippers
I'm writing this post as the season is quickly changing from fall to winter, and where I live, winter is long and cold. Slippers are very welcome. And if you have a princess lover in your house, a pair of sweet princess dress up slippers will make a fabulous and very popular gift come Christmas.
If your daughter has a favorite princess, simply do a search here at Amazon
 (where they have everything) and I almost guarantee you'll find exactly what she'll love.
---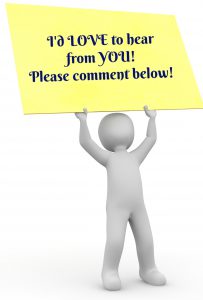 I love these princess dress up shoes! They sure didn't have kid sized dress up shoes like these around when I was a little girl… dress up shoes in the dress up box in my house were my Mom's old heels. Which honestly we had a lot of fun wearing. No complaints. But in truth, likely little-girl-me would have drooled over these finds!
I hope you had fun checking out the large variety of princess dress up shoes that is available! Let me know what you think! Any favorites in your house? Do your girls like prancing around in heels, or do they prefer flats for get-busy-playing-princess time? I'd love to hear from you!
Oh yeah… feel free to check out my page dedicated solely to Frozen Dress Up Shoes!  And if you want to see more like the above, click through to Girls Dress Up Shoes!
Cheers!
Marlaine