Beauty And The Beast Costumes For Kids: Helping You Find The Best Ones!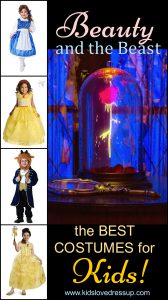 Beauty and the Beast. It's a
"tale as old as time, song as old as rhyme…" 
If you're on the hunt for some fabulous Beauty and the Beast Costumes for Kids, I'm sure we can help you find some of the best ones here today at Kids Love Dress Up! I love hunting down the best dress up clothes for kids – ones that they can wear over and over again – and that will inspire them to hours of imaginative play. And these kids Beauty and the Beast costumes will definitely do just that.
Most of us parents and grandparents can likely sing the songs and quote many of the lines from the Disney classic (1991 animated version). And now with the latest Hollywood release, the love for this story is beginning all over again, and pulling in a new generation!  So many of our kids are loving Belle, the Beast, Lumiere, Cogsworth, Mrs. Potts, Chip, even Gaston, and the other characters all over again.  And wanting to dress up in costumes as these beloved characters!
Top 5 Princess Belle Gowns – The Yellow Classic Princess Belle Costume Gown
(As an Amazon Associate I may earn a small commission from qualifying purchases made through links on this page, at no additional cost to you. Full Disclosure.)
The iconic yellow ballroom gown is "The Gown" that little girls everywhere will recognize as belonging to Princess Belle. (All of the Disney Princesses have their own uniquely colored gown to help little girls identify them – Belle is the only one with a fully yellow gown.)  There are lots of different versions of her gown available on costume websites and of course, Amazon – seriously the cheapest and best place to get kids dress up clothing. But I've dug through the options of you and have for you here 5 of the best rated and highest reviewed gowns, so that you can be sure you'll be (I mean, your girl will be 😉 ) happy with your purchase!
Dressy Daisy Girls' Belle Princess Costume
If you're looking for a classic, authentic looking Belle costume for your little girl, this is possibly the best option for you! INCREDIBLE price, reviewers note that it's fantastic quality, and you should SEE how cute the submitted pics are of kids in this gown (see link below)!  It's shiny (no glitter everywhere), soft, flowy, comfortable, and that lovely bright sunny yellow that Belle is so famous for. Love it!
Rated 4.4 out of 5 stars by over 235 reviewers
CLICK HERE to see price and details at Amazon!
Princess Belle Deluxe Yellow Dress Collection
Rated 4.5 out of 5 stars by over 60 reviewers
CLICK HERE to see price and details at Amazon!
ReliBeauty Little Girls Princess Belle Costume
Rated 4.4 out of 5 stars by over 475 reviewers
CLICK HERE to see price and details at Amazon!
Disguise Belle Prestige Disney Princess Costume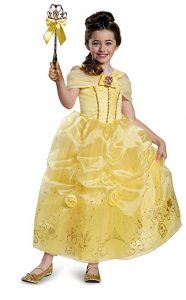 This is an officially licenced Disney product – the stunning gown will be easily recognised as "Princess Belle" and easily LOVED by your little girl! The gown has glittery and shimmery Princess designs on it, golden trim, rosette details, and so much more! Reviewers say that it's very good quality, and sizes run fairly true.  Accessories are not included – just the dress with the Belle cameo. Sizes available are XS (3T-4T), Small (4-6x), and Medium (7-8).
Rated 4.9 out of 5 stars by almost 20 reviewers
CLICK HERE to see price and details at Amazon!
Little Adventures Yellow Beauty Princess Dress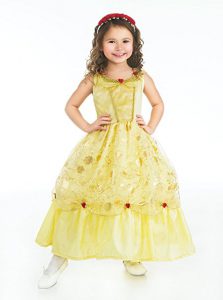 This pretty yellow Princess Belle is probably my personal top choice of Belle gowns. It's soft, not itchy at all, has lovely sparkly details and trim, is easy for kids to get off and on. It does NOT have a character camo on it, which is actually a plus for me (and many of you too, I'm sure) – I love it that my daughter could play dress up "as Belle" in it, but also as any other Princess she imagines that day, such as "the Sunshine Princess", or "Princess Buttercup".
Oh, and I love Little Adventures costume quality! And the fact that they make their costumes machine washable is AMAZING, right, Moms?
Rated 4.6 out of 5 stars by 175 reviewers
CLICK HERE to see price and details at Amazon!
Belle's Blue Village Day Dress
Little Adventures Beauty Day Dress Princess Dress Up Costume for Girls   
Isn't this dress ADORABLE? I love the fancy details on the chest that make this "simple day dress" something special yet. Little Adventures is a company (started by Moms who didn't like the quality of other costume dresses they found) that makes fantastic quality gowns, so anything from them is great stuff: soft, comfortable, stretchy, and easy to get off and on by little fingers!  Hair bow is included!
Currently rated 4.7  of 5 stars by customers on Amazon!
CLICK HERE to see current prices and sizes available!
Disguise Belle Blue Dress Tween  – Disney Princess Beauty & The Beast Costume
This dress doesn't come in very small sizes, unfortunately (girls size 7 is the smallest), but it's so sweet and authentic looking and would be just perfect for your tween or young lady if she wants to be Belle – the "pre-Princess" version!
The dress, apron, and bow are included with this Belle gown. The apron is detachable, but the rest is one piece. It is shiny, but soft, smooth, and the color is "right on" according to the reviewers!
Currently rated 4.6 of 5 stars by customers on Amazon!
CLICK HERE to see current prices and sizes available!
More "Beauty And the Beast" Costumes For Kids
The story of Beauty and the Beast is not just all about Belle though. Do you have a BEAST fan in your house? Or even a little boy who would have a ton of fun dressing up and acting out the role of the conceited Gaston? Or perhaps you have kids who would just love to dress up as one of the enchanted objects, like Lumiere, Cogsworth, or Mrs. Potts. Are there many "Beauty and the Beast" costumes for kids that are NOT Belle gowns?   Honestly, they are harder to find. Some adult ones are around, but not nearly the selection I'd hope for, for children.  That being said, here are some:


---
I hope you've found some solid ideas here for fabulous Beauty and the Beast costumes for kids!  It's such a fun dress up theme – may you and your kids have a wonderful imaginative time together with them decked out in these costumes!
As always, let me know what you think in the comments below! I love hearing from you!
Want to see more Princess dress up posts? Check out:
Cheers,
Marlaine