12 Dress Up Wigs Little Girls Will Really Want In Their Dress Up Collection
Let's talk
wigs
for a few minutes today. Dress up wigs little girls will love playing with. Dress up wigs little girls will get
REALLY
excited about having in their dress up collection!
There's something so character-altering about putting on a wig, isn't there? Have you ever tried it? One that was sized right for your head and felt good on you?  It's QUITE the strange but interesting feeling when you look into the mirror and see that person who looks like you… but doesn't all at.
Kids love that feeling too. Adding a wig to their costume is the final, amazing part to their transformation… changing them from head to toe.
Here are 12 really cool dress up wigs little girls, in particular, will love.  Don't worry, they aren't ALL Disney Princesses. 🙂
NOTE: At the time when I wrote this post, all of the wigs were priced at under $20… most around $10! I didn't write each wig's price here though, as they tend to fluctuate with sales and I don't check them daily to revise.  😉
(As an Amazon Associate I may earn a small commission from qualifying purchases made through links on this page, at no additional cost to you. Full Disclosure.)
ELSA / ICE PRINCESS WIG! 
This Crystal Princess Wig is worth melting for… 😉  Your little girl will get a LOT of use out of this regal beauty!
Elsa (of course), other Storybook, Disney, or Historical Princesses, Super-heroines, Barbie, Winter Wonderland Fairy, Middle-Earth Elves, Norwegian/Scandinavian costumes… this is one versatile wig! Smooth, Silky, Synthetic… and Elegant.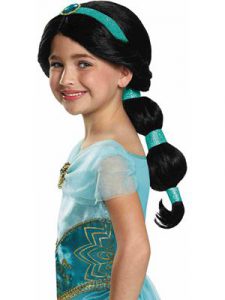 JASMINE WIG!
Is your little girl ready to hop on her magic carpet, play with her big Tiger pet, and make friends with a genie? Does she already love her Princess Jasmine outfit? If so, she's going to LOVE this beautiful Jasmine wig.
Like Jasmine's look in Disney's "Aladdin", this wig is designed with jet-black (synthetic) hair parted in the center, tied back with multiple sparkling teal blue hair elastics, and has a jewelled headband built into it.  Wearing it, she'll feel like a real Arabian princess!
ARIEL WIG
THIS is the wig for your little girl if she's into mermaids… a certain Princess Ariel mermaid in particular.  It can also be used for a Scottish/Irish Princess outfit, a Super-Heroine get-up, Fire Fairy dress up fun, and more.
It's bright, it's feisty, and it's fabulous! The shiny and flowing bright red locks (synthetic hair) will make your little girl feel simply beautiful.
RAPUNZEL WIG!
If your daughter is in love with Tangled, she'll just adore this Rapunzel wig… straight from the "visiting the town" scene where the little girls braid Rapunzel's hair with the flowers and ribbons…  isn't it just BEAUTIFUL?  I love it! 🙂
With the intricately woven braid pulled to the side, its shiny golden blonde (synthetic) hair, it's one wig that you certainly won't regret purchasing. It can also be used as a wig for dress up as a Renaissance maiden, fantasy fairy, or other fairytale princess. Your little girl will get a LOT of enjoyment out of it!
MERIDA WIG!
Wild, unkempt, curly… fun, impetuous, confident! A girl wearing a Brave's Forest Princess Merida's wig will no doubt have a blast acting out all of these character traits!
This bright and bold orange-red mid-length (synthetic) wig will be perfect for dress up fun pretending to be Merida OR any other Scottish/Irish princess or character.
It would be the perfect "utterly transforming look" for many of our little girls, wouldn't it?
Queen Elsa's sister, the brave and adventurous Princess Anna of Arendelle has quickly become one of the most beloved princesses in the Disney franchise. If you have a little girl who is obsessed with Frozen, you'll know what I mean when I say that these girls (Elsa and Anna) possess some sort of magnetic pull for our daughters.
This wig is PURE Anna. Lovely strawberry blonde with the white streak, side braids, pink ribbons… it'll be the perfect finishing touch to her Anna costume!  (Don't you love how almost GIDDY the model is that she gets to really be Anna in it? So cute!)
DOROTHY WIG!
Have you had a movie night with your child watching the classic "The Wizard of Oz" yet? This Dorothy wig will make your little girl look just like Dorothy as she sets off on a grand adventure in a strange, strange land!
This simple style of center part, side braids, blue bows is a perfect wig also for country-bumpkin outfits, pioneer costumes, book character days, etc. She'll get lots of use out if it!
DORA THE EXLPORER WIG!
Any Dora fans in the house? The little girl wearing this Dora the Explorer wig here MUST be a huge one… that smile in her eyes, let alone on her face gives it away. (Isn't she ADORABLE??)
This would be a seriously easy Halloween or dress up play costume, Moms… this wig, some jeans, a pink t-shirt, and a backpack and your own little Explorer is ready to go off on her own adventures!
QUEEN OF THE NILE WIG!
Whether she's studying Ancient Egypt in school or simply has an interest in dressing up and playing the characters of famous women of the past, this beautiful Queen of the Nile Wig would be perfect for any Cleopatra or Nefertiti (or any Egyptian woman) costume.
With medium length jet black hair, thick bangs, and little braids tied off with gold elastics, this costume wig will be a fun one to play with, as it will dramatically enhance any Egyptian costume! She'll be "the Pride of Egypt"!
RAINBOW CLOWN WIG!
This is a pretty popular AND FUN wig to have in your child's dress up box. Goofing around dressed up as a clown is simply fun! It is also good for confidence building, enhances creativity, and brings out the "silly" in everyone.
This particular wig has stripes of 6 colors: red, orange, yellow, green, blue and purple synthetic hair sections within a curly afro of tight ringlet curls. It'll be a comfortable fit with the inner mesh netting with elastic lining.
INDIAN PRINCESS WIG!
Is your daughter learning about the Native Americans at school and having a dress up day? Or does she have a Disney's Pocahontas costume that needs the perfect finishing touch?
This authentic-looking Indian Child Princess wig with it's long, straight jet-black hair and printed headband will help her achieve the look she's going for!  (Check out THIS POST for a cute Indian dress!)
WONDER WOMAN WIG! 
Bring out the Super-Hero in your little girl in this black-haired (synthetic) wig inspired by Wonder Woman in the Dawn of Justice film.
Really though, it'd be great as a wig for any super-heroine, with its beautiful loose curls and headband!
(Personally, I think this wig is gorgeous for other uses too… think dark-haired princess!!)
---
Haven't found "just the right one"? There are MANY more wigs sized and styled just for kids in the KIDS WIG CATEGORY at CostumeCraze.com! Check it out!
---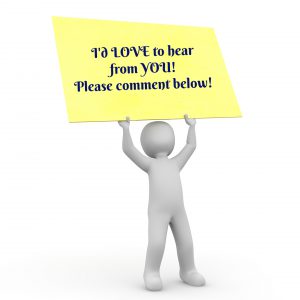 If you're with me still, I'd love to hear from you about these wigs and kids wigs in general! Do you agree these are dress up wigs little girls will have fun playing with? Does your little girl enjoy wearing wigs in her dress up play?
AND… which one would be YOUR choice if they fit YOU?  Mine would be the Ariel wig, I think… I'd love to have luscious and fiery red hair like that for a day or two… I wonder what my husband would think?! 😉  How about you? 🙂
Cheers,
Marlaine