Baby Costume Hats: 10 Hats So Cute, You'll Want Your Own!
Baby costume hats! Whether it's Baby's 1st Halloween or a fun photo session for which you need props, baby costume hats are super fun to have on hand and are sure bets to get a smile out of anyone!  This post is all about making your adorable baby even cuter with some hats that are so amazing you'll wish they came in adult size!
When can you use baby costume hats? What might you need them for? A few ideas are 1) anytime you want to draw attention to just how adorable your little one truly is (and he or she IS the cutest thing ever, right?) A cute hat on a cute baby just draws out the "Awww…!" factor! 2) Halloween parties or events you go to where you're asked to wear a theme costume 3) a baby or newborn photoshoot where you're asked to bring props (or provide them if you ARE the photographer).
Here are 10 of the cutest baby costume hats you ever did see!
(As an Amazon Associate I may earn a small commission from qualifying purchases made through links on this page, at no additional cost to you. Full Disclosure.)
Luxury Newborn Little Fox Hat                              
Isn't this little fox hat the cutest thing ever? Foxes are a pretty popular theme for a baby nursery these days, so it would be fitting to have a pic of your precious little one dressed up as a fox himself or herself, no?
Brand: Hobees. Suitable for 0-6 months baby. It's a 100% handmade crochet knit costume.
Price: >$15 at time of writing.
CLICK TO SEE CURRENT PRICE AND DETAILS ON AMAZON!
Baby Photo Prop Outfit: Little Owl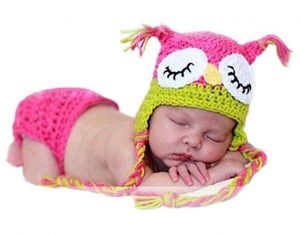 Awww… isn't this precious? I love this little owl baby costume hat! Perfect for a photo session, soft for every day use. LOVE it! Whoooo's the sweetest little owl you ever did see? Your little girl, in this hat. 😉
Handmade by Wowstar, sold by Amazon.com, Price >$15.00 for the set (hat and diaper cover).
CLICK HERE TO SEE PRICE & DETAILS
Huggalugs Soccer Ball Boys or Girls Beanie Hat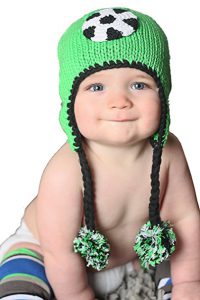 Is your baby's Dad or Mom a huge soccer lover? Want to dress your sweet boy or girl in a soccer themed costume hat to "honor" that love? This is one adorable hat with the pompom touch!
This one is available in 3 sizes, is handmade, soft, warm, and cozy. (Search around the Huggalugs line – there are other sports available too.)  Price approx. $20 on Amazon.
CLICK HERE TO SEE DETAILS AND CURRENT PRICE
Princess Baby Accessories – Crown, Hair Bow, and Gift Box!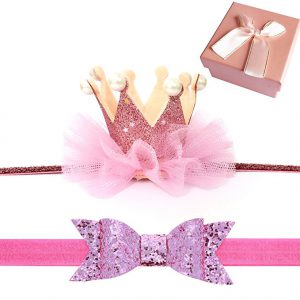 Your baby girl is your Princess. Why not add a beautiful and comfortable crown on her head for her photo shoot?
Rated 5 / 5 stars by 69 reviewers so far!  At less than $15, it's this by Elesa Miracle set makes a fantastic gift – it even comes with an adorable gift box!
This Princess set is available in blue, light pink, hot pink, and gold themes, so you can select your favorite!
Easter Baby Costume Hats: Adorable Bunny Ears!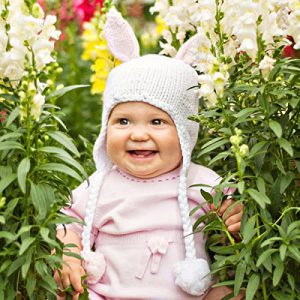 This super cute bunny hat for babies is just what you need for your little one's Easter or Spring themed photo shoot! It's soft, comfy for baby, styled with pink or blue ears (your choice), and comes with the adorable pompom details.
Made by Huggalugs, available in various sizes. Price appox $20 through Amazon.
CLICK HERE FOR CURRENT PRICE & MORE DETAILS
Baby Dinosaur Costume Photography Prop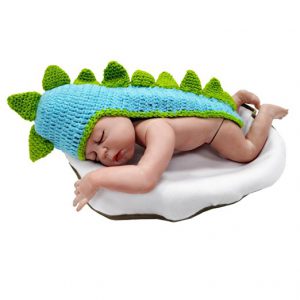 I'm LOVING this blue and green dinosaur baby costume hat – perfect for Halloween or a photo shoot for your little one! It's handmade, crocheted with eco-friendly soft crochet cotton.
Note: you might have to do some tucking if you want it to fit your newborn – the sizing indicates it's more for age 3-9months.
Pricing: >$15, available at Amazon. There are 4 other styles by this maker (Kalevel).
CLICK HERE TO SEE CURRENT PRICE AND DETAILS
Baby Yoda Hat for Dress Up or Photo Shoot
If either of your baby's parents are big Star Wars fans (or both of you), this Yoda hat will absolutely make you smile! Isn't it AMAZING?
It's 100% handmade, in a smoke free home, made with milk protein yarn, so it's super soft. Available in different sizes, price >$20, fulfilled by Amazon!
CLICK HERE TO SEE PRICE AND DETAILS
Mr. Potato Head Baby Costume Hat & Bib!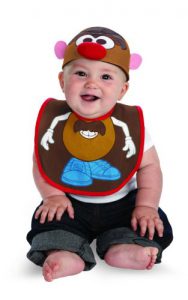 This is my favorite of all of the baby costume hats on this page. Isn't this set of hat and bib just the more adorable thing?  Everyone knows who Mr. Potato Head is, and your baby will be the talk of the Halloween or dress up party!  Plus, a bib… how smart. 😉
It's approx. $15, and available through Amazon!
CLICK HERE FOR PRODUCT DETAILS AND PRICE
"Cabbage Patch" Baby Wig!
How can you not saw "AWWW!!" when you see a baby wearing a Cabbage Patch Kid wig like this one? Isn't it seriously adorable? Funny looking, yes, but exactly what you think a Cabbage Patch Kid would look like, right?
This cute and comfortable beanie style baby costume hat by Melondipity has pink ribbons, dark brown crochet yarn, and fringed bangs.  It's available in various sizes, is rated 4.7 / 5 stars by 23 reviewers so far, and is priced under $20 on Amazon.
CLICK HERE FOR PRICE & DETAILS
Huggalugs Snowy Santa Baby Toddler & Adult Family Santa Hat 
This is a super soft, very comfortable looking Santa hat that comes in all sorts of sizes from Baby/Newborn all the way up to Adult! So you and your little one(s) can all match for your Christmas photo shoot!
At >$15, this hat is a great choice for a Baby Santa Hat. It's fuzzy and soft, warm, and has great reviews!
CLICK HERE FOR PRICE AND DETAILS
---
Hope you enjoyed these! Baby costume hats are so much fun, and there are so many different kinds available! Which of the above is your favorite? If you have had some in the past for your own little ones, which style or costume character was your favorite? 
— Want to see some other fun costume hats for older kids? Check out the following posts!
Chime in below! I'd love some feedback on these! Don't forget to follow me on Pinterest!
Cheers,
Marlaine