Queen of Hearts Costume For Kids: What Are Your Best Options?
Looking for a fantastic Queen of Hearts Costume for Kids?  The evil villain queen in "Alice's Adventures in Wonderland" and "Alice, Through the Looking Glass" is a fantastic choice for dress up fun!
There are many different child-sized Queen of Hearts gowns on the market, for different prices and of different qualities, but if you want the best bang for your buck, and if you want your daughter to be the best dressed, most authentic looking Queen of Hearts, then here are your best 4 options, as far as costumes go.
My criteria to make the cut for this Top 4 List:
Had to have actual verified customer reviews – preferably with customer pictures, if possible
Needed 

minimum 4 out of 5 stars

average customer review
It had to really stand out in the crowd, being very obviously "The Queen of Hearts", and not looking like "just another princess gown".
---
Queen of Hearts

Costume For Kids: Your 4 Best Options!
(As an Amazon Associate I may earn a small commission from qualifying purchases made through links on this page, at no additional cost to you. Full Disclosure.)
Forum Novelties Sweetheart Queen Costume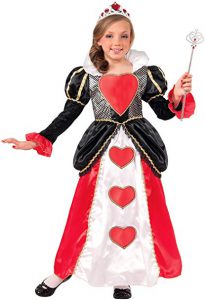 She'll be the sweetest evil Queen in the deck in THIS deluxe Queen of Hearts Costume for kids!
This gown has a near perfect review score! Commenters say it's TOP quality, soft, comfy, well put together, fancy, and a GREAT value for it's price!  Normally coming in at less than $40US,  it's a great buy!  It comes in Small, Medium, and Large.  (Note that accessories are sold separately.)
Rating: 4.8 of 5 Stars!

Queen of Hearts Deluxe Kids Costume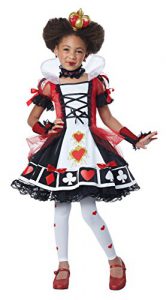 If your daughter wants to be a fun and sassy Queen of Hearts for Halloween, for every day dress up play, or for a school play, THIS California Costumes gown is the one for her!
Available in a variety of sizes, this get-up is sure to bring lots of smiles, because it's very FUN! With lace and mesh detailing on the sleeves and dress, fingerless gloves, thing leggings, a crown (on a headband), and a choker, your royal Queen of Hearts will be looking and playing the part in style!
Rating: 4.2 of 5 Stars!

Disguise Red Queen / Deluxe Alice Through The Looking Glass Costume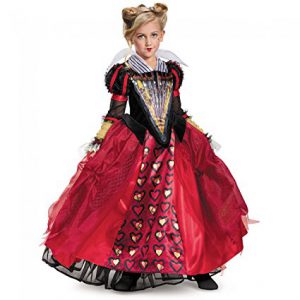 This gown is fit for a Queen! Disguise makes great princess dresses for little girls , and this one is crafted along the same lines.  Reviewers say it's even more beautiful in person, that they were shocked by the high level of quality!
The purchase includes the dress and petticoat, and comes in several different sizes (each size sold as a separate item on Amazon – click through to see the range).
Rating: 4.3 of 5 Stars!

InCharacter Costumes Girls Queen of Hearts Costume

This Queen of Hearts Costume for Kids is so cute!  It comes with the sequined tiara and jeweled choker, the petticoat, and the full length gown.
This one is the perfect dress for tall girls – several reviewers said the dress was rather long, so buyers beware. Or be happy. 🙂
Be sure to check out the pics in the reviews section on this page at Amazon (click link below) – there are lots of pics of kids decked out in this gown!
Rating: 4 of 5 Stars!

---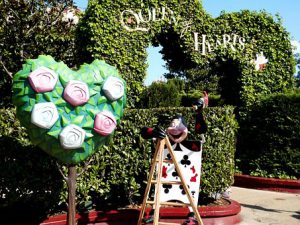 The Queen of Hearts is a fun, dramatic character to play, and dressing up like her can be a riot! All 4 of these gowns would be great choices for any play, Halloween, dress up time, or other event.
Why not have her practice a few "Off with her head!" commands while you decide on your favorite!? Let me know which one you like best in the comments below, please!! 🙂
Marlaine
---
Before you head off to pick up a great Queen of Hearts Costume for Kids, check out this scene from the 1951 Disney "Alice In Wonderland", where Alice meets the Queen! Enjoy!