What Are The Best Toys For 3 Year Old Boys? Here Are 12 Toys He'll Love!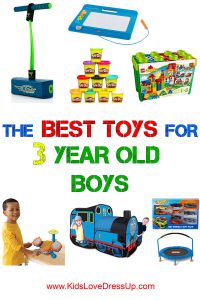 Today we're looking at 3 year olds – boys in particular!
What are the best toys for 3 year old boys?
We're going to jump in to 12 toys that are fantastic choices for entertaining these entertaining kiddos! Whether you're looking specfically for gifts for 3 year old boys, or just for toys 3 year old boys will love, we've got 12 ideas for you that are super popular, highly rated, and also very budget-friendly!
If you know any 3 year old boys (likely you do, as you're here!), you'll know that they are a curious, busy bunch. They love to run and jump, figure out how things work, play with their older siblings' toys whenever they can, and get dirty without a second thought. It's a great age – they are learning how to play together with other kids (a skill that develops slower, unfortunately, than most parents would like), and they are eagerly embracing this beautiful world around them!
Have fun browsing through our list of 12 of the best toys for 3 year old boys! Selected by a budget-conscious mom of two busy toddlers, we think you'll love them all!
(As an Amazon Associate I may earn a small commission from qualifying purchases made through links on this page, at no additional cost to you. Full Disclosure.)
What Are The Best Toys For 3 Year Old Boys? Here We Go…
Little Tikes T-Ball Set, Red, 5 Ball Amazon Exclusive
Many 3 year old boys are beginning to really "get into sports" – especially if the male role models in their lives are fascinated by them too. If your little guy has expressed an interest in baseball, this t-ball set would be a PERFECT gift to get him started playing the game! Add the fact that little boys love "hitting stuff with stuff", if you know what I'm saying, and he'll be busy swinging and chasing the balls for hours with a smile on his face!
Check out this post of Little Tikes Outdoor Toys For Toddlers for other similar ideas.
Rated 4.6 / 5 stars by over 1,745 reviewers!


LEGO Duplo Pre-school Creative Box
Lego Duplo is just perfect for 3 year olds. It's easier than traditional Lego pieces to get together and apart, and has some fun themes that little kids will love! This particular box comes with a car, people, some numbered bricks and a wide selection of classic LEGO DUPLO bricks. Fun for hours!
Rated 4.8 / 5 stars by 430 reviewers!

Fisher-Price DoodlePro Slim
If you haven't let your child play with one of these DoodlePro's or something similar like a "Magna-Doodle" or "Magnetic Art Pad", you'll be shocked at just how long it can keep their attention! Drawing with magnets and swiping it clean is SO MUCH FUN for 2-3 year olds… and up! It's perfect for quiet times, car rides, doctor's office waiting room stays, and more!
Rated 3.9 / 5 stars by 875 reviewers

Hot Wheels Exclusive Decoration Gift Pack
Hot Wheels are generally the best "dinky cars" out there – and this set is perfect gift pack for any 3 year old boy who loves playing with cars! Fancy looking, FAST, good quality… he'll be proud to add these to his car collection – and probably even ask you to race them with him!
Rated 4.8 / 5 stars by nearly 1,400 reviewers!

Deluxe Police Dress Up Costume Set
Playing dress up is an activity that 3 year olds love. As this site is dedicated primarily to dress up play and creative fun for kids, I would be remiss if I didn't add one of the most popular costume sets around to the list here…  (See "career costumes by boys" or just browse around our site for tons of ideas he'll love).  This particular Police Officer set by Dress Up America is realistic looking and comfortable, and includes many little details that set it apart from the rest… like the belt with holster, the embroidered patches, and the whistle. He'll love pretending he's in charge in this get-up!
Rated 4.6 / 5 stars by over 1,590 reviewers!


VTech KidiBeats Drum Set
If YOU aren't the parent, you might want to ask the parent of the 3 year old you're shopping for if this one is ok… 🙂   Drums would be a SERIOUSLY well-loved toy for many a boy. And this particular set allows him to tailor the noises to what he's in the mood for, by playing different tunes, games, and more!
Rated 4.3 / 5 stars by over 2,030 reviewers!


Melissa & Doug Deluxe Wooden Railway Train Set
So many kids just LOVE playing with train sets! And you can be sure this particular set by Melissa & Doug will be a good one, as this brand consistently delivers quality goods! It has 130+ pieces (including the trains… you don't have to buy them separately) that your creative little engineer can set up in various ways – endless fun!
Rated 4.6 / 5 stars by over 600 reviewers!


Little Tikes 3′ Trampoline
This is one of the best toys for 3 year old boys… for boys with tons of energy, that is! If your little guy just can't get enough of jumping on the bed or couches, this will be a welcome addition to your playroom – a safe place for him to jump to his heart's content!
Rated 4 / 5 stars by nearly 2,400 reviewers!

Play-Doh 24-Pack of Colors
Play-Doh – the ultimate moldable clay for kids! Although you can make play-doh for kids using various recipes online, it's hard to replicate the smooth, squishable, brightly-colored clay you get from the "real thing". 24 different colors in this set means lots of different combinations for building and molding fun! 3oz jars.
Rated 4.8 / 5 stars by over 730 reviewers!

My First Flybar Foam Pogo Jumper For Kids
Another super fun toy for active little boys! A foam pogo jumper will encourage coordination, activity, balance, strength and more! It has built-in squeakers which will help kids count their hops, and comes in a variety of fun colors! These foam pogo jumpers are ok for indoor or outdoor use, and will be fun gifts for any kid (even BIG ones… it's good for up to 250lbs)!
Rated 4.4 / 5 stars by almost 600 reviewers!


Playhut Thomas the Train Play Vehicle
If your 3 year old boy has space in his play room for something a bit bigger, adding a tent like this amazing Thomas the Train play-hut would bring HUGE excitement! Kids LOVE climbing inside things, and this train has 2 exits/entrances, making it even more fun to use as a fort, as a locomotive for playing trains, and more! Super-easy set-up, carrying bag included!
Rated 4.3 / 5 stars by over 1,030 reviewers!

---
And there you go! 12 of the best toys for 3 year old boys! If you're shopping for something great for your little guy, any of these should bring a big smile to his face. What do you think? Let me know in the comments below what you love, and what you don't! I'd love to hear from you!
Whether you snag these as online purchases right now or just use these ideas to start hunting down deals in thrift stores or garage sales, it's our hope that we're helping you here by giving you lots of ideas for your 3 year old!
Cheers!
Marlaine
Related Posts: