What Are The Best Toys For 2 Year Old Girls? 12 Choices She'll Adore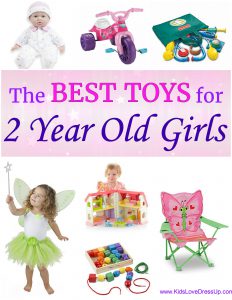 What are the best toys for 2 year old girls?  Welcome to Kids Love Dress Up! Today we're looking at toys 2 year old girls will LOVE – and yes, of course some will be dress up gear… but not all of it! 🙂  We also love toys that encourage creative and active play of all kinds!
If you have a 2 year old girl in your life, you'll know that 2 year olds are pretty special. Special in a "Terrible Twos" sort of way, yes, on occasion… but often in a "Terrific Twos" sort of way as well! Two year olds chat your head off, give the SWEETEST hugs and kisses, are extremely busy, and have a fascinating MIND OF THEIR OWN… am I right?
Sometimes it can be a challenge to find the right toys for 2 year old girls – especially if for one reason or another the 2 year old in question doesn't live with you. Say, you got her name for a large group Christmas gift-exchange, or she's your little niece who lives a few States away and you don't see her often to know her character.
Want some help finding something perfect? I'm here for you!  These toys are all hand-selected by me… a Mom currently deep in the trenches of mothering "Littles"! And I'm on a budget… so NONE of these toys are very expensive… because that's how we roll at our place.  Check them out!
12 of the Best Toys for 2 Year Old Girls
---
(As an Amazon Associate I may earn a small commission from qualifying purchases made through links on this page, at no additional cost to you. Full Disclosure.)
Tinkerbell Costume for Toddler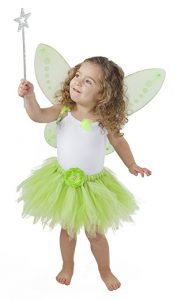 There aren't many 2 year old girls who wouldn't love a cute and puffy tutu, wings, and a fairy wand, trust me! This set is adorable! Whether or not she knows who Tinkerbell is, she'll love this girly dress up set! And at this price, you'll love it too!   Currently rated  4.5 / 5 stars by over 335 reviewers
Fisher-Price Medical Kit 
We gave this exact set to our daughter for her 2nd birthday, and it has been played with almost daily since then (she's now 4). The pieces are easy to use/figure out, they are quality toys – well built (unlike the cheap dollar store kids doctor kit – speaking from experience), and the carrying bag is fantastic for little kids to keep it all together! We LOVE the Fisher-Price Medical Kit at our house!  Currently rated  4.3 / 5 stars by over 1,500 reviewers

A Cute, Girly, Kid Sized Lawn Chair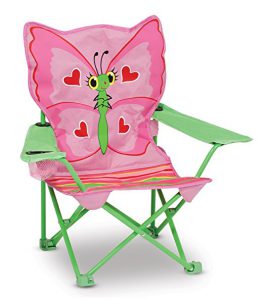 Little girls love pretty things – and butterflies definitely qualify as "pretty".  Little girls also love to have their own of something that "Mommy and Daddy have" – and having their own, child-sized lawn chair is definitely very exciting for them!  This Melissa & Doug Sunny Patch Bella Butterfly Outdoor Folding Lawn and Camping Chair is great quality – like all of the Melissa & Doug stuff out there. This one is worth the price (which is actually, very decent)!  Currently rated  4.6 / 5 stars by over 520 reviewers
Melissa & Doug Primary Lacing Beads with 30 Beads and 2 laces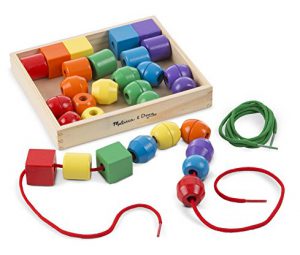 Beads are GREAT fun for little children – boys and girls alike have fun threading the string through the holes and creating "necklaces"! This particular set is a PERFECT set for a 2 year old girl, as the beads are large enough that you don't have to worry about any swallowing of the beads!  Currently rated  4.5 / 5 stars by over 360 reviewers.
Fisher-Price Little People Surprise & Sounds Home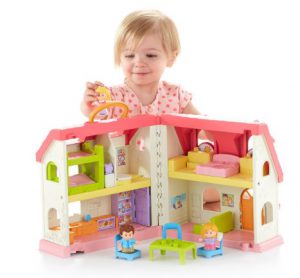 This house is so much fun – it'll be The Toy that all kids want to play with when they come over. The sounds that all of the various pieces make draw kids like magnets! The toilet flushing, the doorbell ringing… it's so much fun! There are over 50 sounds, songs, and phrases – kids will be kept busy for hours! Currently rated  4.8/ 5 stars by over 700 reviewers
Little Tikes First Slide, Red/Blue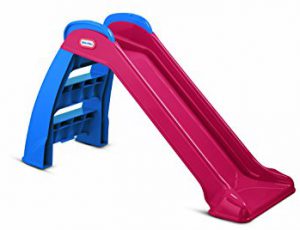 What 2 year old doesn't love to climb and slide? These inexpensive but quality kids slides by Little Tikes are perfect for outside OR indoors! Perfect for daycares, basements, backyards… anywhere little kids love to play! She'll get some physical activity and some giggles at the same time! Currently rated  4.2/ 5 stars by over 3,220 reviewers.
Fisher-Price Laugh & Learn Say Please Tea Set  
My children (aged 2 and 4) have loved this particular set ever since my daughter got it for her 1st birthday. It's the "go to" play kitchen item out of all of the toy dishes and foods we have. The polite "tea" phrases ("May I have some more please?" "Thank you!" and the catchy tunes, the "water bubbling noises" and more make this a perfect choice for kids! The food items are great for practicing shapes even at a really early age too!  It's overall, just plain great. You won't regret getting this one for your 2 year old girl!  Currently rated  4.7/ 5 stars by over 1,190 reviewers. 
Fisher-Price Barbie Tough Trike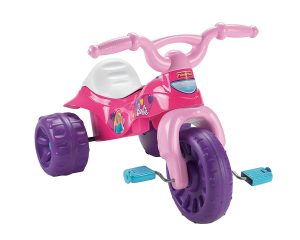 Although many toddlers aren't QUITE up to a tricycle yet when their 2nd birthday approaches, by the time they are half way through the year, they certainly are ready for some pedal fun! These trikes by Fisher-Price are popular choices for kids – they come in a variety of themes, and will appeal to pretty much any active child!  (Actually, this very night, I took my own 2.5 year old out for a huge trike ride… he can't get enough of his Fisher-Price trike these days!)  Currently rated  4.5/ 5 stars by over 2,580 reviewers.
Melissa & Doug Dress-Up Tiaras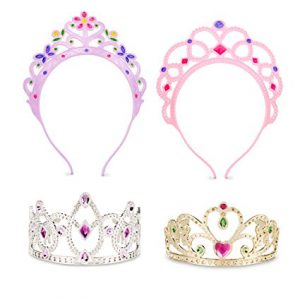 Princess dress up is definitely already starting at age 2 for many little girls! And these sturdy/well-made, adorable dress up tiaras by Melissa & Doug (THE premiere name in dress up stuff for kids, by the way) are a perfect addition or starter piece for a fun dress up collection! There are 4 in the set, so she can change them around at will, or play with a sibling or friend! Currently rated  4.6/ 5 stars by over 500 reviewers.
Step2 Rain Showers Splash Pond Water Table 
Currently rated 

4.4/ 5 stars

by over 510 reviewers
JC Toys, La Baby 11-inch Washable Soft Body Play Doll For Children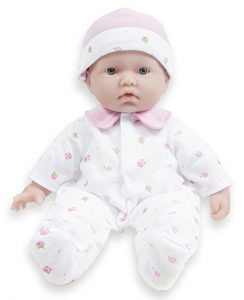 These incredibly lifelike/realistic dolls are great for 2 year old girls who have a love for "Babies" and "Dollies". They do come in a variety of sizes besides 11″ – and you can select the ethnicity as well! There are Hispanic, Asian, African-American, and Caucasian versions. They are soft and sweet – she'll love hers! Currently rated  4.6/ 5 stars by over 1,370 reviewers.
Princess Castle Play Tent with Glow in the Dark Stars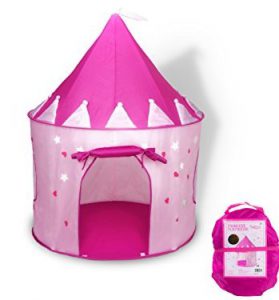 A play tent like this one will get played with for a very long time! The reviews on the quality and design of this Princess Castle themed tent are extremely high – it's currently "Amazon's Choice" for play tents! Your 2 year old girl will have so much fun in "her castle"! Currently rated  4.7/ 5 stars by over 2,175 reviewers.
---
Love these suggestions, but not sure you've found "just the right thing" yet? Here are a few more ideas:
The Best Toys For 3 Year Old Girls
The Best Gifts For 3 Year Old Girls
The Best Toys For 2 Year Old Boys
The Best Gifts For 2 Year Old Boys Under $30
Thanks for dropping by! I'd love to have feedback or comments… if you'd be so kind as to drop me a comment below about what toys for 2 year old girls YOU would personally recommend, I'd love it!
Cheers,
Marlaine