12 Super Cute Halloween Costumes For Girls Guaranteed To Make You Smile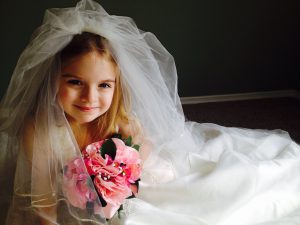 Looking for some
cute Halloween costumes for girls
this year? Welcome to KidsLoveDressUp, where we do our utmost to encourage and promote fun, family friendly, and awesome dress up!
While "awesome" may mean gory or scary to some, not EVERYONE wants a Halloween costume that will make people shudder or run away. There are thousands and thousands of kids who would rather be perceived as cute, beautiful, fabulous, etc. come Oct. 31st! Oftentimes, these are girls who are looking for something cute for Halloween. Or moms of girls – who want their daughters to shine in a GOOD way, not a scary way.
Today we've compiled what we think is an awesome list of 12 cute Halloween costumes for girls! Hope you find something perfect for your little sweetheart to wear while trick or treating this year!
12 Cute Halloween Costumes For Girls
(As an Amazon Associate I may earn a small commission from qualifying purchases made through links on this page, at no additional cost to you. Full Disclosure.)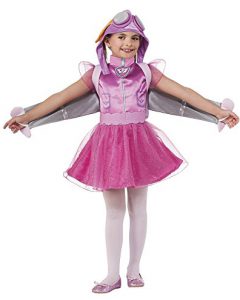 Skye PAW Patrol Costume
Pretty much if you're a parent of a toddler or a human who walks through Walmart these days 😉 , you'll know who Skye and the other PAW Patrol pups are… the super cute rescue pups on the hit children's TV "PAW Patrol".  It's a very cute show… and Skye is the main pack's female pup – and much beloved by  little girls everywhere.  This adorable Skye costume is definitely a cute option for little girls this Halloween! The shimmery skirt, the aviator cap, the wings pup pack, the signature pink outfit… she'll love it!
Also check out  The Best PAW Patrol Costumes for Kids if your child prefers one of the other pups!
Rated 4.2 / 5 stars by over 140 customers!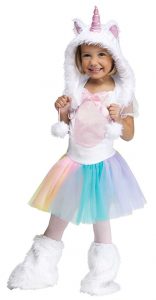 Unicorn Costume
Ok, friends, if you're looking for a cute halloween costume for a girl, THIS one is seriously… cute as anything. A fluffy, pastel-rainbow unicorn costume?? It's soft, adorable, fun, girly… what little girl wouldn't love this? And what parent wouldn't say "Aww…. that's so cute!"?
It includes the dress, hood, and boot covers – your pretty girl will be the most beautiful rare, magical unicorn in THIS get-up by Fun Costumes!
Rated 4.3 / 5 stars currently by nearly 25 customers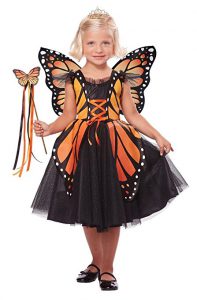 Butterfly Monarch Princess Costume by California Costumes
All butterflies are cute (and there are lots of butterfly costume options in all sorts of colors), but isn't this combo of gorgeous Monarch butterfly and Princess just adorable? Super cute, if you ask me! And no doubt your girl would think so too! (Can you just imagine how great a photo shoot would be in a lovely fall garden??)
This costume comes with the dress, tiara, wings, and wand – everything she needs to take her place as Princess of the butterflies, and everything she needs to get lots of admiration this Halloween as she flits prettily about!
Rated 4.2 / 5 stars by over 75 reviewers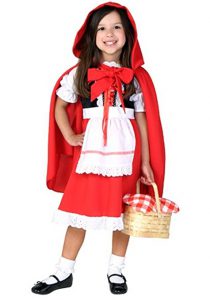 Little Red Riding Hood
Easily recognisable, easy loved. Having adorable storybook costumes in the dress up box is GREAT for inspiring imaginative play! And this costume can also be used as an adorable World Book Day costume for next year's party, so your child will get way more use out of it than just one evening.
This costume has fantastic reviews when it comes to quality AND cuteness – it won't disappoint! The cape and dress will be a big hit! (IDEA: other family members can dress up as "The Big Bad Wolf", Grandma, and the Huntsman! How cute!)
Rated 4.4 / 5 stars by over 75 customers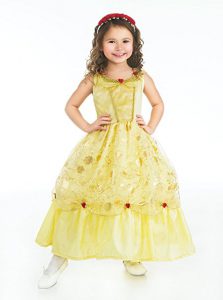 "Yellow Beauty" Princess Dress Up Costume for Girls
Any princess costume for girls is "so cute", is it not? This yellow princess dress by Little Adventures will be sure to please – especially with the Beauty and the Beast costumes craze this year! Whether or not she knows who Beauty is (not all parents let their little girls watch scary "Beast" stories at a young age…), she'll feel cheerful and sunny in this gorgeous gown. And definitely cute!
Little Adventures is a solid choice for costumes, by the way. Great quality – the company was started by Moms who were upset with the quality of the OTHER stuff available. You'll love the attention to detail, and your child will love how easy it is to get off and on… and how comfortable the costume feels!
Rated 4.6 / 5 stars by over 180 customers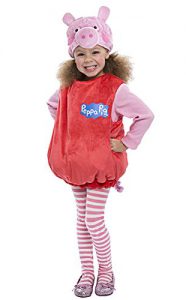 Peppa Pig Bubble Costume
Peppa Pig is a well-loved, inquisitive, chatter-box of a character on the kids cartoon show of the same name. (My 4 and 2 year olds LOVE Peppa Pig. I mean, really LOVE it. It has *almost* surpassed PAW Patrol these days LOL.)  This cute Peppa Pig Bubble costume will be a hit with little ones for sure… she'll have the cutest snout around!
The costume does not come with the leggings or pink undershirt – head's up. But the soft velvet-feeling red dress and hat are simply fantastic! This is definitely one of the cute Halloween costumes for girls that you'll see around the streets this year!
Rated 4.8 / 5 stars so far!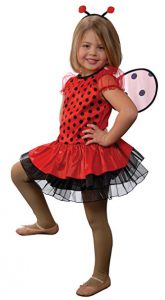 Ladybug Costume
If a sweet little girl dressed in a Ladybug costume like this one showed up at your door, wouldn't you have a large smile popping on your face? She'll be so cute in this dress, wings, and antennae set! Whether she's trying to be Ladybug Girl (from the popular books series of the same name) or just loves the little red and black bugs, this is a fun, innocent Halloween costume!
Rated 4.7 / 5 stars currently!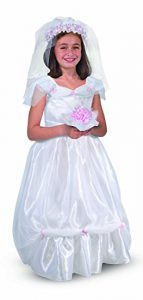 Bride – Melissa & Doug Bride Role Play Costume Set
How adorable is a little girl dressed up in white as a smiling bride? Let's hope Halloween isn't a muddy, cold night where you are, if you go with this costume… but even so, wouldn't it be worth it? Melissa and Doug costumes are machine washable, and always of the best quality! (We have some of them personally – you can't beat their quality for kids play dress up clothes!) This particular set comes with the satiny dress, veil with elastic headband, and flower bouquet – she'll love playing wedding and wearing this for Halloween this year!
Currently rated 4.8 / 5 stars by over 120 reviewers!
Mermaid Princess Costume
Like unicorns, fairies, and butterflies, mermaids are pretty, fun, and girly! If you're needing a cute Halloween costume for your girl, why not see if she'd like to be a mermaid? There are lots of different mermaid costumes for girls and they are NOT as difficult to move in as you'd guess them to be. Whether she's Ariel, from "The Little Mermaid", or just a fun, mythical mermaid princess, she'll have a great time enjoying all of the praise and admiration as she goes about costumed in this!
Costume currently rated 3.8 / 5 stars by over 35 reviewers
Peacock Costume
If your little girl wants to be something unique and stunning, yet "cute" at the same time, here's a GREAT costume for her! This gorgeous, brightly colored teal and blue peacock dress, tail, and headpiece is perfect for grabbing and keeping attention – she'll win "Prettiest Costume" for sure in this one!
Just a heads up that your little girl will have to spread her arms to show her peacock tail – it's attached with bands to her wrists.  Be sure to check out the customer photos on this one (click the pic) – it's a seriously cute costume!!
Currently rated 4.1 / 5 stars by over 440 customers
Little Striped Kitten Costume
Ummm… THE cutest kitten costume, no? She'll be the sweetest little kitty that you ever did see in this cuddly jumpsuit! Even looks soft and huggable on the picture, doesn't it? The mittens are attached, as is the hood. For cold Halloween nights (many of us even live where Halloween costumes may need to be put over warm jackets), this style is perfect.
This jumpsuit costume is available from infant size to child's XL.
Rated 3.8 / 5 stars by over 165 customers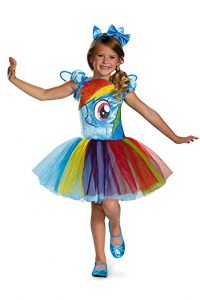 Hasbro's My Little Pony Rainbow Dash Tutu Costume
Have a "My Little Pony" fan in your house? This cute Rainbow pony costume will be huge hit with her – and with her friends when they come to play and the dress up clothes get taken out! It's girly, colorful, sparkly and fun! The costume set comes with detachable wings and tail, headband, the multi-textured dress/tutu… and glovettes (an extra surprise, not pictured)! She'll love it!
Rated 4.3 / 5 stars by over 60 customers
---
Love these ideas? Have a few more of your own cute Halloween costumes for girls? Chime in below! I'd be so happy to hear from you, and I'd love to share any pics you send of your own cuties dressed up in adorable get-ups!
I wish you much fun with your costume hunting this year! There are all sorts of fun ideas all over our website here of great costumes for kids – BROWSE around, or check out any of these related non-scary girls costumes:
Cheers!
Marlaine
---
LIKE THIS POST? PIN THIS IMAGE!