Dress Up Storage For Boys: Great Ideas That Will Clean Up The Playroom!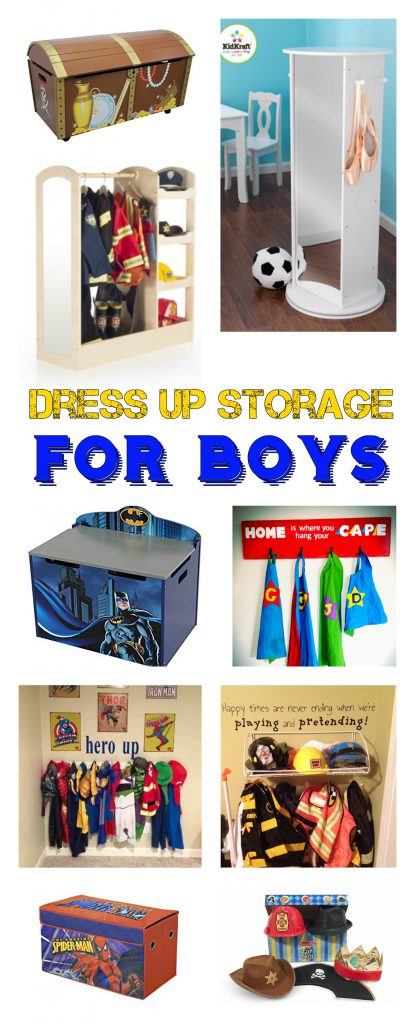 If you have a boy in your house that is really into dress up play (be it superhero play, role playing, or more), you'll be in the market for some sort of dress up storage idea that that will make clean up of all of that gear a snap.
Many of the dress up storage solutions you see in the stores seem to be completely geared to girls – what about dress up storage for boys? Are there masculine options too?
You bet there are!!
Thankfully, if you think creatively, you can easily find something just right for you boy's dress up gear.  Dress up storage for boys can fall into four general areas:
Boys Dress Up Trunks
Dress Up Centers or Storage Units
Hooks / Wall mounts
Cardboard Dress Up Trunk SETS (Trunks that are fancily printed cardboard (basically disposable), but come filled with cool costumes or dress up accessories.)
Let's take a look at some great options in each category for your boys dress up storage solution!
(As an Amazon Associate I may earn a small commission from qualifying purchases made through links on this page, at no additional cost to you. Full Disclosure.)
1. Boys Dress Up Trunks
First off, when you think of dress up trunks, think of basically a "big toy box designated specifically for your boy's dress up gear".  That's what we'll be focusing on finding: a fun or functional big trunk that can fit a lot inside.
Wooden Dress Up Trunks For Boys
If you choose to go the solid and heavy duty route with a wooden dress up trunk, your son can "safely" climb on it, jump on it… and off of it… (that's what boys do, right? Or is my son just unique? 😉 )  It'll be heavy enough to be kept in one place, which is good too!
You can go various directions with a wooden boys dress up trunk.   It depends if you're looking for a fun thematic solution for now, one that your son will really love (Disney's Cars?), or you can get a generic wooden chest that will look really nice in a room for years to come, even after your son has outgrown dress up play and fill it with something else.
Here are my hand-picked favorite wooden dress up trunks for boys (available on Amazon.com).

Lightweight or Collapsible Dress Up Storage For Boys
A cheaper but less long-lasting boys dress up storage idea would be a collapsible toy box. They come in various sizes and themes – pretty much any character or movie or show that your child loves will have a box version available.
They are lightweight enough for your child to drag around with him, and big enough to have a lot of dress up items tossed inside by your "oh-so-willing-to-help-clean-up" child. (We parents can dream, right?)
They are made of a thick canvas material, and won't slam fingers, which is a plus. On the down side, don't expect these to last as long as a wooden one, or be as boy-proof for wild play time. Prices run between $15 and $30, variables depending.
2. Dress Up Storage Units
There are several different options for official dress up storage units for boys. You can build one on your own in if you're into DIY (See my post on DIY Dress Up Storage). But if you're not wanting to build one from scratch, one of the most popular options is the Guidecraft See and Store Dress Up Center.
Although it comes in various "girly" colors as well, you can also get it in white or natural (wood), which are acceptable to most boys.  (Note – if you look carefully at the green and grey options, some of the knobs are flowers…)
This is a pretty handy storage solution for boys who do a lot of dress up play. Shelves, areas for footwear, a full length mirror, and plenty of room for role play costumes or superhero costumes, adventure-themed costumes for boys… anything, really!
I'd highly recommend checking out my review on this piece before buying it though – there are a few things you should know. Check it out here:  Guidecraft Dress Up Storage Center Review
Dress Up Carousels and Other Storage Units
Other options for dress up storage for boys are swivel vanities, also known as a "Dress Up Carousel" (see the first 3 options below). These are great as they take up very little vertical space, which is great for small rooms!  My comparative review on the Guidecraft Dress Up Carousel and the Kidkraft Swivel Vanity can be seen by clicking HERE.
Below are some of those dress up carousels AND a few other interesting dress up storage units that boys might like! Check them out!

3. Dress Up Hooks / Hang Up Areas
If you have an empty wall in your play room, you can really create something interesting for your boy's dress up clothes storage.  It's definitely a tad "DIY", but you can do it!! 🙂
Here are a few ideas that only need some hooks and/or wall mounts, perhaps some paint, and maybe a cool "catch phrase".
A few of these pics are of girls dress up storage, but use your imagination and you could easily transform them into masculine versions.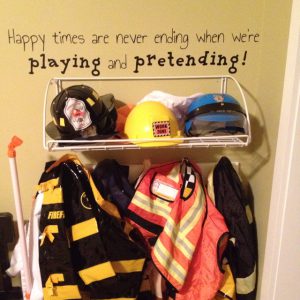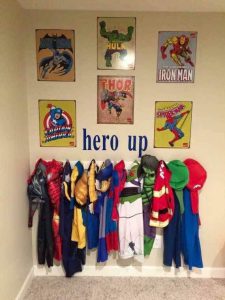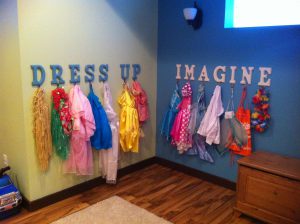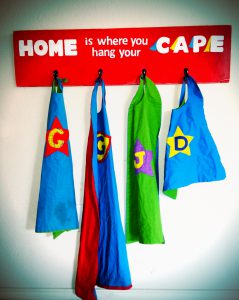 Easy, fun, and as colorful as the costumes your little man loves! There are many more ideas for dress up storage for boys, but let's move on to the next category:
4. Boys Dress Up Trunks That Come Packed With Dress Up Gear!
And then there's the last category: dress up trunks for boys that are already filled with some great dress up gear when you buy them. They make fantastic gifts for boys who love dress up!
You can get various themes or items, and purchasing one of these for your boy will expand his dress up collection quickly! The trunk, count on it not lasting all that long, but it certainly is a neat looking box to start off with!
Here are my top choices for boys dress up trunks pre-filled with dress up items, all available on Amazon (which is the BEST place, price wise, to get dress up gear, hands down). (NOTE: The role play costume trio from Melissa & Doug does NOT come with a trunk, but these costumes are so great I felt I needed to include this set in "My Amazon Pics" for you – and the price for the set of 3 is great!)

---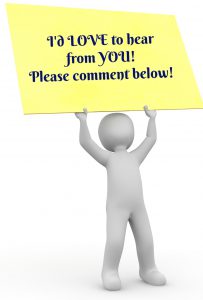 What do you think? Which style will be best for your boy's dress up storage solution? Chat with me about your dress up problems and biggest issues with storage!
Cheers!
Marlaine