The Guidecraft Dress Up Storage Center – Is This A Good Purchase?
Looking for a Guidecraft Dress Up Storage Center review? Here you have it! Answers to your questions, product specifics, and our own ratings. Check it out!
There comes a time when every parent of a little child who loves dress up looks around the play roo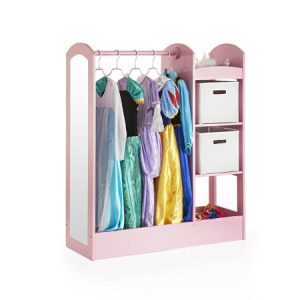 m and wonders "how on earth did we collect such a huge dress up collection?"  And following on that thought, realises that they need to come up with better dress up storage solutions than what they currently are using… say, the corner of the room, or a recycled box.
Especially if you are a bit of a neat freak, or if the thought of so many pretty dresses that you spent good money on are being squished and tossed in a heap… you need something.
This is where the Guidecraft Dress Up Storage Center comes in. A solution to your problems, perhaps.  It could be that you've have seen the See and Store ones on Amazon already (the style I'm looking at here), and have read some of the reviews. Perhaps you are wondering if it's a good buy, or if it will just be another big piece of furniture in your already crowded room.
Well, let's dig into them a bit more, and see what we're really looking at. It's a big purchase for a child's play room, after all. Let's do our homework.
(As an Amazon Associate I may earn a small commission from qualifying purchases made through links on this page, at no additional cost to you. Full Disclosure.)
[Two more options, the Guidecraft Dress Up Carousel and the Kidkraft Swivel Vanity, have also been reviewed!]
Guidecraft See and Store Dress Up Storage Center Specs
Colors available:  Pink (see photo above), Lavender, Natural (wood), Light Green, Grey
Cost:  Depends on color… the natural is about $20 cheaper than the painted ones. The natural comes in at around $165.  (The best prices for all colors though can be found on Amazon.com – the price is good, but their free shipping option makes it really good.)
Size:  When assembled, it's 36W x14D x42H"
Weight: 30lbs
Customer Reviews:  At time of writing (updated Dec 2022), it has a 4.7/5 Star ranking on Amazon from approx 650 reviewers.
Answers to common questions
If you're seriously thinking about getting one of these Guidecraft dress up storage centers for your child's dress up gear, you might be interested in the answers to some of these questions.
Is the mirror real?   Well, it's a kids mirror, not a serious piece of expensive mirror that will shatter when struck.  That being said, it's a decent one… not a fun-house style refection. Don't count on it being a perfect one though… think "kid-durable", but kid-friendly.
How many dresses can it hold?  Digging through the responses to that question in the reviews, purchasers claim it can hold around 10 medium sized princess dresses.  (One reviewer said they have 18, two others said around 30 on it… although I imagine that would be quite tight!) Many recommend purchasing thin hangers.
Can you customize it? Somewhat. Self-adhesive hooks stuck on the side are perfect for capes, fairy wings, and wigs. Stickers are also do-able and make it personal, but it's a laminate-like material and so can't really be painted.
Do you need lots of tools to assemble it?  No. Just the allen key that comes with it.
How long does it take to assemble?  Approx 20-30 mins if doing solo.
Can you assemble solo? Yes. Unless you want your 3 year old to help you. 😉
Will it topple if my toddler hangs on it?  Well… depends on your toddler, but there are multiple reviews saying it's very sturdy, that their child has stood on the sides and hung from the bar with no problems, and that they are impressed with it's quality.
The general verdict, readers, is that these dress up storage centers are awesome additions to your child's dress up world. Not only will they see their options and thus want to play longer, trying on more, but they will be able to better tidy up after they are done dressing up! Win, win! 🙂
---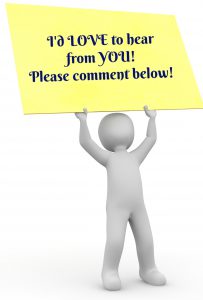 Let me know if you have anything to add to this review – does the storage center appeal to you? Or not? Have you purchased it yourself? What do you think??  Chime in… I'd love to hear from you!
Cheers!
Marlaine