Star Wars Dress Up For Boys: The Ultimate Star Wars Costume Collection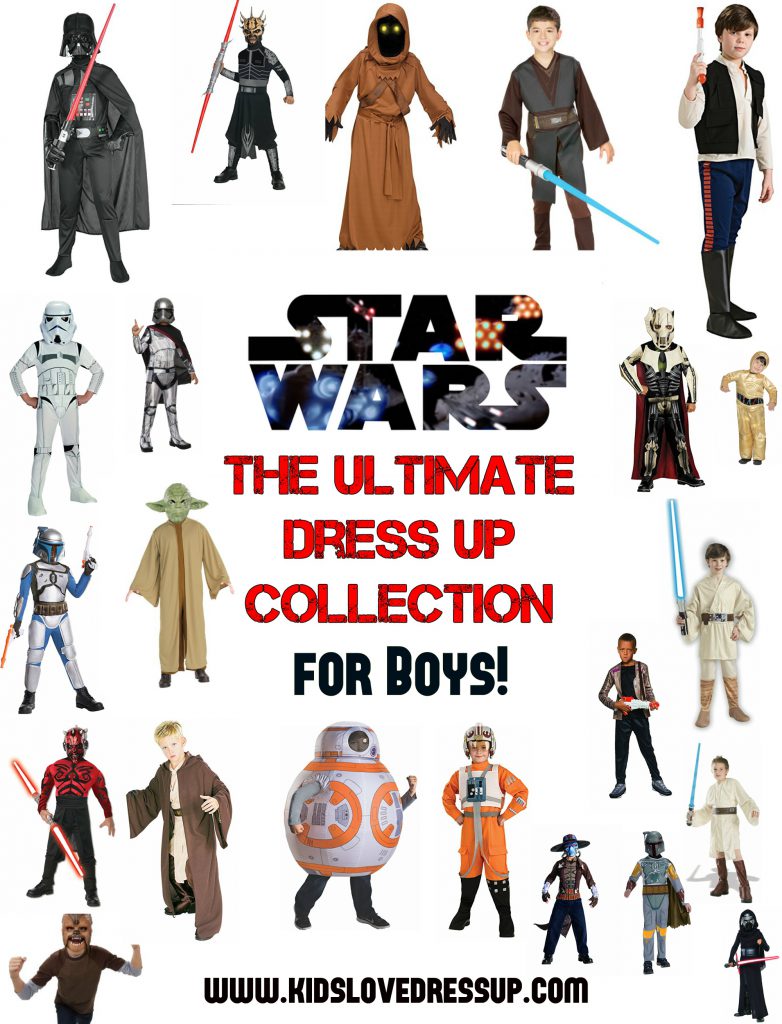 Star Wars
is one of the biggest movie franchises to ever hit Hollywood. It's a fun fantasy series with some seriously interesting characters… and is recognisable world wide as great entertainment.  (Ok, I have a few friends who disagree on the "great" part, but personally, I love it, and so do millions of fans.) 
And Star Wars dress up for boys can be incredibly entertaining too!
Star Wars dress up for boys is an almost limitless area for fun – there are sooo many Star Wars characters for costume choices!!
That being said, I delved through the hundreds of options and I think I've created for you the Ultimate Star Wars Costume Collection for Boys… by selecting the Star Wars costumes for boys that had the highest ratings, most positive comments, and were the best selling picks over at Amazon. (Truly, Amazon does have the cheapest prices for costumes online, pretty much hands down.) 
(As an Amazon Associate I may earn a small commission from qualifying purchases made through links on this page, at no additional cost to you. Full Disclosure.)
Star Wars Dress Up For Boys
The Ultimate Star Wars Dress Up Collection
---
Section #1, Costumes from: 
STAR WARS (IV)
THE EMPIRE STRIKES BACK (V)
and RETURN OF THE JEDI (VI)
DARTH VADER COSTUME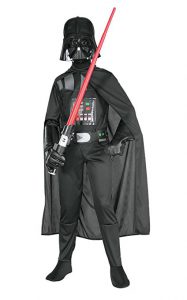 This is a full body Darth Vader printed jumpsuit with built in boot covers. It can fit just right on your boy due to the printed cloth belt that ties in back. The 3/4 length black Darth Vader cape attaches with Velcro, and the mask is molded hard plastic. (Light saber not included, sorry.)
With this awesome costume in your boy's possession, I'm going to guess you'll be hearing "Luke, I am your father" just a FEW times… Ok, more than just a few. And hearing that heavy mechanical breathing sound for which Darth Vader is so well known. 🙂
As far as full body Darth Vader dress up is concerned, this one is the costume you want, out of all of the options.  It's has a 4/5 star rating by over 445 reviewers!
HAN SOLO COSTUME

He's a smuggler, a scoundrel, a hero… he's Han Solo! Captain of the Millennium Falcon, co-pilot and friend of the famous Chewbacca, one of the great leaders of the Rebellion. Can't help but love him.
This is an "officially licenced" Han Solo Star Wars deluxe costume, by Rubies. Blaster laser pistol sold separately.  It comes with the shirt with attached vest and pants with attached boot tops.
Note to those interested: read through the reviews regarding sizing!
YODA COSTUME
A fun costume, this is. Instantly recognisable too, which is what you want when you put an odd looking mask over your head for a costume, right? 😉
This costume has really high ratings for a simple costume. 4.4/5 stars by over 140 reviewers.  Comments regarding it being nothing fancy but surprisingly good quality for the price are very common. The mask is also apparently very realistic looking!
This costume comes with 4 pieces – a jumpsuit, a hooded robe, a sash/belt & a lightweight flexible mask. The brown sleeveless pant jumpsuit has one Velcro closure at the back of the neck, allowing your child to easily step in and out of it.
JEDI KNIGHT COSTUME ROBE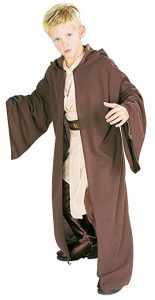 This is the accessory robe to the Luke Skywalker outfit – the deluxe Jedi Knight Robe. It's ankle length and has a hood. It's a thicker material, has an organic feel, and isn't a cheap, thin cloak that will rip easily. Perfect for hours and hours of Jedi dress up play!
Almost 200 reviewers have given this robe a 4.5/5 star rating which is a pretty fantastic recommendation.
LUKE SKYWALKER COSTUME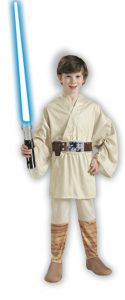 Which boy who watches Star Wars for the first time doesn't want to wield a light saber like Luke Skywalker? Which boy isn't shocked when he discovered that Vader is his father, and Leia his long lost sister? Luke's journey as he learns how to use the force and becomes the greatest Jedi the galaxy has ever known makes him also one of the most popular dress up characters!
This is the officially licenced Star Wars Luke Skywalker costume! Comes with the tunic, belt, and pants – no light saber included.
C-3PO COSTUME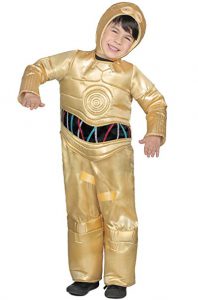 All Star Wars fans are familiar with C-3P0, the droid programmed for etiquette and protocol by a young Anakin Skywalker. He is a familiar character through the Star Wars movies, and is, basically, a pretty cool robot!
This jumpsuit (attached hood) is made out of polyester and foam, and velcros in the back. It should be able to transform your child easily into this iconic droid who has all of the answers!
CHEWBACCA MASK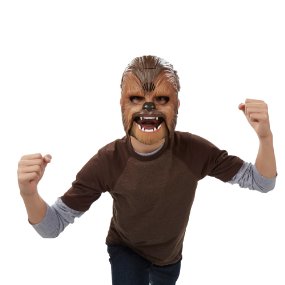 Chewbacca is a legendary Wookie warrior with a legendary sound.  Chewie, co-pilot of the Millenium Falcon alongside Han Solo, is a loyal, tried-and-true ally of the Rebel Alliance. He has great bowcaster skills and also a bit of a temper.
This mask is THE dress up item you want for your Wookie-loving boy. There ARE full body Chewbacca costumes, but the reviews on them aren't great… where as this mask is reviewed to be AWESOME!  (4.5/5 star rating by over 365 reviewers). It's electronic – and the jaw moves alongside yours to make Chewie's noise. Amazing!!
STORM TROOPER COSTUME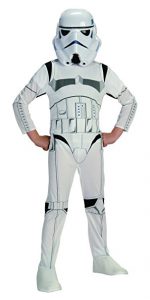 Stormtroopers are a big part of the Empire's loyal fighting crew – they are the elite shock troops that are trained to fight in any environment and never be swayed from their tasks. There are thousands of them!
Anyone who sees the iconic white mask and armor will know exactly who your boy is pretending to be, when he's dressed up in a costume like this one!  (It includes the printed jumpsuit and the mask.)
BOBA FETT COSTUME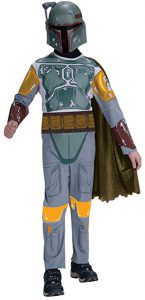 Boba Fett, genetically cloned son of Jango Fett, is a deadly and feared bounty hunter in the Galaxy. Your boy can have fun dressing up as Boba Fett and hunting down his own prey!
This costume features a printed body suit, a cape, and the hard plastic mask with vents. Over 135 reviewers have given this costume set a 4/5 star review!
---
Section #2, Costumes from:
THE PHANTOM MENACE (I)
ATTACK OF THE CLONES (II)
and REVENGE OF THE SITH (III)
DARTH MAUL COSTUME
Darth Maul is the agile and deadly Sith Lord, trained by the evil Darth Sidious. He is an impressive  warrior and scheming mastermind, and his double-bladed light saber makes him one fierce fighter!  Though he fell in battle against Obi-Wan Kenobi, he proved harder to destroy than was originally believed.
This Darth Maul costume has the muscle chest built into the jumpsuit, and a plastic mask. It has a 3.9/5 star rating by over 70 reviewers.
OBI-WAN KENOBI COSTUME
This Obi-Wan Dress Up outfit for boys is the highest rated one on Amazon.com – receiving
4.3/5 stars by over 75 reviewers.
This is Star Wars cosplay costume, and the costume features the tunic with attached jacket, pants with attached boot tops, and belt. It's great for costume parties, Halloween, and of course, dress up fun!
Note: even though the pic for all options is of an off white tunic color, you need to select the color of tunic that you want! That way there are no unpleasant surprises!
ANAKIN SKYWALKER COSTUME
The young Darth Vader, the pod racer extraordinaire, the slave boy discovered on Tatooine by Qui Gon Gin and Obi-Won Kenobi, the possible Chosen One that would bring balance to the force… Anakin Skywalker is the stuff of legends! Dressing up in an Anakin Skywalker costume – complete with mask – will lead to hours of Jedi fun! It's one of the great boys costumes!
This Rubie's costume has a 3.7/5 star rating by over 90 reviewers, which actually is pretty decent. Overall main comments are that it's decent for the price you pay (budget price). It's a printed tunic and pants with boot covers- light saber not included.
GENERAL GRIEVOUS COSTUME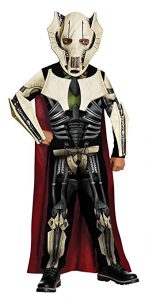 General Grievous, a brilliant Separatist military strategist and a feared Jedi hunter. A ruthless, lightning quick fighter, who eventually ends up in a fatal battle with Obi-Wan Kenobi.
This costume is pretty cool! For a boy who loves Star Wars but doesn't want to be the traditional Darth Vader bad guy, this is a great choice! It's a body suit with boot covers, cape, and a plastic mask.
JANGO FETT COSTUME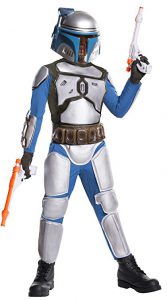 Jango Fett was regarded as one of the best bounty hunters in the galaxy during the last years of the Republic. Your boy will have fun hunting down his foes dressed up in this costume!
It includes a 2-piece PVC mask that goes all the way around the head, a jumpsuit with molded body armor, a molded belt and gloves. The weapon accessories are sold separately.
JAWA COSTUME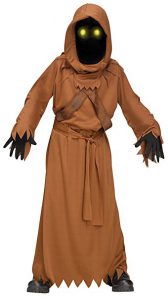 Jawas are humanoids completely concealed behind rough, hand-woven robes. All but their sickly glowing yellow eyes is hidden. They are dangerous scrap raiders who comb the deserts of Tatooine. Jawas show up in 5 different Star Wars movies, so they are well known.
Boys will have fun being creepy and crafty in this costume. It includes the robe, hood, fade eye mechanism (batteries not included), belt with gauze, and the gloves.
---
Section #3, Costumes from:
THE FORCE AWAKENS (VII)
BB-8 COSTUME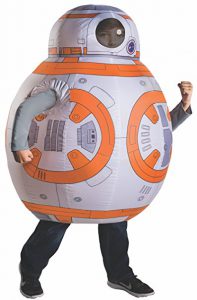 This is an inflatable costume, designed for kids roughly aged 5-8.  There's a built in fan that keeps it inflated, so the small motor needs batteries (not included).
Talk about a fun costume! Reviewers said it makes for lots of laughs! They also said that it's not the easiest to walk in.
SAVAGE OPRESS COSTUME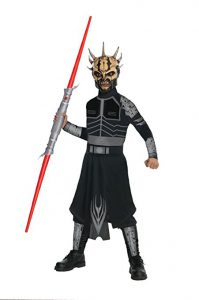 This secret Sith apprentice of Count Dooku, and brother of Darth Maul is one creepy looking bad guy… meaning, many boys will love having fun dressing up as Savage Opress.
This is a budget costume – so don't expect anything amazing for the what-IS-amazing price. No, the light saber is not included. It's a printed tunic with pants that have attached boot tops, and a thin mask.
CAD BANE COSTUME
Cad Bane is one ruthless bounty hunter! If the price is right, he'd track his prey to the ends of the galaxy. Your boys might just have some good long fun tracking their own prey dressed up as Cad Bane!
This costume is also, like the Savage Opress Costume above, a budget priced/budget quality costume. Pretty cool looking though! It includes the printed jacket with attached shirt (polyester), the half mask and hat, as well as gauntlets – pants are not included.
X-WING PILOT
Your little one may be headed for zero-gravity and fighter-pilot fame in this orange X-Wing Pilot suit! X-Wing pilots man the X-wing Starfighters, which have both speed and incredible fire-power.
This Star Wars Deluxe X-Wing flight suit costume includes a jumpsuit, a tunic with straps, a chest box, and a helmet… plus the ride in blow up plane! Super cool!
KYLO REN COSTUME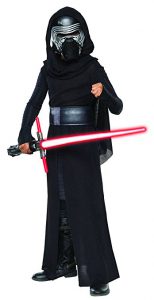 Who is Kylo Ren, you ask? "A dark warrior strong with the Force, Kylo Ren commands First Order missions with a temper as fiery as his unconventional lightsaber. As a leader of the First Order and a student of Supreme Leader Snoke, he seeks to destroy the New Republic, the Resistance and the legacy of the Jedi." (Starwars.com)
This particular Kylo Ren Costume is one popular costume! Over 300 reviewers gave it a 4.7/5 star review – if you're looking for one "Bad Guy Costume", this is the one!
FINN COSTUME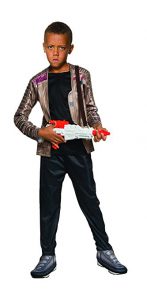 FN-2187 (renamed Finn by Poe Dameron after he helped him escape the First Order) was trained since birth to serve the First Order as a stormtrooper, but a skirmish on Jakku awakened his conscience and sent him down a different  – heroic and dangerous – path.
This is the officially licenced Star Wars Finn costume. It's polyester, comes with pants, and printed top with attached jacket. The shoes and weapon are not included.
---
---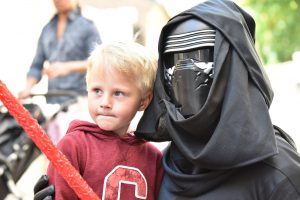 That wraps up this Ultimate Star Wars Dress Up Collection – great Star Wars Costumes for Boys for today, friends! When the next movie comes out, it'll be time to update and add some more interesting costumes, no doubt!
Are you a big Star Wars fan yourself? Or are you browsing with a certain young man in mind who has mentioned a few times that he'd love a certain Star Wars character costume for Halloween or dress up play? Which Star Wars costume above do you think is the most amazing? And conversely, which is the one you dislike the most?
Chime in below, please! I'd love to hear from you!
Have a great day, and May the Force be with you! 🙂
Marlaine
---
BEFORE YOU GO!!! If you're a Star Wars fan… check this out! You won't regret it!