25 Easy Halloween DIY Costumes For Kids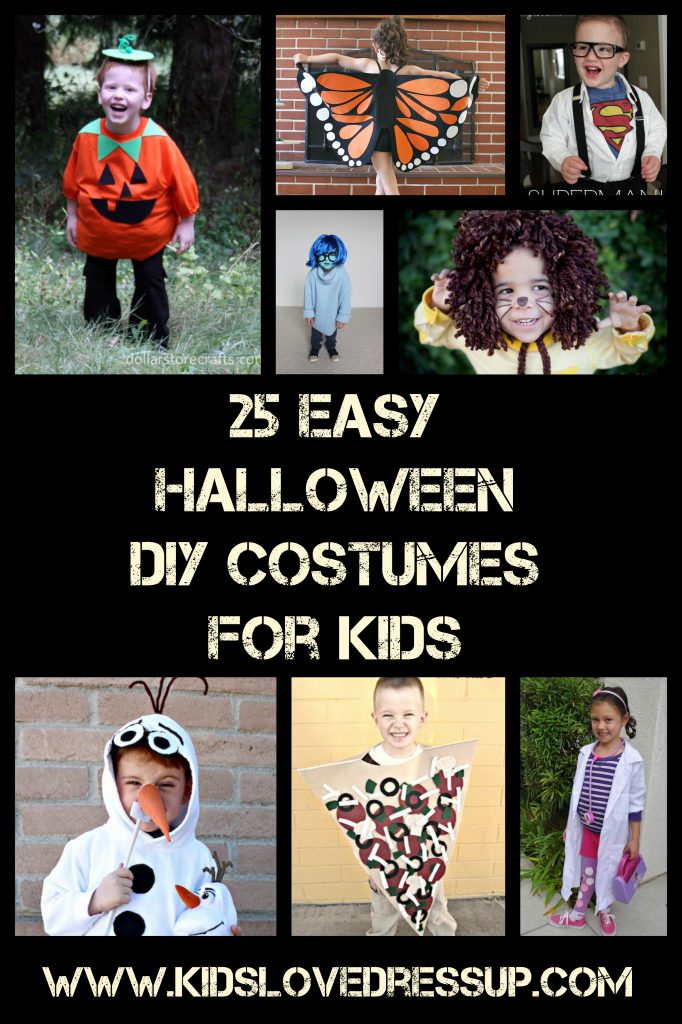 Easy Halloween DIY Costumes… Ok, Moms and Dads! Who doesn't want a quick and cheap solution to the question "What is my child going to wear for Halloween this year?" Who of you feels like running to a busy and picked-over costume store for a last minute purchase?
If there's a bit of a crafter or a DIY-lover in you, you'll love these easy Halloween OR EVERY DAY DRESS UP do-it-yourself kids costumes!
Here are 25 easy Halloween DIY costumes I've found from around the web for you – all with pictures and instructions – to save the day!
What a great idea! Turn your Lego lover into his or her favorite toy with some cardboard, spray paint, and scissors! Tutorial at Kids Activities Blog
How adorable is this SNAIL costume?? What a beautiful and unique dress up idea! Awesome photo tutorial here at Oh Happy Day!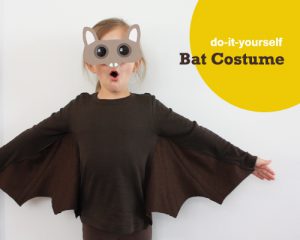 How about a CUTE bat costume? Not really Batman or Batgirl, but more Stellaluna, or Silverwing?  Fun either way. Check out instructions at
Alpha Mom.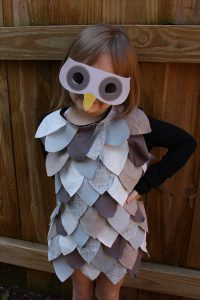 And how about this adorable OWL costume?? Made from old t-shirts (sew OR glue)! Tutorial and printable mask at
Alpha Mom.
How about a fun DIY Jack-o-lantern Costume? Scary or goofy, smiley or sad… have fun with it! Check out instructions at
Dollar Store Crafts
This no-sew DIY kids Lion Costume is incredible, isn't it? Check out how Kimberly made it – great photo tutorial – at
A Night Owl
.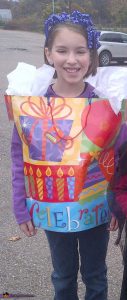 My little daughter would LOVE this one! A DIY Present Costume! Especially picking out her gift bag of choice, and wearing a bow on her head. 🙂  From
Costume-Works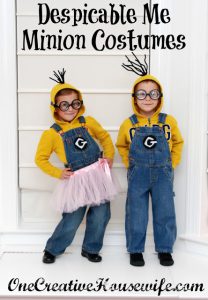 How about some super fun Despicable Me costumes? Depending on what your kids have in their closets, it could be a SNAP to get it ready! Tutorial at
One Creative Housewife
.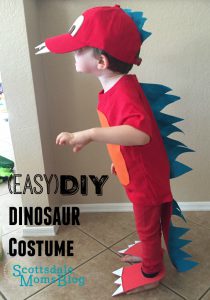 If you have a little boy obsessed with dinosaurs (or little girl, why not?), this easy DIY dinosaur costume for kids is pretty great, isn't it? Check out how to make it at
Scottsdale Mom's Blog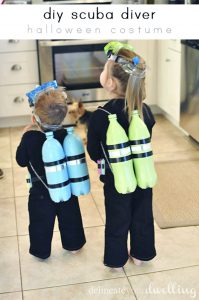 Easy Halloween DIY costumes for kids who love underwater stuff… why not make a Scuba Diver costume? Looks so easy and CUTE! Check it out at
Delineate Your Dwelling!
Whose day wouldn't be
brightened
by seeing this stormy rain-cloud coming your way?? 🙂  Stitched by Chrystal did a tutorial she posted
HERE
– check it out!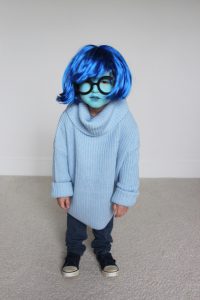 Do your kids love the movie
Inside Out?
How about making your little one a Sadness Costume like they did on
Love and Lion
? No one will feel blue looking at that little one! 🙂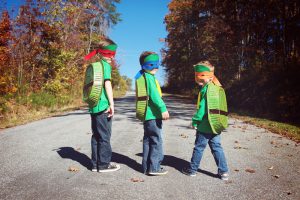 TMNT are HUGE again now – making a DIY costume or two.. or three… or four… is pretty easy when you follow the instructions at
Crafts By Courtney
.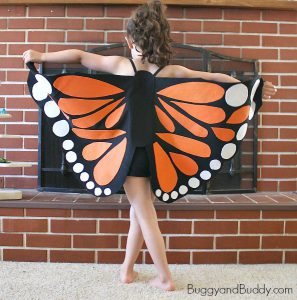 Aren't these Monach Butterfly Wings beautiful? They certainly don't look all that difficult to make, if you follow the instructions here at
Buggy and Buddy
.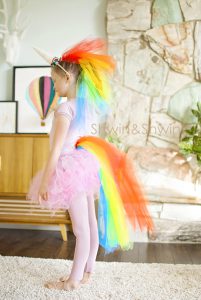 I love this Rainbow Unicorn DIY costume!! I happen to know a few little girls who certainly would too!
Shwin and Shwin
does a great tutorial on it… check it out!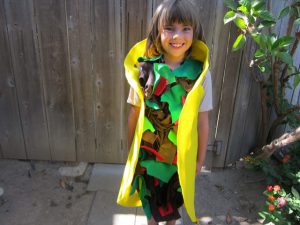 Don't you just want to just pick up this taco and… hug it to bits? Such a great idea! Instructions for
How to Make A Taco Costume
at eHow.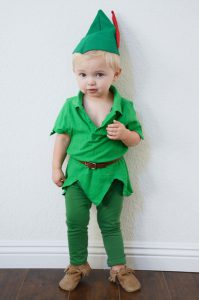 If you're a Peter Pan fan, or your child is – or perhaps you just don't want your little treasure to grow up, why not make him a super-adorable Peter Pan DIY Costume? Full
photo tutorial here
at Babble.com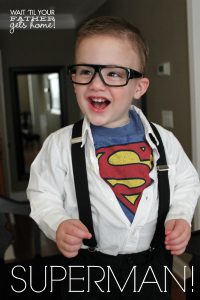 It's a Bird, it's a Plane… it's SUPERMAN! Or is it Clark Kent? Make this toddler Clark Kent DIY costume – with ease – just like Meredith at
Wait Til Your Father Gets Home
.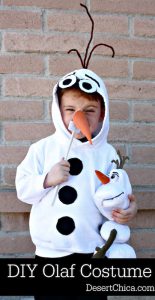 Any
Frozen
fans in the house? Which kid DOESN'T love Olaf the Snowman? This is an easy Halloween DIY costume if you already have a white hoodie for little man or little lady! Instructions here at
Desert Chica
.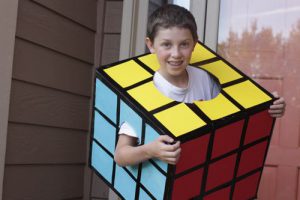 How about a Rubix cube costume? Fun for a smart kid who loves the game cube! Instructions for how to make a rubix cube costume here at
Design Mom
.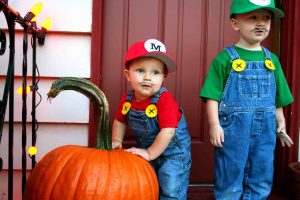 If you have two little guys, why not make them matching Mario and Luigi costumes? Easy Halloween DIY Costumes all about the Super Mario Brothers are super fun! Download the tutorial here at
Instructables
.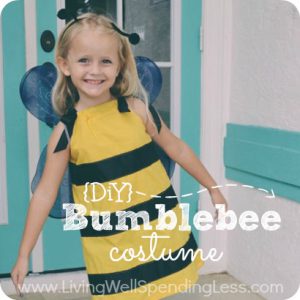 Wouldn't your child look adorable as a bumblebee? Find out how to make this BEE-utiful DIY costume at
Living Well Spending Less
.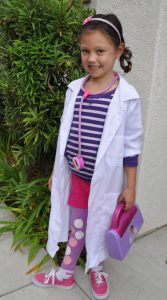 My little girl would simply LOVE this Doc McStuffins DIY Costume – would yours? Looks fairly simple to make too… check out instructions on
Mama Mary Show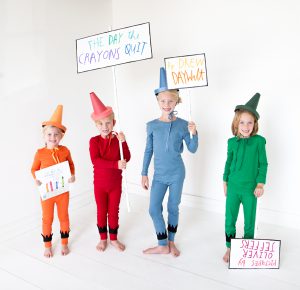 You know the story "The Day The Crayons Left"? Why not turn a fun book into a fun DIY costume? Turn your kiddos into crayons! Tutorial here at
The House That Lars Built
.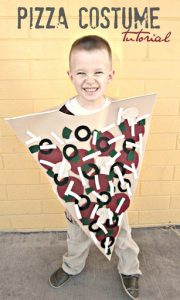 Why not do something super creative like making a DIY Slice of Pizza Costume? It's interesting and definitely unique… bound to get LOTS of comments from the neighbours! Tutorial at
UCreate
.
---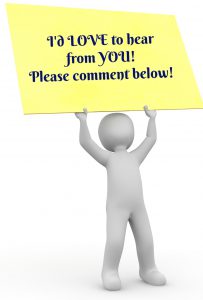 So what do you think? Are you going to DIY your child's Halloween costume this year? These sure look like fun costumes! 
If for some reason you think you might not get around to it after all, there are all sorts of costume and dress up fun ideas here at Kidslovedressup.com! Browse around!
And drop me a line on what you're planning, costume-wise, for YOUR child this year!
Cheers!
Marlaine