18 Fun and Fabulous DIY Halloween Costumes For Boys
It's getting to be THAT TIME again… the time when it gets a bit cooler outside, when the days get a bit shorter, and when many kids (and their crafty parents) begin discussing their ideas for The Perfect Halloween Costume.  If you're here looking for some fabulous DIY Halloween Costumes for Boys that you can make and he can excitedly wear, you're in the right place!
What follows are 18 awesome DIY Halloween costumes for boys (although girls will likely have fun with many – if not all – of these ideas too). Enjoy browsing through them… and be sure to also take a second to dig around our site here at KIDS LOVE DRESS UP for some cool dress up ideas and activities!  We have tons! 🙂
---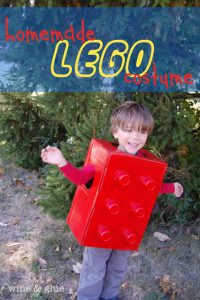 DIY Lego Costume
Honestly, who DOESN'T love lego? And which of you parents wouldn't say "Oh, I LOVE your costume" if a little guy came to your door dressed up in a home-made Lego costume?  Simple, yet fun. Instructions at Wine & Glue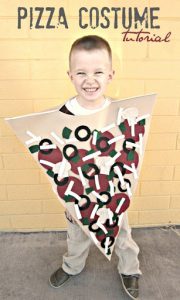 DIY Pizza Costume
What boy doesn't love pizza? This DIY costume will be fun to make, and cost very little! You just need some felt, scissors, a glue gun, and some comfy clothes… you can even wear this one over a winter jacket if needed (for we "up north" people).  Tutorial at U-Createcrafts.com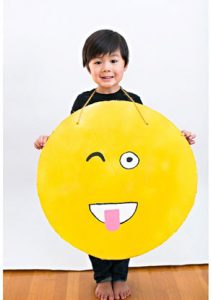 DIY Emoji Costume
Emojis are pretty cute… and pretty popular these days! They are everywhere! Your little guy will have fun picking out his favorite emoji off your phone, and then helping you create a great Emoji Costume for Halloween this year! Check out instructions at HelloWonderful!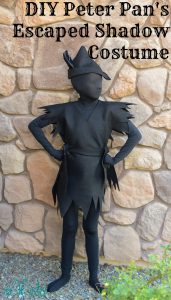 DIY Peter Pan's Escaped Shadow Costume
Ok – this one is incredible!! Peter Pan is a classic that all boys everywhere love! Perfect for Halloween or Literature Day / World Book Day dress up parade… it's not all that hard to make (will include the purchase of a morph suit), and ALL SORTS OF FUN for your boy to wear! Read about it at Tikkido.com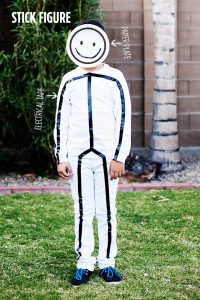 DIY Stick Figure Costume
First off… don't be turned off of this one right away thinking your boy doesn't have a full white clothing outfit. Not many Moms of boys buy their sons white jeans LOL.  But just reverse the colors… do WHITE TAPE ON BLACK CLOTHES… and voila! Totally works! Check out your local dollar store party section for black plates.  From AllForTheBoys.com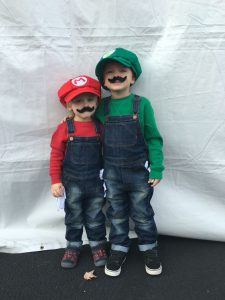 Mario and Luigi Costumes
These are nice and easy… and well known! Depending on what's in your sons' clothing drawers, you can send out your boys as the famous Nintendo duo wearing their own gear (overalls, shirt)… plus a fun stick-on mustache and floppy hat (simple to tack on the M or L, right?).  Love it!  (Photo on Pinterest, no link)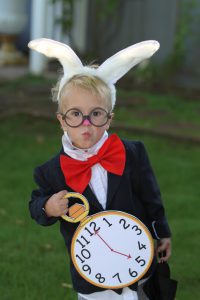 The White Rabbit Costume
Alice in Wonderland is a TREASURE TROVE when it comes to trying to come up with cool Halloween costumes.  The White Rabbit is an easy DIY costume with a few simple pieces like a dress jacket, rabbit ears, a bow tie, and glasses frames! And don't forget a big ol' clock!  Source: The Weisse Guys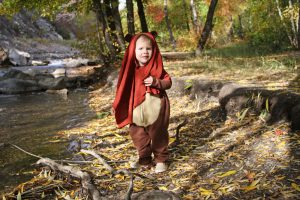 An Ewok (from Return of the Jedi)
Have a Star Wars lover in your family? Think your little guy would have fun dressing up and going house to house on Halloween as an Ewok? Use some zip-up pjs, work some DIY magic, and boom! Ewok.  Check out full details at Running With Scissors.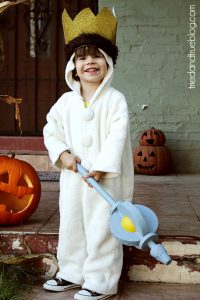 Max from "Where The Wild Things Are" DIY Costume For Boys
What little boy doesn't love the classic story "Where the Wild Things Are"? (Check it out at the Library next time if your son hasn't read it yet!) This costume has easy parts to DIY… and some more challenging parts. But be creative, use what you have, and soon, your very own King of the Wild Things may be smiling out at you, ready to head out for some fun!  Info at Tried and True Blog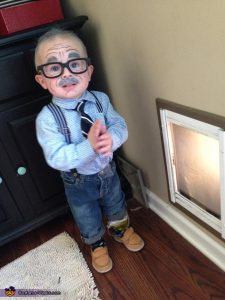 Old Man Costume – DIY Halloween for Boys
THIS one could be a TON of fun for some smart-alekky boys! Why not come up with a hilarious "Old Man" costume? Frost his hair with grey, add wrinkles, glasses, facial hair… how about a cane, a walker, or walking with a stooped back? This one could be fun! Photo here from Costume Works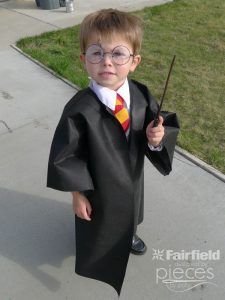 Harry Potter DIY Costume – No Sew!
Have a Harry Potter fan in your house? Dress up with a simple no-sew robe (looks really easy!), add a scarf, glasses, and Harry's identifying lightning-shaped scar… and set your little guy up as the famous Gryffindor boy wizard!  Instructions at Fairfield World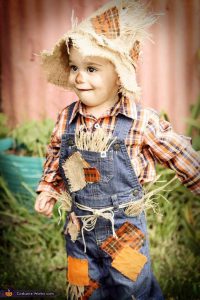 Scarecrow Costume
It's cute, it's innocent, it's inexpensive, it's easy… and you can make it with just a few simple supplies! At your family trip to the local Pumpkin Patch, pick up some handfuls of straw… get out your son's overalls and checkered shirt, grab a floppy hat, loosely stitch on a few patches, stuff in the straw… and in a few minutes your little guy will be ready to scare off the neighbourhood crows (and whatever else gets in his way)!  Source: Costume Works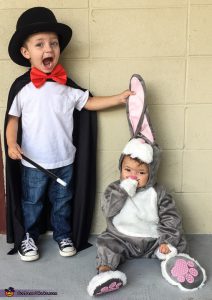 Magician DIY Costume
I love this! If you are looking for a costume duo for your kids, a MAGICIAN and his little bunny rabbit (that he pulled from his hat, of course) is a really cute idea! And definitely easy to figure out if you're into a wee bit of DIY! Source: Costume Works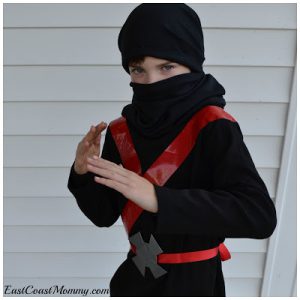 Ninja Costume – DIY Halloween Costumes for Boys
Using some black material, an old black shirt, and some duct tape, you can make a stellar Ninja costume for your own little Ninja! He'll love playing the role of the agile warrior/spy for Halloween! Details for this No-Sew Ninja outfit at East Coast Mommy Blog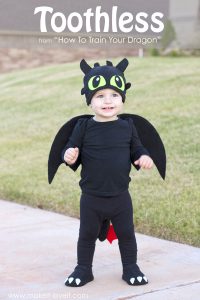 Toothless – from "How To Train Your Dragon"
Ok, how CUTE is this little guy in this Toothless costume (How To Train Your Dragon)??? Ok, got that gush out of the way. Now go make this costume for YOUR little cutie. Great tutorial at MakeIt LoveIt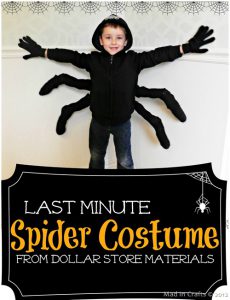 Spider Costume – DIY Halloween Costumes For Boys
Creepy yet cool… would your boy have a great time this Halloween dressing up as a many-armed spider? This costume isn't hard to make, but it sure looks fabulous! Details at Mad In Crafts
Hockey Player In The Penalty Box – Wheelchair-Friendly Costume For Boys
I just love this idea! Just because a child has limited mobility, that does NOT mean he can't enjoy dressing up and have fun at Halloween! This DIY costume is perfect for a hockey lover!  Photo only on Pinterest – link was moved.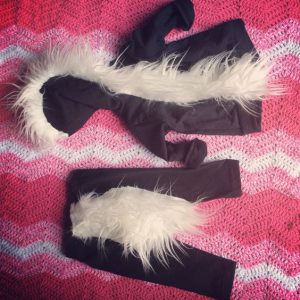 Skunk Costume
I happen to know a few boys who would get a real kick out of dressing up as a black and white skunk for Halloween – do you? They could certainly be the center of attention – and draw a lot of laughs! With a black hoodie, black pants, and some white fluffy material, you can easily figure this one out, right?  Picture only on Pinterest – no link.
---
Want more DIY Halloween Costumes for Boys (or Girls)?  Love DIY Dress Up Stuff? 
Then check these out:
Want To Save This?  PIN THIS IMAGE: