12 Easy DIY Dr. Seuss Costume Ideas For Kids!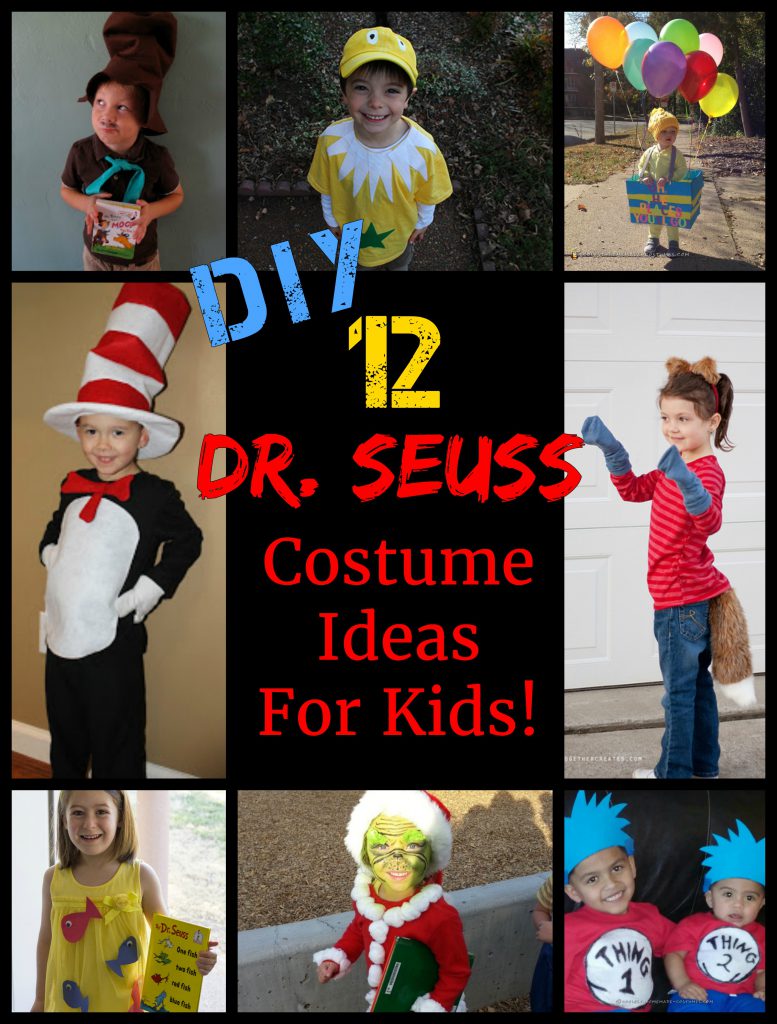 Are you needing some costume inspiration for an upcoming "Dr. Seuss" event for your child? There are SO many fabulous
Dr. Seuss costume ideas for kids
online, and here we've collected 12 of our favorites to share with you!
All of these, we think, are wonderful choices for a "Dr. Seuss Day" celebration, for a Book Week or Book Character Dress Up Day, for World Book Day fun, or even for Halloween! A few of them can be finished even late the night before, with items you already have in the house. Great, right?
A quick note before we get to the Dr. Seuss character costume ideas:  Don't forget about Dr. Seuss INSPIRED outfits in your search for the perfect costume! The sillier, the brighter, the wackier, the zanier, the more over-the-top… the better!  I went to our local library with my kids this morning and saw a big poster advertising their upcoming Dr. Seuss Birthday Celebration (his birthday is on March 2nd) – and children were encouraged to dress up in "Dr. Seuss Style" with funky hats and accessories – not an exact costume. So if you don't like any of the ideas below, why not get creative yourself!  
12 Homemade Dr. Seuss Costume Ideas For Kids!
One Fish, Two Fish, Red Fish, Blue Fish  Kids Costume!
I love how simple this costume is! ANYONE can pull this one off (even me, haha!) It's colorful, fun, and very recognisable as Dr. Seuss.
It's also super economical – the whole thing may not cost you more than a few pennies if your child has even just a yellow shirt.  (If there are logos or pictures on it, flip it inside out for the day.) A full yellow outfit or sundress is also super cute, just safety pin onto it red and blue construction cut-out fish and voila!
Idea by Homemade for Elle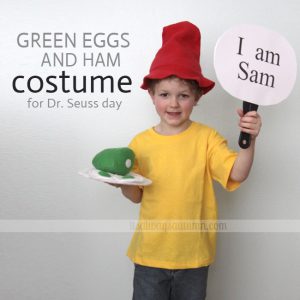 Green Eggs and Ham  Kids Costume!
"Say… I LIKE green eggs and ham!" And I reallllly LIKE this costume idea too! What a fun way to DIY a simple Dr. Seuss costume for kids! It's easy, it's comfortable, it has fun props for kids to handle, and it's a great story!
Idea and full tutorial at It's Always Autumn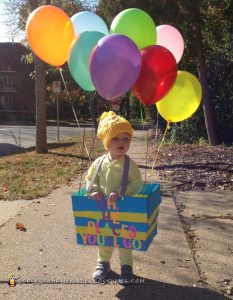 Oh, The Places You'll Go
  Kids Costume!
Isn't this DIY Dr. Seuss dress up idea just fabulous? If your child is a big fan (or if YOU are a big fan) of "Oh, The Places You'll Go", why not put together a colorful, uplifting 😉 DIY costume for your little one that fits the up, up and away to grand adventures theme of the book?
Idea from Coolest Homemade Costumes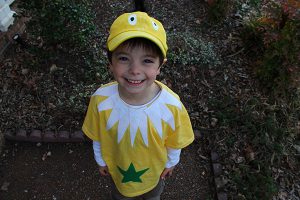 The Sneetches And Other Stories  Kids Costume
Do you remember the Star-Bellied Sneetch from Dr. Seuss' The Sneetch and Other Stories? This kids Sneetch-inspired DIY costume is adorable, isn't it? You can make this costume easily with a yellow shirt, yellow hat, some felt pieces, feathers, and a few other tools.
Check out the tutorial at The Mom Creative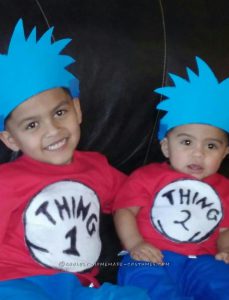 The Cat In The Hat – Thing 1 and Thing 2 DIY Kids Costumes
Thing 1 and Thing 2 are the classic Dr. Seuss "twins" or "siblings" or "best friends" costume ideas, aren't they? I love how these two costumes are pulled together. Using felt and visors to create the iconic blue hair is a great idea! Way more comfortable than a wig for a little one, to be sure!
Check out the details at Coolest Homemade Costumes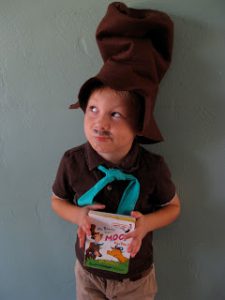 Mr. Brown Can Moo, Can You? Kids Costume
First off, isn't this kid adorable?? 🙂  I love his expression. (Secondly, I am reminded that I just loved this book as a child. Looking for these awesome DIY Dr. Seuss kids costumes around the net has reminded me that I need to get this one out at the library next time!)
This costume is pretty simple if your child has a brown collared polo style shirt. Use a blue ribbon for the tie, and "whip up" (easy for some of you, not so easy for me, must admit) a matching brown hat from a thick felt), draw on a quick mustache, and you have a great little Mr. Brown!
Idea from the brower hour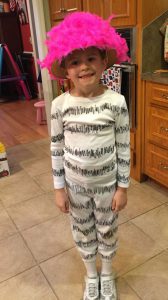 Truffula Tree (from the Lorax) Kids Costume
This is definitely a simple kids Dr. Seuss DIY costume to make. Using an old white shirt and pants/leggings, draw on the zigzags with a black sharpie.  DIY a bright pink hat using a glue gun, a bright pink boa, and a foam explorer/safari style hat, and away you go!
Image from Pinterest (no source)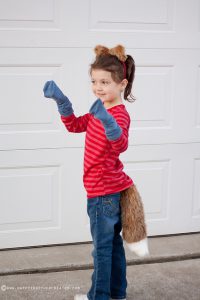 Fox in Socks
Kids Costume
Who doesn't love "Fox in Socks"?  If you have a few props in your kids dress up trunk, you may find it simple to DIY a cute Fox in Socks costume for your child. As in the picture, you'll need a fuzzy "fox tail", some fox ears, a read shirt, and some blue socks! Cute, isn't it?
Photo from Flickr contributor Ohsohappytogether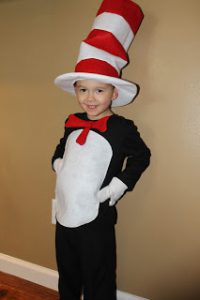 Cat In The Hat Kids Costume
If you have some sewing skills, you can pull off an amazing DIY Dr. Seuss' Cat In the Hat Kids Costume like this one! You'd never guess that it didn't come from a costume store (other than that it's probably even better quality, right?). The "Cat In The Hat" is definitely one of the most popular and well-known Dr. Seuss characters… dressed up in this one, your child will have NO ONE asking "and who are YOU?" Love it!
Tutorial and details here at Life Is Good
The Lorax Kids Costume
Have access to some yellow felt, a pair of glasses frames, scissors, and a hot glue gun? You can make an amazing Lorax "mask" accessory – and all you'll still need for your cool Lorax kids costume yet will be an orange shirt or sweater!
Tutorial here (printable pdf for the pattern) at Anna K. Originals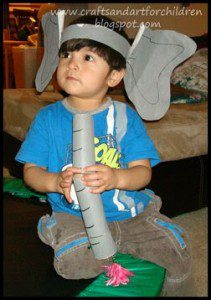 Horton Hears A Who!
Kids Costume
Which little child isn't fascinated by elephants? Create these awesome elephant "Horton" ears and snout with simple craft supplies! And don't forget the pink flower with the speck to complete this Dr. Seuss' DIY kids costume.
Idea and details at Artsymomma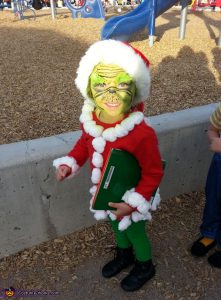 The Grinch Kids Costume
I LOVE this DIY "The Grinch" kids costume idea! Pretty much any Dr. Seuss fan will recognize the grumpy and misery, green-faced "Santa" from Dr. Seuss' "The Grinch Who Stole Christmas"!  Using some items from your child's closet and some extra accessories like white pompoms (and a glue gun), and some face paint, your little Grinch will be a big hit!
Idea by Anastacia on Costume-Works
---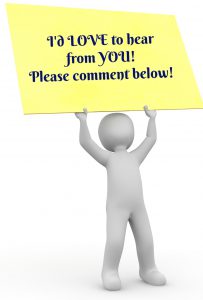 Are you loving these Dr. Seuss costume ideas for kids as much as I am? I could totally pull of a bunch of these (and I'm NOT crafty) so, so can you!!
Let me know which one is your favorite below, of if I've missed an obvious "classic Dr. Seuss character"? I'd love to hear from you!
Here are a few other posts you might like, before you head out!
Cheers, and happy costume making!
Marlaine
---
Before heading out… enjoy this reading of Dr. Seuss' "The Cat In The Hat" to get you and your kids "in the mood"!