The BEST Cat In The Hat Costumes For Kids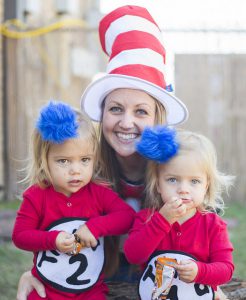 Looking for some great Cat in the Hat costumes for kids? Welcome to KidsLoveDressUp.com – you'll find what you're looking for here!
Dr. Seuss' The Cat In The Hat is a beloved classic that kids and parents have enjoyed now for several generations.  Cat In The Hat dress up outfits are always popular too; at Halloween, for Book Character Dress Up Days, for Dr. Seuss themed parties, and for regular dress up play!
This post here today is all about helping you as a parent or teacher find some perfect Cat in the Hat costumes for kids! I've done the browsing around FOR YOU – and come up with the best priced, most popular options you can find online!
(As an Amazon Associate I may earn a small commission from qualifying purchases made through links on this page, at no additional cost to you. Full Disclosure.)
But first, about The Book.
"The sun did not shine. It was too wet to play.

So we sat in the house. All that cold, cold, wet day."
So begins this classic rhyming story of a quiet day turned upside down by the quirky "Cat In The Hat" who stops by unannounced and uninvited for some crazy "fun that is funny" – or funny to HIM!  Kids everywhere grow wide-eyed at the stunts of Thing 1 and Thing 2, and worry alongside the fish, Sally, and Sally's brother about the trouble the Cat has brought them! Will he clean up his mess, fix the house, and disappear… before Mother returns??
Written by Dr. Seuss (Theodor Giesel), first published in 1957, The Cat in the Hat  was written to combat the ineffectiveness of the stale "Dick and Jane" primers. Kids LOVED this easy to read and fun story right away, and the book shot to success! (See wiki here for more details.) The movie version made in 2003 starring Mike Meyers as "The Cat" was also well received – and of course, led to more Cat in the Hat costume requests.
Cat In The Hat Costumes For Kids
"The Cat" Himself – Full Body Costume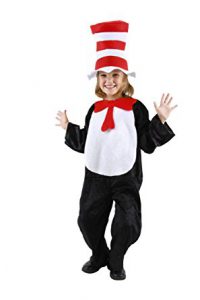 This is the full body Cat in the Hat toddlers costume you want if you are looking for an "all included" outfit. You get the black and white jumpsuit with attached tail, the red bow tie, and the iconic "Cat In The Hat" red and white striped hat.
Made by elope, it is available in 2 sizes: 2T-4T and 4-6.  Price runs normally under $30 – there are frequent sales, so heads up! 🙂
Costumer Rating: 4.7 / 5 stars by over 67 reviewers (see review comments by clicking Amazon button.)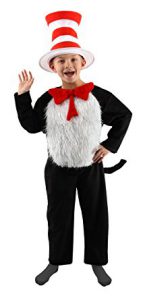 If, however, your kids are a bit older and you need a kids Cat costume that's larger than size 4-6, I'd go with this one here on the right. It's also by elope, and comes with everything you need. It's available in sizes small, medium, large, with large fitting generally sizes 10-12 kids size.
The suit comes with all of the following: bodysuit with attached bow tie and tail (fuzzy panel sewn on front), gloves, headsock, and the Cat's iconic red and white striped hat.
Customer Rating: 4.4 / 5 stars by over 120 reviews. Price ranges depending on the size, but it's a slightly pricier option than the one above. Click below to see current prices for the various sizes.


Another great option is for your little girls – this adorable
tutu-style Cat In The Hat costume comes with all the accessories you need to create a sweet costume.
Available in sizes 2T-6T currently, it comes with the dress (yes, it DOES have an attached tail… definitely needed to make it cat-like!), striped footless tights, and a headband. The shoes are not included.
This popular costume has good reviews, and I think your girl will like it too!

"Cat In The Hat" Costume Accessories
Sometimes a full body costume isn't needed. Sometimes going the "accessories route" is cheaper AND makes just as fantastic a costume as a full outfit. Here are some super fun Cat In The Hat kid-sized accessories that you can nab to easily transform that black shirt and pants he already has… into a great base for a Cat costume!

Thing 1 and Thing 2 Costumes For Kids
Do you have two little ones to dress up? Are they kids who get into everything and make crazy messes everywhere? Why not pick up or make two adorable Thing 1 and Thing 2 costumes and send them out dressed as this frolicking pair of troublemakers!?
With the iconic blue hair, red jumpers, and white identifying logos, Thing 1 and Thing 2 costumes aren't too hard to make, actually. Some blue hair dye or cheap blue wigs, red clothing (his Disney Cars shirt turned inside out? Christmas clothing recycled?) and hand-drawn and cut out logos… and you're good to go!
Should you simply not be interested in making your own Thing 1 and Thing 2 Costumes (or Thing 3, 4, 5 or 6?), why not check out the costume pictured here? Available in Size 2-4T and Size 4-6, it's an easy costume as it comes with everything you need: the jumper with a sewn on patch – YOU choose which of the 2 numbers to attach (it only comes with 1 jumper, but 2 numbers, so buy two sets if you want the twins) and the fun blue Thing wig!
When Can Your Kids Wear Their Cat In The Hat or Thing 1 or Thing 2 Costumes?

Halloween – that's a pretty obvious one, right? Why not go as a set with your kids?
Costume Parties or Parades
Every day creative dress up play and or dramatic play
Dr. Seuss celebrations or "Dr. Seuss Day" at school (during Book Week, some schools I know have done this)
Book Character Dress Up Days or World Book Days  (See  World Book Day Costumes For Kids for some other ideas)
Also: It's a great costume for a preschool/class room dress up trunk!
---
If you're still with me, let me know below what you think! I'd love to connect!
Has one of your children or grandchildren ever dressed up at "The Cat In The Hat" – or do you plan to pick up one of these for an upcoming event?
SEE ALSO:  12 Easy DIY Dr. Seuss Costume Ideas For Kids
And, do YOU have a favorite Dr. Seuss book? Now still, or when you were a child? Do you think "The Cat in the Hat" was his best?
Chime in below! 🙂
Marlaine