What Are The Best Toys For 4 Year Old Girls? 10 Toys She'll Love!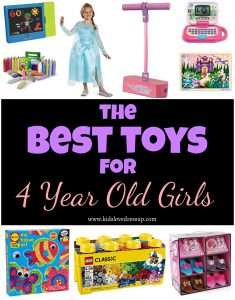 What are the best toys for 4 year old girls?
 If you are looking for something fun for a 4 year old girl in your life, we have here today a bunch of great items that she'll have a great time playing with!
I must say, this is SUCH A fun topic to write about today. 🙂  My own 4 year old girl received some of the COOLEST toys and gifts for her 4th birthday this past month, and she has been so busy PLAYING away with them- I love it! They don't all cost a lot – which is great – and they'll keep her busy for hours of fun!  This list is inspired by many of the gifts she received, and by other toys with which I know she and her 4 year old girl friends enjoy playing.
The age of 4, I've been told, is a GREAT year for creativity and play time, solo and with friends. So, let's make sure we have some of the best toys for 4 year old girls available to inspire her to hours of fun!
10 of the Best Toys For 4 Year Old Girls
(As an Amazon Associate I may earn a small commission from qualifying purchases made through links on this page, at no additional cost to you. Full Disclosure.)
Princess Dress Up & Play Shoe and Jewelry Boutique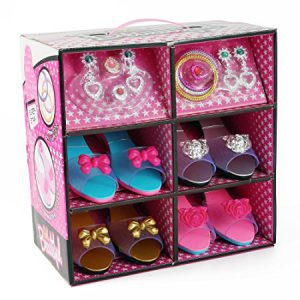 So I have to start out here with a dress up accessories set, one that little girls will love… dress up shoes and costume jewelry! 4 year old girls get such pleasure from prancing around in fancy dress up heels! They are wanting very much to look pretty like Mommy 😉 and also pretty like their favorite Princesses.
This particular set comes with 4 pairs of generic, non-Disney dress up shoes, some very pretty costume jewelry, and all in a handy gift box for easy wrapping if it's a gift!  It would be perfect for giving a boost to your girl's dress up collection!
Lite Brite Magic Screen

Remember the old fashioned but totally awesome Lite Brite?? My 4 year old daughter was presented with my own antique set a while back and she spent HOURS and HOURS in front of it, pegging away, creating beautiful light pictures.  While you can't get the old style anymore (unless you pay through the nose on ebay), the newer version will also be a hit, no doubt!
Melissa & Doug Fairy Fantasy Wooden Jigsaw Puzzle With Storage Tray

Why not pull out some beautiful puzzles? This particular puzzle has elements of what MANY girls love at the age of 4… fairies, unicorns, a princess castle, flowers, and of course, a princess. 48 pieces is a safe bet for a 4 year old – but depending on the child, you'll know if she needs smaller (24 pieces) or larger (100 pieces).
These large floor puzzles are great… you get to see the picture develop quickly and so much can be in the artwork that it becomes fun just looking at it!  These are really great additions to your playroom!
My First Flybar Foam Pogo Jumper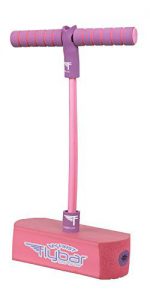 If the 4 year old girl in your life is an active child (or if you're hoping to make her MORE active), these foam fly-bar pogo sticks are really popular right now! They are safer and much easier than the traditional pogo sticks, and can be a lot of fun for a child!
They are available in a variety of colors (including more general neutral colors – yes, these will be popular toys also for the little boy in your life – he'll want several turns too!)  Oh yeah, and adults?? You can try it too – they are good for up to 250lbs! 🙂
LEGO Classic Medium Creative Brick Box 10696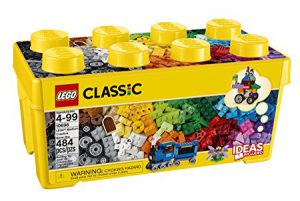 Lego is pretty much a childhood staple toy, for both girls and boys! While there ARE some great Lego theme sets, and although the Lego Junior line is geared right at 3-5 year olds, personally, I think you're better off at this point just starting your investment into the Classic Lego. Yes, it's not cheap, and you can't often find it at thrift stores, as people hang on to it.  Once your girl figures out the endless creative fun she can have with Lego, she'll want a LOT of it too. Most of the 4 year olds I know can handle the classic Lego size already – and if not, they will soon enough. Lego is a "grow with you" toy – and perfect for any 4 year old girl!
Disguise Disney's Frozen Queen Elsa Gown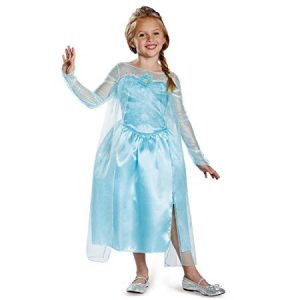 This Queen Elsa costume gown is a beautiful one, and very popular on Amazon! I'm ALL ABOUT dress up fun, so this is one of my favorites on this list. Although Frozen has been already out for several years now, Elsa and Anna remain one of the most popular princesses for Dress Up Play for little girls! There are SO MANY other princess gowns – but if you're stuck for "which one", this is a good start (or any of these princess dresses for little girls).
If your girl loves Frozen, check out my Frozen Dress Up Shoes page for all sorts of cute Frozen inspired costume gear for her feet!
Little Hands Tissue Paper Art

This is a fantastic craft for 4 year olds! It's fun to do WITH them, or she can do it on her own. I remember doing this "roll up the paper and glue it down" craft in art class in elementary school – but this set has a cool twist! No messy glue now, but peel and stick color-coded sections, and pre-cut tissue papers!  This craft set by ALEX Toys won the iParenting Media Award, so you can be sure it's no dollar-store craft package. Love this one!!
Washable Sidewalk Chalk, 48 Assorted Bright Colors by Crayola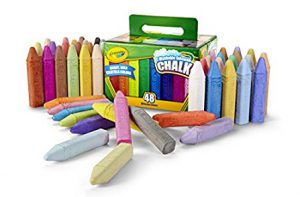 Drawing and doodling with sidewalk chalk is always a fun activity for children – and 4 year old girls are no exception. They are just figuring out how to draw things, and giving them outdoor chalk encourages them to work that newly discovered talent out in the fresh air! You can get sidewalk chalk all over the place, but I really do recommend the Crayola brand that you see here… the colors really ARE bright, and the square shape is SOOOOO handy for sloped driveways and steps. Who wants to be chasing roll-away chalk during a fun drawing session!? We love this stuff at our place!
Barbie DHC39 Fairytale Dress Up Gift Set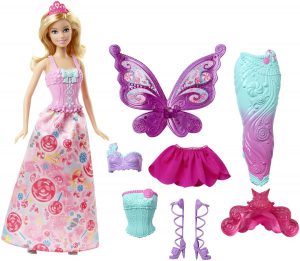 Barbies are just staring to become really exciting to many 4 year olds. They receive names, get personalities, go on adventures, and generally, become "friends" to so many children. I think 4 years old is a great age to introduce Barbies, as at this age you shouldn't have to worry about being asked all. day. long. to help with changing Barbie's clothes – your girl will likely be able to figure it out herself.  This particular set is one that my own daughter would SWOON over… mermaid AND fairy AND princess all in one!! 🙂
LeapFrog 19167 My Own Leaptop, Pink

As a Mom, I have to put this one in here. Where I live, age 4 is when many kids begin school that September (Junior Kindergarten), so having something fun and kid-friendly like these awesome Leap Pads make "working with letters" an easy activity to slip into your day.  While I'm personally not very excited about screen time for kids, these Leap Pads are great for taking along in the car, for waiting rooms or long lines, or quiet time in the afternoons while Mommy takes a little break. 🙂
---
And there we have it – 10 great toys for 4 year old girls that won't break the bank, and that will keep her busy and having fun!   Want more ideas? 
What Are The Best Gifts For 4 Year Old Girls? Our Top Picks Under $30 
What Are The Best Toys For 4 Year Old Boys? 10 Things He'll Go Crazy For!
Fun Activities For 4 Year Olds That They Can Do On Their Own!
Let me know in the comments what you think of my recommendations!  I'd love your feedback, or other suggestions for what YOUR 4 year old girl likes to play with!
Cheers,
Marlaine