Preschool Dramatic Play Ideas: 13 Centers Teachers Will Want To Set Up Right Away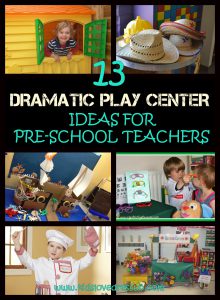 Looking for some new
preschool dramatic play ideas
? Here are 13 really fun looking dramatic play center ideas that will be sure to make the little ones in your care VERY happy! You'll want to set these up right away!
Getting preschoolers actively engaged in themed play is a fantastic way to teach new ideas, new vocabulary, and skills like cooperation, interaction, and communication! Whether you set up these dramatic play centers by yourself before the kids arrive, or you have the kids help you build the different parts, these preschool dramatic play ideas will be very welcome additions to your classroom or home environment.
13 Fabulous Preschool Dramatic Play Ideas
Optician's Office – Dramatic Play Center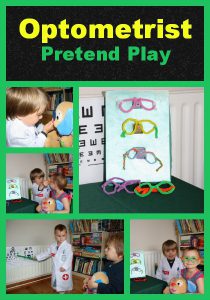 I love this idea for getting kids interested in the world of optometry! Why not have glasses and eye tests be something fun instead of something "scary" and "unknown" for your little ones?  Check out how Chrystal at
Castle View Academy
set up their cool Optometry dramatic play center! Looks great!
"When I Grow Up" Themed Dramatic Play Dress Up Center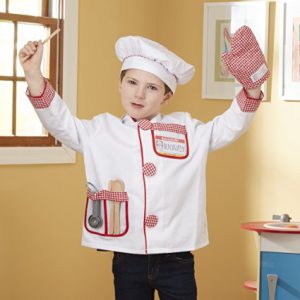 Having a good collection of Career-Themed dress up outfits neatly displayed in a
dress up storage unit
can lead to some fabulous dress up fun! I love the idea of a "When I Grow Up" theme for the costumes, as opposed to "princess" or "superhero" dress up. Why not encourage the kids in your class to dream big, to learn about different roles in their communities, to learn the names of various occupations, and have a blast dressing up and role playing together?
Check out these ideas for Career Costumes For Boys and For Girls  (most of the costume sets can be gender neutral – some are more traditionally geared to boys or to girls though, thus the division).
Cookie Shop Dramatic Play
I have yet to find a preschooler who isn't fascinated with making cookies. Be it gathering and mixing the ingredients for chocolate chip, oatmeal raisin, peanut butter cookies or more… they are all over it. But add icing and sprinkles… that's taking it to a whole new level of excitement! Having a fun "cookie shop" dramatic play center is a great idea for your preschool classroom! Think baking, tea-parties, cookie store, and more!
See details on this preschool dramatic play idea at Play To Learn Preschool
Hospital Pretend Play Center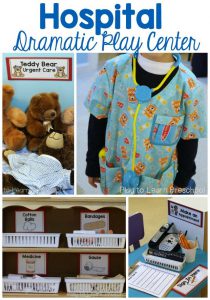 My own preschool age daughter LOVES (I mean SERIOUSLY loves) playing hospital. She wouldn't leave this dramatic play center if it were in her classroom. She has that Melissa and Doug Doctor Role Play Set (
see review here
), and she just LOVES pretending she's a doctor, helping others "feel better", interviewing them about "what hurts", and more.  This hospital center takes it a level higher though, setting up lots of different roles for various kids. Definitely check out this one  – also by
Play To Learn Preschool
.
Grocery Store Dramatic Play Center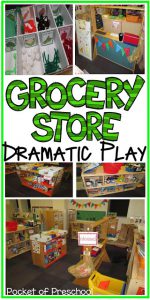 Kids will know a lot about grocery stores by the time they are preschool age – and they'll feel very grown up helping make a list, collect the items, pay for them (or cash them out), and box or bag them up. You can use a grocery store dramatic play center to talk about a lot of things to do with food – for example, healthy eating, food sources, new foods, "everything costs money", and so much more!  Check it out all the details at
Pocket of Preschool
.
Diaper Care / Baby Care Station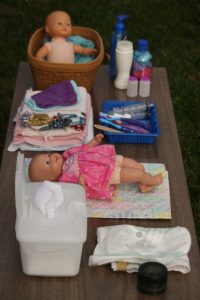 This is a fun preschool dramatic play idea for little girls (and little boys) who are interested in babies and dolls. Set up a table with all things related to baby care: diapers, wipes, spit-cloths, dolls, baby clothes, bottles, pacifiers, and so much more. This is a great center idea to help a child get used to the idea of having a new baby in the house as well.   Pinterest image, no link.
Dinosaur Dig Play Center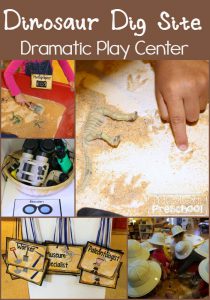 There are many, many little children (mostly boys, I think) who are really into dinosaurs. Why not tap into their curiosity and set up a cool Dinosaur Dig dramatic play center like this one? How fun would THIS be for your little ones? Check out how Jamie sets hers up at
Play To Learn Preschool
.
Holiday Gift Wrapping Center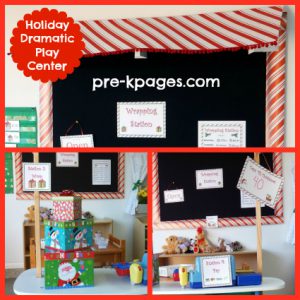 This is a fun one! Kids love to both get and give specially wrapped presents! Why not set up a fun gift-wrapping station for them to practice covering, folding, taping, cutting, and more? Bonus points if they can wrap a small gift they've made themselves! Check out details for this idea at
Pre-K Pages
.
Zoo Keeper Dramatic Play Center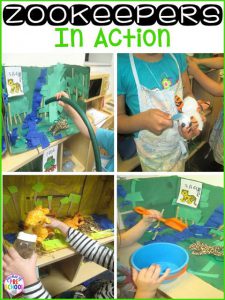 Teach the little ones all about zoos with this fun zoo keeper dramatic play center! (The Zoo Keeper costume I show on this page
HERE
would be an awesome addition.) Kids love animals, and caring for them will be a fun "job" for them, as would building their own zoos!  This idea found at
Pocket Of PreSchool
.
Library Dramatic Play Area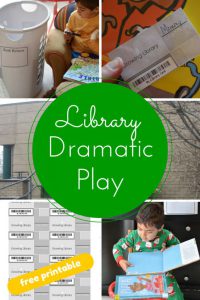 Kids love books, and pretty much every preschool and Kindergarten class room already has a book area. It would be a rather easy job to transform it into a Library dramatic play center! It's a great idea for a Book Week themed play center! You can have the kids practice recommending books to each other, signing them out, talking about care for books, authors, and more! Ideas for this one at
Growing Book By Book
Spring Garden Dramatic Play Center
Here's a fun and pretty center for your kids to enjoy as the world gets nice and colorful again! Introduce them to different types of flowers and vegetables, talk about growing gardens, and delivering gifts! So pretty! It'll make your classroom look lovely! Check out details at
MPM Ideas
Pirate Ship Pretend Play Center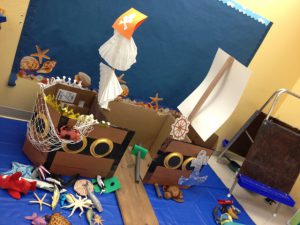 Check out this pirate ship!! Wouldn't your kids absolutely love to play in something like this? It would set their imaginations sailing!  It doesn't look too hard to make, does it? I love the fun sea-themed accessories! (The pirate costume in this
Costumes For Boys Who Love Adventures
page would be perfect!)
See more pics of this fun center at Terrific 2s
Farm Dramatic Play Center
Little kids love the farm! And if you can't take the kids to the farm, "bring the farm to the kids" with a fun farm-themed preschool dramatic play center! This can be a HUGE dramatic play learning center – there's SO much you can do with a farm! Check out all of the details at
Pocket of Preschool
.
---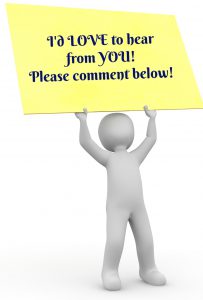 I'd love to hear from you!!
Which of these preschool dramatic play ideas is YOUR favorite one? Have you had a lot of success with dramatic play centers in your preschool classroom? What do you find easier… to build them yourself, or to have your kids help you set them up?  Chime in below! 
Have a lovely day yet, and wishing you tons of fun setting up your next dramatic play center!
Marlaine
PS – Want some reading on the subject? Check out Why Is Dramatic Play Important for Children?