The Best Batman Costumes For Kids: A Collection You Won't Believe For Boys, Girls, Toddlers and Infants!
A
ny
Batman fans
in the house? Thanks for popping by today for a fun look at Batman Costumes for Kids!
Batman is a fun show – I grew up watching the cartoons on TV with my brothers and that theme song phrase is stuck deep in my head – I'll never forget it. You know which one I mean? When I hear the "na-na-na-na-na-na-na-na…" played, I can't help but sing out "Batmannnnn!!" You too? 😉
And now are YOUR OWN KIDS getting into Batman? (Or maybe, just maybe… you're imposing your – or your husband's – love of Batman a wee bit, down to your child? No… that can't be LOL. 😉 ). Either way, Superhero dress up is a blast, and Batman is easily one of the most recognisable superheroes. 
One of the tricky parts about doing a page on Batman costumes for kids is that there are so many different outfits due to the various movies, cartoons, and theme shows each having their own unique styling. Each of the movies has him looking slighting different… likely to sell more costumes, am-I-right? 😉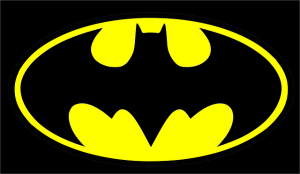 Thankfully the signature bat logo, cape, and mask are easily recognisable – if you get those right, for the most part kids don't really know or care about the fine details. You'll get a few fanatics, for sure, but honestly, if it's a cool "Batman" costume, they'll wear it with pride and do their best to save Gotham – and the world – in it.
So.  I've done some research for you online here and have selected, based on the reviews, the two top (or at least extremely popular) Batman costumes for kids in each of the following categories: Boys, Girls, Toddler and Infant, and Accessories. Enjoy!
BOYS Batman Costumes
(As an Amazon Associate I may earn a small commission from qualifying purchases made through links on this page, at no additional cost to you. Full Disclosure.)
Batman Dark Knight Rises Child's Deluxe Muscle Chest Costume with Mask
Does your little guy have a dream of being Batman? This is one pretty cool costume, at a crazy good price. If he dreams of saving Gotham, he'll be dressed for the part, looking strong and serious about fighting crime, that's for sure.
This deluxe Batman costume, from the Dark Knight Rises, includes a Muscle Chest jumpsuit with attached boot tops, headpiece, cape and belt.
It received a 4.5/5 star rating from over 2700 reviewers on Amazon.com!
Batman "The Brave & The Bold" Boys Costume
Included: printed jumpsuit, PVC mask, and detachable cape.
I chose this one for a few reasons: The 4.4/5 star rating (from over 1,350 reviewers at Amazon.com) and comments show that it's a great choice for role playing and dress up. It's light weight enough to wear over clothing and it's easy for kids to put on and off by themselves. Also, it won't break the bank. 🙂
If your son wants a Blue Batman suit like on the TV show, consider this one!
GIRLS Batman Costumes
Super DC Heroes Batgirl Costume.
This one looks amazing, isn't it?  Talk about one stylish Batgirl! This costume is styled after the classic Batman – kids everywhere will recognise the yellow on black. This costume includes the dress with attached cape, boot tops, gauntlets, mask and belt. And… it's also available in Pink & Silver!
According to over 260 reviewers at Amazon.com, who give it an average 4.5/5 stars:
Head's up! It fits small – definitely order a size up.
NOT your average "wear once" quality – dress is made from a thicker and sturdy shiny plastic. Many reviewers claimed that it held up well through multiple Halloween parties and trick-or-treating. = Lots of use for dress up play!
If wearing for outside play, adding black leggings and a black turtleneck/long-sleeve shirt is an easy solution for the chill.
Justice League Child's Batgirl Tutu Dress.
This Batgirl costume appeals to the Superheroine and Princess-lover alike with  the pretty/shimmery tutu skirt, the sparking mask, and the serious crime-fighting-Batgirl styling on the cape, gauntlets, and costume body. It too is also available in Pink & Silver!
According to reviewers on Amazon.com – where it received 4/5 star average rating by over 265 reviewers:
Well-made, very cute with all of the girly elements (sparkles, shimmer, gold trim, etc.).
Again, sizing runs small, so be aware if ordering – get a size up. (Mask also reportedly runs small!)
Many of the critical reviewers claimed they were only sent the dress or just the tutu – that the accessory pieces were missing when the set arrived.
TODDLER / INFANT Batman Costumes
DC Comics Superhero Style Baby Batman Costume                               
Fighting crime has never been so cute! 🙂  Here's a great one for a baby or little toddler (available in size 0-6m, and 6-12m).
I chose this one specifically because if your son or daughter is like my two children, they don't like things covering their face – or rather, they wouldn't keep a mask on even long enough for a quick picture! I love that their eyes and nose aren't covered by the hat at all, yet it's still fully BATMAN!
It's more of an outfit than a costume, material-wise -very comfy! And yes, the cape is removable… it's attached by two Velcro spots… and is short enough that crawlers won't get caught up in it. Perfect!
This costume has an average of 4.4/5 stars by over 160 reviewers at Amazon.com.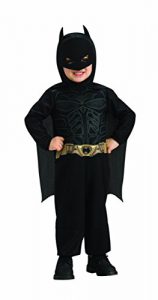 Batman "The Dark Knight Rises" Costume for Infants Or Toddlers
If your little guy (or girl, why not?) loves disguises, and doesn't mind something on his face, this might be the Batman costume your toddler will love! Styled after Batman in "The Dark Knight Rises", he'll be saving Gotham – and your household – in style in this one!
Check out more on this Batman outfit at Amazon.com  – it's available in both Infant, and 1-2 years sizes. Lots of reviewers, who gave this review an average review of 3.7/5 stars, said that it fits really big though, so buyer beware! Also note that the mask is attached to the cape, so if your child wants the cape but not the mask, this might not be the one for you.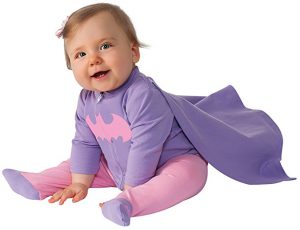 Ok – how can I NOT include this one! Our little girlies can't be left out of the Batman dress up fun! And this one is so cute, isn't it? Looks comfy, looks girly, and looks like she's ready to join in to the Justice League with a sweet smile as her secret weapon.
Reviewers at Amazon.com give it a 4.2/5 star rating and digging through the comments on it, they say that it also makes nice pyjamas (it's a zip-up onesie, cape is removable), and looks super cute and is comfy. It runs a bit big for a newborn, so depending on the size of your baby, it might be perfect… or not.  😉
BATMAN Accessories for Kids
I've discovered from watching my own kids play dress up that sometime it's the simple accessories that get the most play time. Kids don't always want to be bothered with putting on a whole outfit or bodysuit, even if it's cool like one of the fun ones above.  So, here are my two choices for Batman dress up accessories for kids!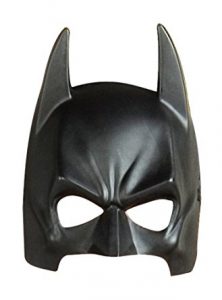 Child-size Batman Mask (The Dark Knight Rises)
Made by Rubie's, this is a hard yet flexible plastic mask with an elastic band that holds it in place very nicely, according to reviewers (over 460 reviewers gave an average 4.2/5 star rating). It's shaped to fit a child's face, with the eye-holds lined with foam, and no obstructions by the nose and mouth.
Note: it says "Adult/Teen" size in the size area, but Child in the description. Reading through the comments/reviews note that it fits their 3 year olds and up… and that it isn't likely it'd fit a full grown man.
Check it out by clicking here!
Superhero Cape & Mask – Batman Theme!
And then last but not least, there's the most obvious Batman easy dress up accessory for kids: The cape with the logo, and a simple mask. An easy and fun costume piece for role playing, super-hero play, and general dress up fun.
Cost-wise, it's easy on the budget. Quality-wise, this double-layered satin material with Velcro closure cape is GREAT, according to reviewers at Amazon.com! Average rating 4.5/5 stars by over 180 reviewers!
Kids love capes! They provide HOURS of fun. Just picture your child racing around the house and the yard in it! 🙂
---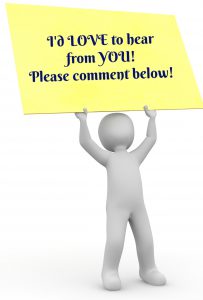 Well, friends, I hope these Batman costumes for kids have been to your liking – and that it'll help you in your search for some fun kids play dress up clothes to add to their dress up collection! 
Have fun watching your kids fight crime, Bat-style!
Oh yes. By the way… I just have to share this video below with you all. It's totally unrelated to kids Batman costumes, but if you and your little Bat-fans haven't seen THIS year, you're in for a treat!  It's The Piano Guys music video called "Batman Evolution". It's AMAZING!!! Promise me you'll check it out!
Batman Evolution from ThePianoGuys on Vimeo.
Cheers, and have a great day yet, wherever you are!
Marlaine
---
Want To Save This Post? PIN THIS!