Melissa & Doug Princess Dress Up Chunky Puzzle Review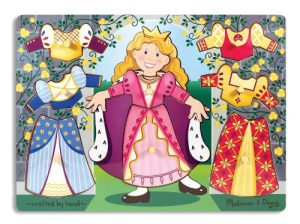 Ready to have some fun playing dress up – but the puzzle version? Dress up fun doesn't just have to be with clothes and accessories that your daughter puts on HERSELF, you know!  Activities like the Melissa & Doug Princess Dress Up Chunky Puzzle that we're looking at today are also fun for little girls!
Recommended age: 24 months – 4 years.
Pricing: Usually under $20 (pricing fluctuates based on sales)
Star Rating:  A variety of puzzles, all having 4+ stars out of 5 average reviews.
(As an Amazon Associate I may earn a small commission from qualifying purchases made through links on this page, at no additional cost to you. Full Disclosure.)
What Makes Them Great?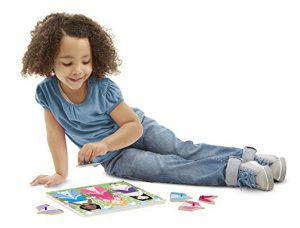 Mix & Match Dress Up Puzzles combine all the fun of paper dolls, but the chunky wooden pieces that are great for little fingers! The recessed walls of the puzzle board help the outfit pieces slide into place with ease, giving that wonderful feeling of "success!" to your daughter as she puzzles away.
There are many different combinations on each board, so your little princess can change her little puzzle-princess' gowns with a quick switch of the tops and bottoms. She'll have fun trying to figure out her favorite outfit!
All of the pieces are stored right on the board, so it's easy puzzle-style clean up!
Mix & Match Dress Up Puzzles help develop fine motor skills and hand-eye coordination. They are also good for working on matching, color identification, and creativity!
They are great for quiet time play, long car rides, time spent in waiting rooms, etc.

My Review
I think these Melissa & Doug Princess Dress Up Chunky Puzzles are great. My two children, as well as my many nieces and nephews have all loved wooden puzzles, but I must say, by age 4 they are often on to more challenging puzzles and dress up activities than these ones. I'd put the recommended age at 18 months – 3 years old.
I find with wooden puzzles in general, it's a quick play/figure out, and the game is over for the day. But these "mix and match" puzzles do have more options and possibilities for fun than your regular wooden puzzles – so you will likely find that the fun lasts a bit longer! Depends on your daughter's creativity and love of princesses and dress up!
As far as "is it worth the price"?  They aren't all that expensive – under $10. But, even though we have several wooden Melissa & Doug wooden puzzles here, I honestly can't say as I've ever bought any NEW.  I can often find them in great used condition at thrift stores or buy/sell swaps for Moms for just a buck or two.  If I had a big time Princess Lover daughter, I'd be tempted though, especially with Christmas approaching.  In truth though, I don't… my own daughter would likely prefer "Firefighter Mix & Match Dress Up" these days! 🙂 Who knows when that will change? 😉
I love that these are so brightly colored, very well made (sturdy), and quiet! No noisy play with these!
Have fun princess-puzzling! 🙂 
Cheers!
Marlaine
Check out these posts for some other fun dress up activities!