Girls Dress Up Shoes Your Princess Will LOVE In Her Dress Up Box!
It's time to take a look at
shoes
today, ladies and gentlemen… the costume kind, that is! And
GIRLS dress up shoes
in particular!  Shoes are pretty special accessories for most ladies, I think… and our little ladies – our girls – are no different.
If you have a little girl in your house who loves to play dress up, especially dress up along the lines of All Things Princess, then you'll know that shoes are a pretty important part of the outfit… after all, the perfect princess costume really only comes together perfectly when the perfect shoes are daintily placed on her feet. Who would Cinderella be without her glass slippers?
Addressing The Sizing Question. Her Feet Keep Growing…!
There are many different girls dress up shoes out there, but thankfully,
the designers of the majority of them have thought through the fact that kids feet GROW and GROW and GROW.  Most girls dress up shoes are sort of "one-size-fits-all" or "ranging from size X to XY", believe it or not. They come with either no straps (so her little foot can just tuck into the tighter top of the shoe and sit on the flat part of the back at whichever spot it lands), or with an adjustable strap that will help the shoe fit the growing foot for quite a while.
Are There Options Other Than Disney Princess?
I hear your frustration. Disney Princess stuff is everywhere, is it not?  Perhaps the little girl you're shopping for hasn't (yet) been exposed to Ariel, Belle, Elsa, Snow White, and the other ladies in the line. Perhaps you're just not a fan of introducing brand stuff and/or filling their heads with Hollywood at such a young age as 3. Perhaps you're just wanting some "Generic" shoes that will match the slew of princess dresses in her closet.
THANKFULLY, there ARE generic princess shoes, just as there are some beautiful generic princess dresses.
Let's take a look at some really cute generic girls dress up shoes options.
First, check out this set of 4 pairs of dress up shoes: The Melissa & Doug Role Play Collection – Step In Style! Dress-Up Shoes.
Price: See current price at Amazon.com.  Star Rating: 4.6/5 (85 reviewers)
This set is perfect for play dates and frequent costume changes. She can go from Prima Ballerina to Magical Fairy to Elegant Princess and then to Rocker Girl quickly and easily.
Melissa and Doug is known for quality products – these have durable construction, rubber soles (anti-slip), and will fit ages 3-5 nicely – allowing for adventure after adventure.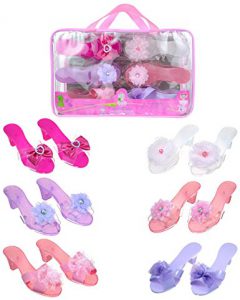 Next, this set here, the My Princess Academy / Playtime Dress-Up Shoe Collection, 6 pretty pairs with ribbon and flower accents.
If your little princess is in need of some shoes, this set of 6 pairs (in the easy carry bag) might just be perfect for her. It's aimed at girls 3 years and older, and the plastic is flexible for wider feet, if necessary.
Price: See Current Cost at Amazon.com.  Star Rating 3.9/5 (91 reviewers)
(Note: You may require a hot glue gun on occasion for the detailing… reviewers say they do tend to fall off. But at about $5/pair, you do get what you pay for… 6 pairs at once is a pretty amazing accessory addition.)
What Are Top-Selling Disney Princess Shoes? "My Little Girl LOVES The Princesses!"
The marketers at Disney certainly knew what they were doing when they launched the Disney Princesses brand. It's brilliant. Little girls want to watch them, dress like them, carry them everywhere, decorate with them, read about them… really, BE them.  And so, you KNOW your little girl, who loves her Disney Princesses, will go crazy over Disney Princess Shoes. And really… doesn't every girl need a pair of (pretend) glass slippers like Cinderella?
I've dug around on Amazon.com and here are 5 of the highest reviewed individual Disney Princess Shoes. Most are made by Disguise or Disney – good quality, sizing straps on the back, gorgeous detailing, and decent prices for what you're getting. Check them out by clicking the links!
Want to read more?
Do your girls love their dress up shoes? Let me know what kind they love to prance around in the most! I'd love to hear some feedback on my selections here too!
Cheers,
Marlaine
Want to save this site? PIN THIS IMAGE?