Unique Dress Up Costumes Girls Will Love That Will Help Them Stand Out From The Crowd!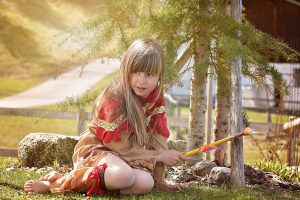 While tried and true, well-known character costumes are always a big hit for the dress up box, it's often a good idea to introduce some interesting and different, some rather "unique" dress up costumes girls will like playing with to her collection.
What I'm talking about are outfits that are not the typical princess gowns, are not the usual animals, like bunny or butterfly, that are not role play outfits such as "doctor" or "fire-fighter".
These are all great, don't get me wrong.  But there are definitely advantages to having some unique pieces in your girl's collection.
For example, something a bit unknown can tweak and inspire your little girl to play something new and look at the world from a different perspective.  It can challenge her to invent a new situation or come up with HER idea of how a person who looks like ___ should act.  It can provide giggles and jokes as she tries to figure out how to best wear the new piece.
And being "the only one" with a really cool outfit in her dress up clothes trunk will make her house a fun place to have play dates!
Here are 5 ideas for unique dress up costumes girls will enjoy!
(As an Amazon Associate I may earn a small commission from qualifying purchases made through links on this page, at no additional cost to you. Full Disclosure.)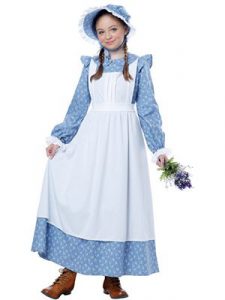 PIONEER COSTUME
This Pioneer Girl Costume can be a really fun idea as it can do some serious double-duty when your child has a World Book Day or Book Character Dress Up Day.  Does this outfit not scream "Laura Ingalls Wilder" from the Little House on the Prairie series? If not, how about "Anne of Green Gables"?  I'm sure there are many more.
All schools study the pioneer days at some point or another (the Elementary School where I taught it was in grade 3, but that depends on your local curriculum).  Often the teachers I know will encourage dressing up as a Pioneer during the unit – this outfit would be rather admired, I'd think. Especially the cute bonnet!! 🙂
Playing "old fashioned" or "way back when" is a GREAT way to encourage kids to think outside the box, and role play.  No phones. No computers. No gadgets.  Cooking and gardening, cleaning and traveling… all WAY more challenging – but also rather fascinating for children. Have fun talking about and role playing this unique idea! 

STATUE OF LIBERTY COSTUME
This beautiful Statue of Liberty dress up costume girls will really love, especially if they've seen the real thing in person.
Whether the Fourth of July is approaching, she needs it for a school play, or you simply want to encourage a bit of patriotism in your little girl, this drape dress, torch, and headpiece is sure to be both useful, and fun!
(Just a side tip – I'd totally re-use this gown as well for an Ancient Greek/Roman school dress up day as well in a pinch!)
It comes in small, medium, and large, and the green is a shade that should work on all skin tones! 

DRAMA QUEEN PEACOCK COSTUME
The 3rd unique costume I want to show you today is this incredible Peacock Costume. If the little girl you're shopping or getting ideas for is into girly dress up clothes, like Princess, Fairy, or Butterfly, then very likely she'll just love this costume – it's all about beauty and looking pretty!
It's dramatic, the colors are gorgeous, and it's definitely NOT your average dress up costume with it's tail piece, head-dress, and "feather" (tulle) trimmed neckline.
This dress up costume will definitely make your girl strut and grin, so if you'd like to find out more about it, click the link!


CHILD-SIZED BRIDAL GOWN
Little girls will just love playing dress up in THIS pretty Child-Sized Bridal Gown! It comes with a layered tiered skirt, has a sheer mesh neckline and large puff sleeves, and comes with a bridal headpiece headband and long white veil.
So many little girls already at a young age dream of their own wedding… with this beautiful gown in their dress up box, they can PLAY wedding whenever they want to!
I remember playing wedding myself as a little girl (with my brother as the groom LOL), and I was lucky enough to be able to dress up in my Mom's actual wedding dress. I could never keep it up without her doing some tucking and pinning though… but I sure loved the feeling of wearing that white gown! If I could go back in time, if I had known a wedding dress MY size was around, I would have been SOOO excited and begged her for it! 🙂
Playing wedding, practicing for their big Dance With Daddy… she'll feel like her dreams are coming true!


TRADITIONAL CHINESE WRAP DRESS
This Asian Princess Gown is another beautiful but unique piece that your little girl will enjoy playing with!
This elegant dress, obi, and headpiece will make your child feel interesting and elegant!
Having a variety of ethnic outfits available for your child to play with is an excellent idea. It teaching compassion for others, helps them grow in their understanding and appreciation for others, and helps them see that there is real beauty to be found in all nations!

---
Dress up costumes girls will enjoy certainly don't have to be the usual princess dress up outfits. As the five unique costumes above show, your little girl can have a lot of fun AND also learn about other people and situations around her.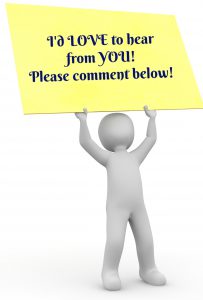 Hopefully you've enjoyed these! I had fun searching around the net for them! Let me know what you think in the comments below… are these outfits your own girls would enjoy? Do you think having some "unique" pieces in the dress up box is important? 
Cheers,
Marlaine