Little Girls Dress Up Clothes: Inspirational "When I Grow Up" Themed Costume Ideas
Often, when we think of "little girls dress up clothes", we think of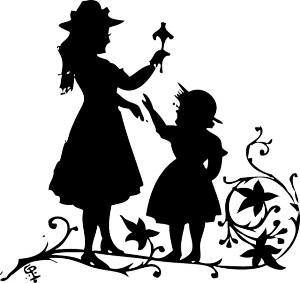 Princesses, Fairies, Butterflies, and all things "Girly".  This post is here to correct that… and show you 10 outfits that will inspire her to greatness!
You see, whether it's for Career Day dress up, for Halloween, or just for fun dress up play, "when I grow up" themed role play costumes inspire girls to dream BIG!
Many of the selected little girls dress up clothes here are sets, many are unisex (although some are definitely "just for girls"… not the role per say, but possibly the pink frills 😉 ). A good bunch of them are Melissa & Doug Role Play Costume Sets – they are top quality and have the highest reviews, so they were totally worth putting on this list.
Enjoy, share, have fun getting ideas, and please, let me know what you think in the comments below!
---
(As an Amazon Associate I may earn a small commission from qualifying purchases made through links on this page, at no additional cost to you. Full Disclosure.)
When I grow up, I want to be… A POLICE OFFICER!
Learning to uphold the law, care for those who need help, and make s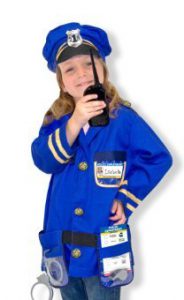 ure everything is done in decent order is a very valuable skill for any child. A parent can help develop that sense of caring and justice by encouraging your child to dress up and play police officer!
Check out the Melissa & Doug Police Officer Role Play Costume Set. It is a fantastic and top-rated choice for a police officer costume. It IS sold as a unisex outfit, so her little brother, cousin, or male playmate will also enjoy it.  Click the link to see details.
←Rated 4.8/5 Stars by over 2,000 reviewers.

When I grow up, I want to be… A ZOOKEEPER!
Many children are huge wild animal lovers, evidenced by the popularity of stuffed animals, décor themes, picture books, and DVDs available aimed at toddlers that are all about zoo characters.
Zoos are great places to visit, and can definitely spark some serious interest in playing Zoo Keeper.
The little girl in the picture is wearing the Aeromax My 1st Career Gear Zoo Keeper shirt – it's an easy to put on dress up shirt, and fits most ages 3 to 6.  Add a safari hat, and she's good to go!
←Rated 4.6/5 stars by over 800 reviewers.  
When I grow up, I want to be… A WAITRESS!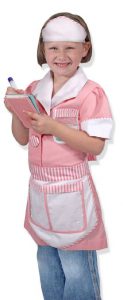 So many little girls I know have a play kitchen with dishes and plastic food in their play room. It's popular for so many reasons, one being that they can imitate Mommy cooking in the kitchen, of course.
My 3 year old daughter also loves playing restaurant though, setting up a table, inviting me in, asking what I'd like to eat, and then serving me and her Daddy (and other stuffed animal guests). Having a cute waitress costume like the Melissa & Doug Waitress Role Play Costume (ages 3-6) would be totally up her alley!   (She saw this picture and begged for it… but I'm not sure I want to be asked to play restaurant ALLLLLL day long LOL… haven't caved yet. I might. Christmas is coming.)
←Rated 4.9/5 stars by over 1400 reviewers!
When I grow up, I want to be… A VETERINARIAN!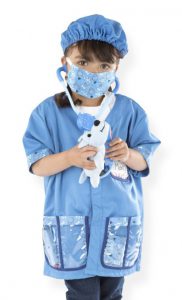 "The Vet, the Vet, is an animal doctor for your pet, your pet…" (Any parents of Barney lovers out there might know exactly how that song goes. 🙂 )
Does your little girl love animals… and stuffed animals… to the point where she plays veterinarian with them? Then she'll probably just love these veterinarian themed little girls dress up clothes.
The Melissa & Doug Veterinarian Role Play Costume Set includes the jacket, mask, cap, thermometer, stethoscope with sound effects, bandage, syringe, plush dog and reusable name tag… a pretty great deal, which will provide some fantastic fun.
←Rated 4.8/5 stars by over 1800 reviewers!
When I grow up, I want to be… A MASTER CHEF!

I LOVE how professional this Master Chef Girls Costume looks, yet how girly!  I totally want to inspire my daughter to have fun in the kitchen, to enjoy creating great meals, and to join me in cooking for the family.  It's a skill AND a hobby I want her to have.
This Master Chef costume is perfect. I just love that it has a Velcro sizer on the hat so it'll fit any head properly. The double-breasted chef's coat also closes with Velcro, and the skirt has an elastic waistband for a comfortable fit. Cute, isn't it?!
When I grow up, I want to be… AN EQUESTRIAN RIDER!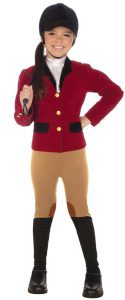 Ok, to be honest, my 3 year old probably wouldn't know what an equestrian rider even is at this point. But that just speaks to our city life… and the fact that horse riding lessons just aren't in the budget, let's be honest here.
BUT, there ARE many little girls for whom that isn't the case, who have grown up around stables! AND, there are also many really cute books these days about riding clubs and the like that "older" little girls might be really excited about. So, I think this costume is a good one for this list.  A genteel hobby and very interesting sport for girls to want to learn!
When I grow up, I want to be… A FIREFIGHTER!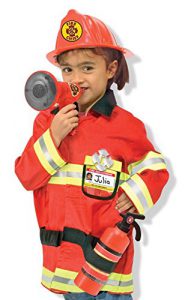 The classic red fire chief hat is almost a staple for every kids dress up box, be the child a boy or girl.  There's something almost mythical for kids about firefighters – they are their first Heroes (other than Daddy)!
Playing firefighter is definitely not just "for boys" either. Girls, especially energetic and adventurous ones, will be sure to have a blast with this inspiring outfit set!
Pictured here is the Melissa & Doug Fire Chief Role Play Costume.  This set includes the jacket, helmet, badge, fire extinguisher, bullhorn (which really makes a sound) and reusable name tag.
←Rated 4.8/5 stars by nearly 3000 reviewers! 
When I grow up, I want to be… A MAGICIAN!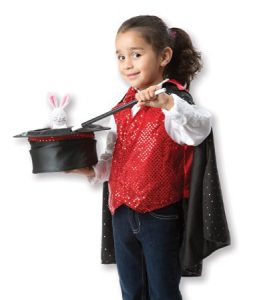 If you've ever taken your daughter to see a Magic Show somewhere, and she came home with all sorts of questions and a big interest in magic tricks, even wanting you to watch her do her own tricks over and over again, then this "When I Grow Up" costume might be the winner for her.
This Melissa & Doug Magician Role Play Costume set comes with the cape with bow tie, vest with secret pocket, top hat with hidden compartment, wand, coin, rabbit, and a card with tricks. Very cool!
←Rated 4.8/5 stars by 800+ reviewers!
When I grow up, I want to be… A DOCTOR!
←Rated 4.8/5 stars by 2,300+ reviewers!  
When I grow up, I want to be… A HAIRSTYLIST!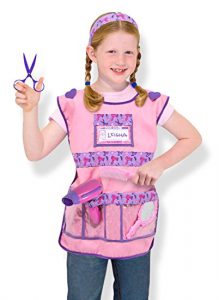 How many little girls do you know who thoroughly love styling their own hair, your hair, or each other's hair? Quite a few, right?  The "fancy" updos, pretend hair cuts, pretty clips and braids… she sure has fun with it!  Anyhow, why not encourage her in it with this super cute little girls dress up clothes contribution by Melissa & Doug: The Hair Stylist Role Play Costume Set. 
Product description: "Your young stylist can brush, comb, "cut" and "curl" for a new style every day. The battery-powered hairdryer sounds like the real thing and blows cool air. Satisfied clients can check themselves out in the plastic hand mirror!"
←Rated 4.8/5 stars by 1,200+ reviewers!
---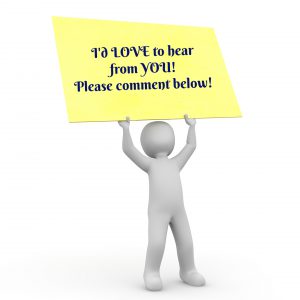 I hope you enjoyed this list of little girls dress up clothes that is all about "When I Grow Up"!
Let's get our girls DREAMING BIG!!!
Can you do me a favor and let me know what you think? Which one of the above dress up sets would be her new favorite? And which one would NOT be? Any questions or comments?
Want to see more costume ideas?
Cheers,
Marlaine
---
LIKE THIS POST? PIN THIS IMAGE!