12 Awesome Costumes For Boys Who Love Adventures!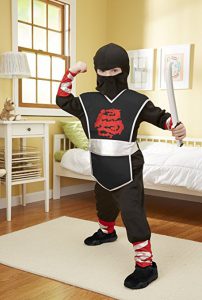 There's something about dressing up in a "GRAND ADVENTURE" themed costume that really, REALLY appeals to boys in particular. Welcome to this page that highlights 12 awesome costumes for boys who love adventures! I believe that each one of the costumes below could add hours of imaginative pretend play for your boy.
I hope you enjoy the selection and find just the right addition to your boys dress up collection!   The fun part for me was spending a good chunk of time digging around Amazon and other sites looking for interesting but also highly rated and popular costumes to present to you, and now the fun part for you is figuring out which one(s) is "the best" choice to maximise the dress up fun in your household!
(Want to see Boys Superhero Costumes instead? See: "Superhero Costumes Your Boys Will Love!" ) 
Here we go! 12 Adventure-Themed Costumes for Boys!
(As an Amazon Associate I may earn a small commission from qualifying purchases made through links on this page, at no additional cost to you. Full Disclosure.)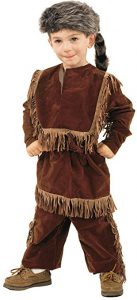 Daniel Boone Costume with "Raccoon Skin" Cap
Boys who love adventure will love dressing up like Daniel Boone, one of the most widely known American pioneers, an explorer, a woodsman, and an adventurer!  Dressed as a wild mountain man, they can set off to discover a new frontier – what an adventure that could be!
This costume also would serve as a great Davy Crockett outfit, be awesome for school reports or plays, and would provide lots of creative opportunities for your little guy!
← Click HERE to see more about this fun costume for boys!  (Rated 4.2/5 stars by over 210 reviewers)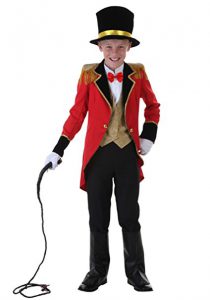 Ring Master or Lion Tamer Costume for Boys
Taming ferocious beasts, leading the performers and introducing the clowns in a circus troupe, calling out the world-famous acts one by one in the center ring… if your son is a real entertainer and leader by nature, this might be the PERFECT dress up costume for him!
NOTE: the whip and gloves come separately… costume set includes the Jacket, Vest, Hat, Boot Covers, and Bow Tie.
← Click HERE to see more about this fun costume for boys!  (4.5/5 star rating by reviewers!)
Melissa & Doug Cowboy Role Play Set
Cowboys were (and are, really) adventurers by trade, so this costume for boys needs to be on this page. Riding the range, dealing with the unexpected (weather/land/cattle-wise)… what an adventure to be a cowboy!!
With this great quality  costume, your little guy can be both cowboy and/or sheriff, as the set includes a hat, red bandana and removable badge along with the pleather chaps and denim-and-pleather vest.  They'll look and feel ready to rustle up some good ol' adventures in the wild, wild west!
← Click HERE to see more about this fun costume for boys!  (Rated 4.7/5 star rating by nearly 1,000 reviewers!)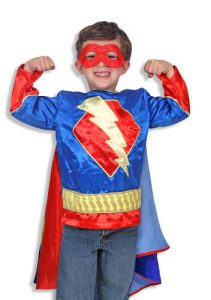 Melissa & Doug Super Hero Role Play Costume Set
Does your little guy admire the Marvel Superhero stuff everywhere you go, but isn't quite old enough to watch the films yet? You could satisfy his love of "Superhero Stuff" with this super-cute Super Hero Role Play Costume Set.
He'll be dashing around the house, proud of his super-skills and super-speed… and you can of course, will get to tell him that now he has to be Super-Son… the super-helpful, super-polite, super-caring child. 😉
← Click HERE to see more about this heroic costume set!  (Rated 4.4/5 stars by reviewers!)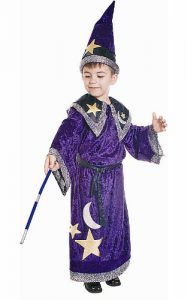 Kids Magic Wizard Costume
Magic and wizardry certainly can be an adventure of its own! Your little guy might have a great time in THIS costume pretending to have magical powers.
Pair this outfit with a fun reading of Disney's classic "The Sorcerers Apprentice" (maybe I'm aging myself with the suggestion, but the hat totally reminded me of that story) and who knows what sort of play-acting you'll be watching your little guy do!
This costume set comes with robe, hat, belt, and wand – all he'll need to transform into a wizard or magician himself!
← Click HERE to see more details on this costume set!
Native American Indian Boy Costume
Living as a Native American of old, riding the planes, traveling from camp to camp, hunting buffalo and other animals, tracking animals in the woods… many boys think this sounds like a grand adventure!
Besides dress up play where it'll spark imaginative play very well, as it really looks authentic (and according to reviewers is very comfortable), this costume would also come in handy for school events such as projects, reports, plays, programs etc.
← Click HERE to see more details on this costume set!  (4.4/5 Star Rating by over 70 reviewers)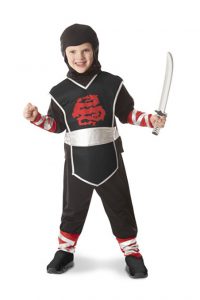 Ninja Role Play Costume Set
Does your little guy like to sneak up on people and surprise them? No one will see him coming in this awesome ninja outfit!!  I love the red and silver detailing on the vest and sleeves/feet!
This is a Melissa & Doug role paly outfit (meaning good quality construction), and it includes the decorated tunic with belt, pants, soft hood, and the soft sword.
← Click HERE to see more details on this costume set!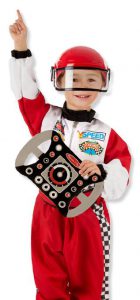 Race Car Driver Costume Set
Does your little guy have a NEED for SPEED? Does he love racing his cars and playing auto-racing games on your ipad or his Nintendo?  Imagine the fun he'd have dressed as a real race car driver! Maybe that'd give him the edge when he "competes" against the other guys (or Daddy) in his races! 😉
This Melissa & Doug costume set includes the zip-up jumpsuit with racing emblems, the helmet with adjustable face mask, and soft, wipe-able steering wheel with lots of knobs and buttons!
← Click HERE to see more details on this costume set!  (Rated 4.8/5 Stars by over 25 reviewers)

Melissa & Doug Backyard Explorer Role Play Costume Set
Does your little guy like to hunt critters and bugs in the park, field, or backyard? Does he dream of exploring the rainforest or going on a jungle safari?  This role play set is one that trigger some great imaginative play along those lines, that's for sure!
It comes with a decent pair of kid's binoculars, a bug jar with magnifying glass lid, hat & vest with name tag.
← Click HERE to see more details on this costume set!  (Rated 4.7/5 stars by over 50 reviewers!)
Does your son love to be brave, noble, fight dragons, serve the King, fight duels, and rescue maidens in distress (ok, maybe rescue his Mom, or his dog-in-distress)?  Is he interested in the noble world of the Knights and warriors of old? Perhaps he is studying the Middle Ages in school and is doing a Medieval Feast and needs a costume… however it falls, this knight role play costume set with accessories will be a worthwhile purchase.
It comes with the tunic, shield, soft sword, and "chain mail" helmet – all your valiant young knight needs for hours of imaginative pretend play!
← Click HERE to see more details!
Melissa & Doug Pirate Role Play Costume Set
Yo-ho-ho, swashbucklers take heed! Word is there's a NEW pirate in the high seas… and it's your son, in this authentic looking pirate role paly costume!  Can you just picture your fun-loving scoundrel doing his pirate-talk and telling you to "WALK THE PLANK!!"? (Well… not sure I'd want my son constantly telling me to "walk the plank", but you know what I mean LOL.)  ** See also PIRATE COSTUMES FOR KIDS **
Would adding this dress up costume to his collection lead to hours and hours of imaginative play and wild fun? Ay, matey! Absolutely. This set includes an embroidered vest, pirate hat, eye patch and soft sword with sword holder. (Read the reviews to see how awesome quality this outfit is… parents LOVE it!)
← Click HERE to see more details on this fun costume!  (4.7/5 star rating by over 285 reviewers!)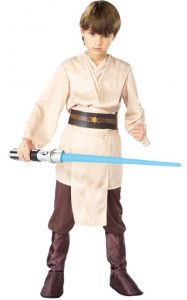 Star Wars Episode III Deluxe Child's Jedi Knight Costume
Any Star Wars fans in the house?  This is a great choice for your little guy who dreams of using the Force to defend the Galaxy! Match it with an authentic looking Jedi robe and he'll be all set to impersonate Anakin, Obi Wan, or any other Jedi Knight he desires!
The costume set does NOT come with the light sabre, but it does include the tunic with attached shirt, pants with attached boot tops and belt.
← Click HERE to see more details on this outfit!  (4/5 star rating by over 240 reviewers!)
The ultimate brave warrior, off to slay the hideous and terrifying dragon and rescue the Princess! There's BOUND to be a great story that your boy will be dreaming of when he dons this fabulous outfit!
It would also be great for any Medieval festival, Middle Ages unit project or classroom event, or neighbourhood dragon danger.
This set doesn't include the awesome sword, sorry… but overall, it's still a great costume for the price.
← Click HERE to see more details on this outfit!  (Rated 4.5/5 stars by over 90 reviewers!)
---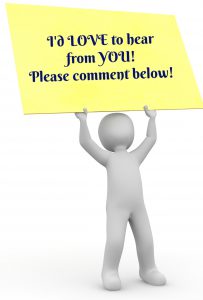 Well, friends, that's where we're stopping today! Want to see more boys outfits? Check out my page about
Superhero Boys Dress Up Clothes!
Dressing up is so much fun for our boys – especially when they are free to – and encouraged to – dream big and live out an adventure. I hope you have found these 12 suggestions to be helpful in your hunt for more costumes for boys!
Please connect with me in the comments below – let me know what YOUR boy's favorite adventure-themed costume is, and which one of the above he'd like most to add to his collection! 🙂
Cheers,
Marlaine
---
LIKE THIS POST? PIN THIS IMAGE!