Boys Dress Up – Because Role Play Fun Isn't Just For Girls!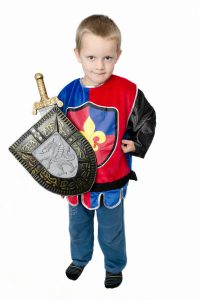 Little boys usually love dressing up just as much as little girls do! There are just as many options out there too… they just don't look as "pink or frilly".
Here are a few of the different costume themes you as a parent or friend can explore in order to encourage your little man to have some fun stretching his imagination with dress up.
When I Grow Up…
There are a few popular dress up categories for little boys, but "when I grow up" is one of the ones as a mother I love. That I want to encourage.  I want my little guy to learn at an early age that it's a GOOD thing to dream big. To explore options. To know that while it'd be wonderful if he follows in his father's footsteps or does what his grandpa does when he grows up, that there are so many other fun things that he can do that might make him happy!  (See my "When I Grow Up" dress up page!)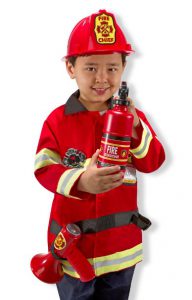 He can be a fire chief. A doctor or nurse, or a vet (popular in my house… all of our stuffed animals get pretty ill here rather often 😉 ). An airplane pilot. A construction worker. A chef. A farmer or cowboy. A priest or minister. A dentist or surgeon. The possibilities are endless!
So are the benefits. Other than job awareness, playing "when I grow up" or dressing up in "career outfits" also encourages the building of vocabulary, enhances problem solving, and builds the skills of cooperation as they imagine scenes working alongside the other children on the job scene.
Superheroes and Brand Characters
It seems like everywhere you look these days you see brand name stuff. A quick walk through your local Walmart makes it seem like your child really IS different if he doesn't have everything in his room (life) covered with Minion or Batman or Paw-Patrol or whoever is the favorite character of the moment.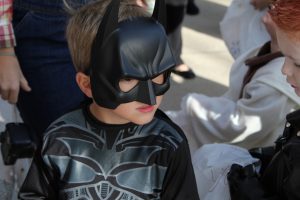 So it is NO surprise, is it, that brand Superhero character costumes are popular ones for these little guys of ours. Superman, Batman, Spiderman, The Hulk… they are cool. And they are well known. Because, like I said, they are EVERYWHERE.
(Boys and their Superhero crushes are kind of like girls with their Disney Princesses… little girls don't have to have watched the movies to know they love Elsa, Belle, and Cinderella.)
The superhero costumes are also great because well, which boy doesn't want to wear a cape? And "fly" through the air or climb walls? Let's be honest… when boys dress up as superheroes, they go a little bit crazy, don't they? And they have a BLAST.
(If your boy like the thrills of Superhero play, he may also be interested in Adventure Themed Costumes For Boys.)
Knights and Royalty
Some parents don't really encourage the Superhero costumes for their little guys, just like some parents don't want their little girls inundated with Princess everything.  But the area of dress up as Knights and Kings can be a fun, manly type of dress up they DO want to encourage!
A boy dressed up as a knight or a king has a certain type of behavior to take on, you see? One that is kind, respectful, serious, good, and generous.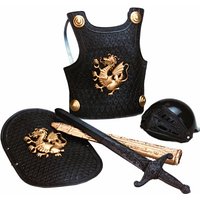 One of the reasons little boys LOVE dressing up as Knights, Soldiers, Kings, Dukes, and Princess, is that costumes come with some fantastic armour! Find me a little boy who doesn't want to have a fancy fake sword buckled around his waist, or a lance to wield, and I'll be rather shocked.
And the fancy costumes they get to wear as Sir Kevin the Magnificent or King David the Wise, or Prince Aidan the Brave? They feel pretty important so nicely decked out!
Animal Kingdom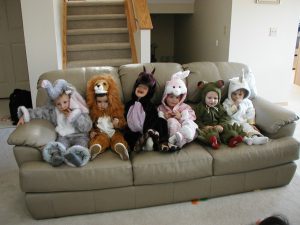 There are few little boys who don't love to pretend they are lions or tigers. And your little boy probably does a great monkey impression, doesn't he? Animal costumes are another great costume theme that little boys love.
Animal costumes can be as simple as a hat or a mask, or as warm and cuddly as a full animal zip-up costume. They can be a tail tied around the waist or a furry pair of bear feet.
The variety is astounding too… and there are possibilities for costumes for almost any animal your child can think of!
---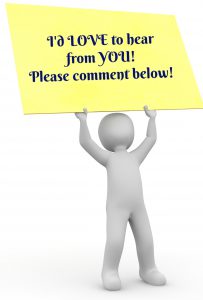 Little boys dress up is a lot of fun. They play hard, they laugh hard, and their wonderful imaginations never stop running.
What does the little boy in YOUR life like best?  Which theme is most popular for him… or have I missed one? Let me know in the comments below… and feel free to send a picture of your little guy deep in play!
Cheers,
Marlaine