The Dress Up Accessories Your Children Need In Their Dress Up Collection
One of the best things about playing dress up for a kid, I think, is having OPTIONS.  Especially in the area of dress up accessories.
There's nothing quite like the imagination of a child… it's an incredible thing to watch as a parent.  Without any encouragement a child can turn a good wizard into an evil one by trading one wand for another.  A train engineer becomes a ship's captain with a quick hat switch.  An apron over a pretty blue dress lets a little girl play the whole Cinderella story.  A Dino-Bunny is invented with a few creative pairings. 
All because of great dress up accessory options!   
If you're a parent like me, wanting to encourage your little girl or guy to get busy playing dress up, and having their play last longer than 5 minutes, then you'll want to give some thought to what's in their dress up box BESIDES costumes.  A few costumes are great, but to really encourage lengthened play, think about the dress up accessories too. Trust me.  (Extra bonus… you don't have to help them get the accessories on or zip them up! 😉 )
What are some dress up accessories that you definitely want to have in your child's dress up box?
Dress Up Hats  (masks, floppy dressy ones, career specific ones, etc.)
Gloves, Purses, and Scarves  (especially for your little girls)
Jewelry  (no dress up box is complete without a few of those cheap beaded necklaces, some tiaras, bracelets, etc…)
Costume Specific Gear (think wands, doctor kits, magician kit, stuff like that)
Dress Up Shoes and Slippers (fancy heels, funny slippers, etc.)
Dress up accessories can be pretty easy to collect.  And really don't have to cost much.  This is an area where you and your child can be quite creative!
A great place to start is your own closet! And that of your spouse… and parent… and friend, etc.  Old necklaces that you never wear, old shoes or hats… give them some new life as a dress up item!
And then, hit up garage sales, Mom2Mom sales, and thrift stores! You'll never know what you can find for a few bucks. And those few bucks spent there may just get you better quality than a dollar store purchase, but if second hand isn't your thing, definitely check out Walmart or Target or the like for a few fun items.   Or nose around this site and see if you find a few things your daughter or son might enjoy… 😉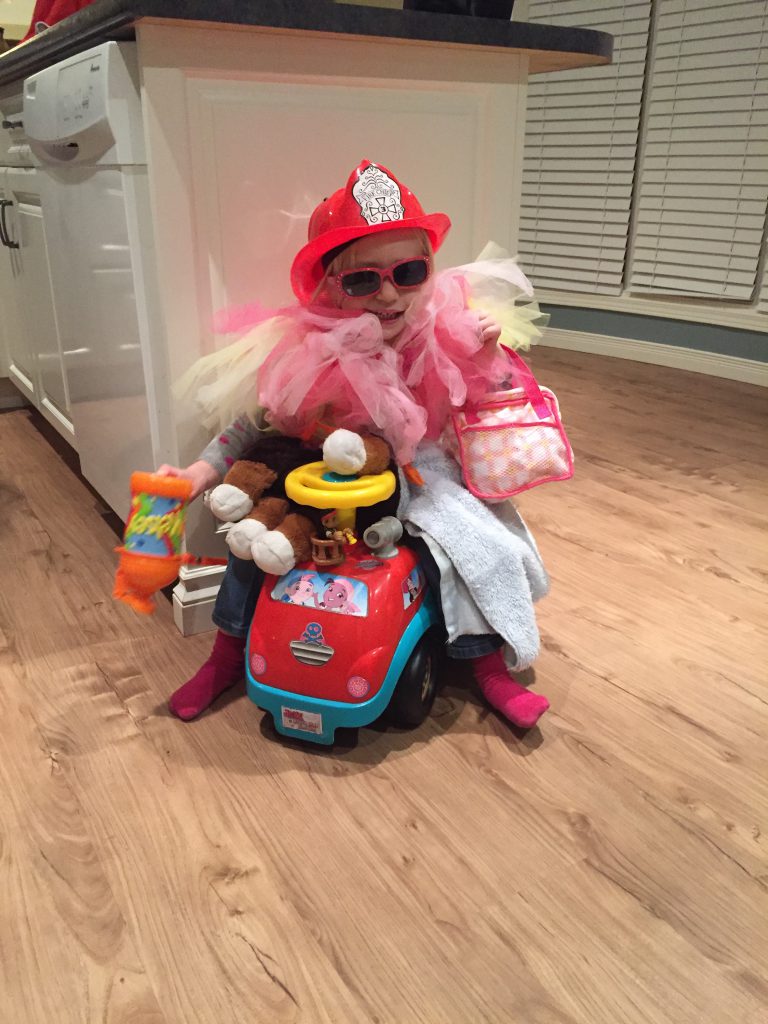 Above all though, don't feel like you need to fill up your dress up box all at once. Kids LOVE new additions, so spread out the fun over a few months (or even years) if need be. Adding a new hat as a reward for a job well done, a cool scarf as a "just because I love you" gift or a fun necklace set as a "hey, you did some great manners today at the library" treat can be the best way to get your child excited about dress up.  AND… a new accessory often gets played with… giving YOU some down time… am I right?? 🙂
I'd love to hear from you… what are your child's go-to accessories? My daughter, well, she loves to put on as many things as she can. All at once. In some strange arrangements. But her sunglasses and her fire-fighter hat are always the clincher to her fantastic outfit.  Yeah… kids love dress up. (And so do I.)
Cheers!