What Are Best Toys For 4 Year Old Boys? 10 Things He'll Go Crazy For!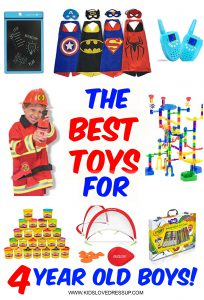 Wondering
what are the best toys for 4 year old boys
? Looking for things that will keep your 4 year old busy playing and having creative fun? What you'll find here today are 10 toys for 4 year old boys that you won't go wrong picking up for your little guy.
4 year olds are very creative, generally. They love to play act, to build and design, to express themselves, and to interact with others through colorful and fun activities. The 10 items below fit in with these ideas – some are toys that he can play with on his own, some that require company. Some are toys that encourage physical activity, and some are perfect for taking along on a long car ride.
All of these "best toys for 4 year old boys" are hand-picked by a Mom of a busy 4 year old… and are definitely NOT crazy expensive choices. In fact, almost all of these are under $25!  AWESOME, right?  Here we go!
(As an Amazon Associate I may earn a small commission from qualifying purchases made through links on this page, at no additional cost to you. Full Disclosure.)
---
Melissa & Doug Pirate Costume Role Play Set

Arrrgh, mateys! There's a new pirate in town!! Toys for 4 year old boys that make them get creative and role play are GREAT! This costume set (including the jacket/vest, hat, eye patch, and foam sword) are all he needs to start swashbuckling, hunting for treasure, and more!  Melissa & Doug costumes are all AWESOME quality and can be worn over and over and over… and even machine washed no problem!
Rated 4.7 / 5 stars by over 315 reviewers!

Boogie Board 8.5-Inch LCD Writing Tablet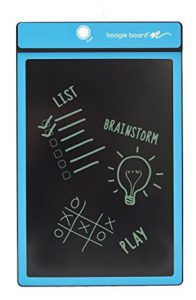 My 4 year old nephew is in LOVE with his Boogie Board. He draws on it all the time… in his bedroom during quiet time, in the car on long drives, and pretty much any time he has an urge to be creative (which is often with this thing)! It works WAY better than something like a "Magnadoodle", and it's great for the typical "let's practice our letters" preschool activity!  Available in a variety of colors and sizes, but this particular one is currently "Amazon's Choice". 
Average 4.1 / 5 stars by over 3,800 reviewers!

Kids Walkie Talkies
This set is rated 4.4 / 5 stars by nearly 30,000 reviewers so far! And the price is definitely a pleasant surprise. Check it out!

GoSports Portable Pop-Up Soccer Goals, Set of 2, With Cones and Case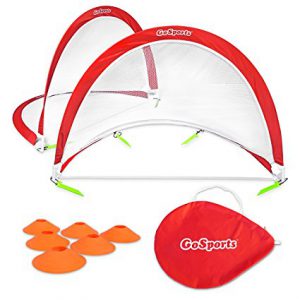 At the age of 4, many boys are already enjoying playing soccer with their siblings, friends, or parents… encourage their early love of balls and games with a set of quality pop-up soccer nets and cones… you'll love seeing his pride and self-confidence grow as he scores goal after goal!
Rated 4.7 / 5 stars by over 310 reviewers!

Superhero Dress Up Costumes – 4 Reversable Satin Capes and 8 Felt Masks

These are just perfect for young superheroes! Beautiful double-sided satin, easy and comfortable Velcro closures, felt masks – he'll get hours of fun with these! This set of 4 comes with Captain America, Batman, Superman, and Spider-Man motifs! Likely at least one of these will be a sure hit!
Rated 4.6 of 5 stars by over 530 reviewers

Play-Doh 24-Pack of Colors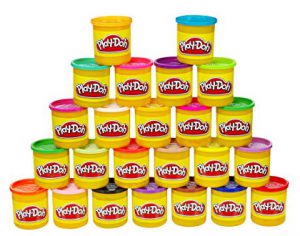 Looking for something to keep a 4 year old boy busy? How about a great set of Play Doh! This is the official "good stuff" in 3oz tubs, and all of those colors will mean a LOT of fun play time!
Boys and girls of all ages love play doh, but it's perfect for age 4, as the urge to eat it has shrunk. 😉   There's something in in that unleashes kids' creativity, keeps fingers busy rolling, building, shaping, cutting… it's fabulous stuff!
This set is rated 4.8 / 5 stars by over 700 reviewers!

Melissa & Doug Reusable Sticker Pad
Girls are not the only ones who love stickers. These reusable sticker pads with repositionable stickers and scene sheets are also very popular with boys! These reusable sticker pads are great value (only about $5 a set!!), and come in many different themes such as My Town (pictured here), Habitats, Adventures, Vehicles, and many more (several also aimed more towards girls). These are GREAT for rainy days and inside play! (Bonus tip from a Mom whose kids love them: they sticker and peel nicely off of mirrors too!)
Rated 4.5 /5 stars by over 320 reviewers.

Melissa & Doug Fire Chief Role Play Costume Dress-Up Set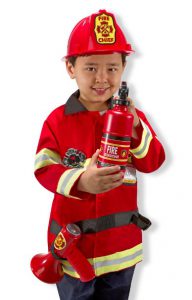 This fire chief set is AWESOME!  It's seriously the first thing that's pulled from our dress up box EVERY single time the boys are playing dress up! It's THE argued over set. The jacket, hat, and accessories are GREAT! I can't say enough about the quality of the Melissa & Doug costumes! So fun!  They definitely belong in a list of the best toys for 4 year old boys!
Check out our review for more details of this fire chief role play set (or see some "When I Grow Up" Role Play Costumes For Boys for other dress up ideas!)
Rated 4.7 / 5 stars by over 1,225 reviewers!

Crayola Inspiration Art Case

Not ALL 4 year old boys will love this one, granted, but I know several 4 year old boys myself who LOVE coloring and drawing… and who would be SO EXCITED to receive this "all-in-one portable art studio".
The handy, compartmentalized box is filled with cool art supplies including a total of 140 crayons, pencils, markers, and sheets of drawing paper – it'll keep him busy creating for hours!
Rated 4.8 / 5 stars by almost 500 reviewers!

Marble Genius Marble Run Super Set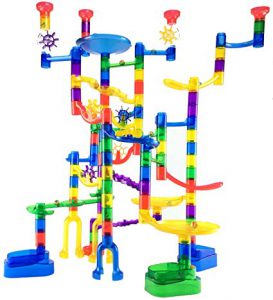 If you've never played with one of these before yourself, you might find yourself sitting alone one day when your 4 year old boy is out, building your own Marble Run… these are SO COOL!  Kids love building "runs" and listening/watching the marbles work their way through the various slides, wheels, and drops.
This set comes with 85 "Translucent Marbulous Pieces" and 15 Glass Marbles (although any standard size small marbles will also fit), and according to reviewers, is great quality, fits together easily, and is a whole lot of creative fun!
Rated 4.5 / 5 stars by over 14,400 reviewers!

---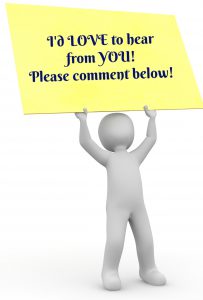 Love these ideas of the best toys for 4 year old boys? Or want to see a few other popular and great picks for kids toys?  Check out the following posts:
What Are The Best Gifts For 4 Year Old Girls? 10 Toys Under $30
What Are The Best Toys For 4 Year Old Girls? 10 Toys She'll Love!
Adventure Themed Dress Up Play For Boys