Melissa & Doug Dress Up Reusable Sticker Pad: Read Here First!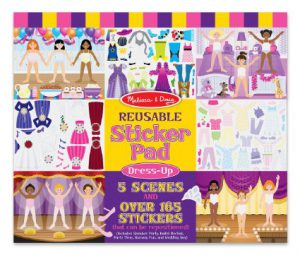 The Melissa & Doug "Dress Up" Reusable Sticker Pad is one of the line's most popular ones – and if you're reading about it here on kidslovedressup.com, you'll know why. Dress up, in general, is so much fun!! Kids just love it.
There are times, however, when playing actual dress up with real costumes and accessories just isn't do-able.
And that, friends, is when this reusable sticker pad which is all about the beloved DRESS UP FUN comes in super handy!
Reusable stickers are great as they promote fine motor skills, encourage manual dexterity in youngsters, are a fantastic "Quiet Activity", and in general promote creativity.
Let's look at some specs of the Melissa & Doug Dress Up Reusable Sticker Pad – and then at a few other fun ones.
(As an Amazon Associate I may earn a small commission from qualifying purchases made through links on this page, at no additional cost to you. Full Disclosure.)
The Specs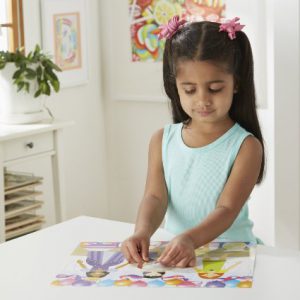 Cost:  prices do tend to fluctuate based on availability, but this is currently under $10 at Amazon.com, with free shipping.
NOTE:  Most other themes have more availability and are therefore slightly cheaper… under $5.  See below.
Rating:  4.6/5 stars (343 reviewers)
Background Pages:  5 Sturdy, Full-color, Glossy Scene Pages
Accessory Stickers: Over 165 skirts, dresses, and accessory stickers. Repositionable, durable (don't rip easily), cling-style.
Size: 14 x 11″. Dolls are approx. 7″.
Activity:  Think old-school dressing up of "paper dolls" made simpler. Dress up the models with the stickers and then change their outfits at will!
Additional Fun:  These stickers are fun in themselves as they stick to other surfaces too! My daughter loves to peel and reposition and create scenes on her closet mirrors and on her Ikea dresser side and drawers (the Malm one). She calls it "making parties" and it keeps her occupied for long lengths of time!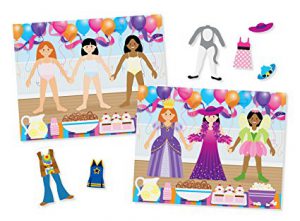 Target Play Age:  It's rated as 3+.  Personally, I agree with this. My daughter is a pretty quick youngster, but her manual dexterity as a 2 year old couldn't have handled the actions of "put the shoes on over the model's feet" or "put the hat on her head".  Even now as a 3.5 year old, some of the details are slightly above her… but that might be her attention span too, come to think of it… 😉   I think that a mom would know if her little girl would be able to handle it!   (In my own opinion, I'd think girls who are at the "play and dress up Barbie" stage… probably 4 or 5ish, might get the most out of it).
A Worthwhile Purchase?  Absolutely!
Are There Similar Sticker Pads?
You bet there are!!  Melissa & Doug have made quite a few of these reusable sticker pads – and they have recognized that there is a big call for girly themed ones.  You can buy them as packages or on their own.
CLICK  Melissa and Doug Reusable Sticker Pads for Girls
 to see many more options!
Here is just a taste!
---
So, what are your plans for this pad, or another one? Are you going to give the Melissa & Doug Dress Up Reusable Pad as a gift for Christmas or a birthday?  Which little girl in your life will be the lucky recipient? Share below in the comments, please!
Oh, and hey… check out my post on some fantastic (free) Dress Up Games and Activities if you're looking for more ideas on how to keep your kids busy with dress up fun!
Cheers,
Marlaine