The Best Halloween Costumes For Boys in 2022
Dressing up for Halloween can be so much fun! While the actual night is a blast, even the "deciding what to be for Halloween this year" is often a really enjoyable time for kids. What does the boy in YOUR life want to be this year? Or are you here looking for ideas? If so, we can totally help you out with our compilation of the best Halloween costumes for boys for 2022!
We've collected 12 awesome ideas for your little man that will be exciting, fun, popular, highly reviewed, and fantastic options! He'll be proudly parading down the street in any of these great get-ups!
[Heads up… we are NOT into gore or "death culture" stuff here at Kids Love Dress Up, so those kinds of creepy costumes are not on this list! You'll have to look elsewhere if your boy wants something disturbing for his Trick or Treating this year! (The "scariest" you'll find is probably our Kylo Ren costume from Star Wars.) We're all about family friendly dress up fun here!]
(As an Amazon Associate I may earn a small commission from qualifying purchases made through links on this page, at no additional cost to you. Full Disclosure.)
12 of the Best Halloween Costumes For Boys for 2022! 
There's something very cool about space travel, astronauts, rockets, and moon-walking – something that simply fascinates kids (of all ages). This super realistic looking Astronaut costume by Aeromax will help them feel like they are ready to take off into the unknown!
It's available in orange or white, and comes with the jumpsuit, embroidered cap, and NASA patches.
Rated 4.8 / 5 stars by over 1,350 reviewers!
Ninjas also fall under the "cool costume" category for boys – and this costume is one of the more popular Ninja costumes available. You'll have to keep a close eye on your stealthy warrior when he's in character wearing this costume! 🙂
It comes with the black warrior jumpsuit (attached hood and ties), belt with foam stars, and face mask. Weapons are not included.
Rated 4.3 / 5 stars by over 785 reviewers
This is one of the best costume sets we've ever had at our house. It gets played with ALL the time, and will be my son's obvious choice for Halloween this year. The quality of the Melissa and Doug costumes is incredible! And the included accessories are superb!
** Click to see our full review of this fire chief role play set **
Rated 4.7 / 5 stars by over 1,260 reviewers
Your little guy will be "all fired up" about this Marshall PAW Patrol Costume for Halloween this year! PAW Patrol remains up on top for popular costume choices for both girls and boys this year. Definitely worthy of being on our list of "The Best Halloween Costumes for Boys".
Although this particular one is the "Amazon's Choice" for Marshall costumes, to see other options we've uncovered, check out: Marshall PAW Patrol Costume Options: Which Is YOUR Child's Favorite?
Rated 4.5 / 5 stars by over 290 reviewers
Is there a Harry Potter fan in your house? For kids who are a bit older than the PAW Patrol set, Harry Potter would be a fun costume for Halloween this year (it has been very popular for many, many years now)! This ankle length fleece robe (black with burgundy accents) is complete with the Gryffindor house emblem. Add a pair of round frame glasses, draw on a lightning bolt scar, and you're good to go!
Tip: Your child can get double usage out of this one for World Book Day or Book Week dress up days!
Rated 4.2 / 5 stars by over 820 reviewers!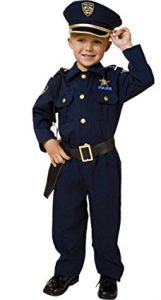 Deluxe Police Officer Costume – by Dress Up America
Kids love dressing up as and playing cops! Plus, it's an admirable thing to teach your child to respect the law and want to be a positive force in the world around us!
This navy costume set is one of the most popular police costume sets for kids. It comes with Shirt, Pants, Hat, Belt, Whistle, and Gun Holster. It's machine washable (yay!) and very realistic looking, with embroidered patches, real buttons, and real pockets. He'll love it!
Rated 4.6 / 5 stars by over 1,565 reviewers!
Ok, how fun is this inflatable costume? If your boy loves Jurassic World with all of its scary dinosaurs, and if he's looking for something UNIQUE for Halloween this year that is absolutely amazing and will get him lots of oohs and ahh's, this is a great costume option!
It fits kids up to approx. 54″ in height, and has an included fan that runs on batteries (not included) so that he won't get overheated.
Rated 3.7 / 5 stars by over 315 reviewers!
This is a fantastic costume for any Dark Knight Batman fan! It comes with the muscle chest jumpsuit and mask, cape, attached boot-tops, belt, and jumpsuit. He'll feel like a real hero in this superhero costume, ready to save Gotham city (and your own neighbourhood) from all of the bad guys he can find!
** Check out The Best Batman Costumes For Kids for other Batman costume options**
Rated 4.2 / 5 stars by over 680 reviewers!
Kylo Ren, the Star Wars: The Force Awakens character this year for Halloween. This particular costume comes with the robe, hooded cape, belt, and mask (the mask has some faux battle damage to make it realistic to the movie scene). Accessories are sold separately.
** See "The Ultimate Star Wars Costume Collection For Boys" for tons of other Star Wars character costumes!**
Rated 4.7 / 5 stars by over 350 reviewers!
Pirates remain a top choice for boys Halloween costumes this year! Wild and adventurous, your boy will love dressing up as a fearsome pirate! He'll love this particular costume by Halloween Concepts too – it's comfortable, wild-looking with the jagged edges and belt, has bold colors and print, and has a fun head tie! YOU will love the price.
** Click to see more! The Best Pirate Costumes For Kids That You'll Find Online **
Rated 4.5 / 5 stars by over 200 reviewers!
An officially licensed, adorable costume for your little guy! He'll be able to join in on thrilling night time adventures dressed up as his favorite super hero, Catboy!
It comes with the signature blue jumpsuit, detachable tail, and soft headpiece. (Gekko and Owlette are also available… just click through and you'll see them!)
Rated 4.4 / 5 stars by over 175 reviewers!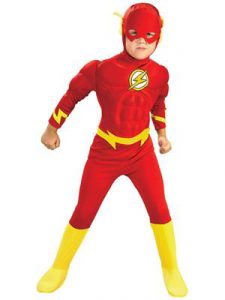 If your little guy loves speed and loves superheroes, you may have to introduce him to "The Flash", the superhero who is as quick as a bolt of lightning… if he hasn't met him already. And then, you may have to get this "The Flash" Deluxe Muscle Chest costume for him! It's awesome!
** Click to see a huge collection of Superhero Costumes For Boys!**
Rated 3.8 / 5 stars by over 465 reviewers!
---
And there you have it! 12 of the Best Halloween Costumes for Boys for 2017! Any of these will be a fantastic choice for your young man! Which one will YOURS pick… any of these? Let me know in the comments below! I'd love to hear from you!
Cheers!
Related Posts: