The Best Native American Indian Costumes For Kids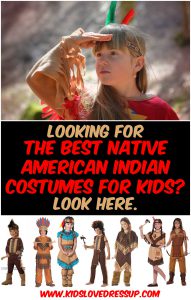 If you live on the fair continent of North America, it will not take you long before you come across a time and place for children to honor the Native American culture through wearing beautiful Indian costumes for kids. Whether it's for a school event, project, or parade, for a community festival, or even for dress up fun or Halloween, it can come in handy to have a good kids Indian costume in the dress up clothes trunk.
Today we're featuring several fabulous Indian costumes for kids: for girls, and for boys! Most can be used for various role playing (Sacajawea or Pocahontas, for example).  All are rated an average of above 4 stars by a large number of reviewers, and have a fair number of comments to let you know about tips on sizing.  Have fun browsing, and I hope you find exactly what you're looking for!
The Top Indian Costumes For Girls!
(As an Amazon Associate I may earn a small commission from qualifying purchases made through links on this page, at no additional cost to you. Full Disclosure.)
Native American Indian Girl Costume – by Fun World
This is a beautiful, very feminine Indian maiden costume – your girl will love it! It is a fringed faux suede dress, with turquoise accent ribbon trim and a headband, turquoise bracelet, and hair ties! She'll feel authentic and pretty in it!  Reviewers say it runs small, so size up! Available in a variety of sizes!
Rated 4.4 / 5 stars by over 95 reviewers

Native American Princess Costume – by Forum Novelties
This Indian princess costume is a lovely option for a school project or Halloween. She can dress as Sacagawea, Pocahontas, or any other Indian maiden she desires! The costume comes with the printed dress (man-made material), belt, and the headband (not shoes, purse, tomahawk, or feather). It's available from toddler to child size large!
Rated 4.4 / 5 stars by over 185 reviewers

Princess Wildflower Costume – by California Costumes
I love this costume option by California Costumes! It comes with the fringed poncho, the under-dress, the plush boot covers, and 2 hair pieces! According to parents who reviewed it, it's soft, comfortable, and very cute – the only "issue" is that beads tend to fall off the tassels if you don't check them on occasion.  Other than that… it's a winner! Your girl will have fun dancing and acting in this beautiful outfit!
Rated 4.5 / 5 stars by 145 reviewers

Lil' Indian Princess Toddler Costume – by California Costumes
This costume is a great choice if you're looking for Indian costumes for little kids – for toddlers who want to "match" their older sibling (see costume above)! How adorable is this little princess, in this fringed outfit with the beautiful embroidered trim, the sweet headband, and the plush legging/boot covers? I love it! She's "the cute daughter of the Chief", right? Fabulous!  Reviewers say that the headband runs small – heads up.
Rated 4.2 / 5 stars by over 80 reviewers

Toddler's Indian Girl Costume – by InCharacter
Another toddler size costume, this one with some fun turquoise colored trim. Not full authentic, but it may really appeal to your little girl! The headpiece has feathers made of felt, and closes by Velcro attachment. The costume comes with the fringed boot covers. Reviewers were impressed by how "cute" it is… perfect for play or Halloween for toddlers!
Rated 4.2 / 5 stars by 15 reviewers

The Best Indian Costumes For Boys!
Indian Boy Costume – by KidsCostumes
Your boy will look fantastic in this full Indian boy costume (shirt, pants, headband included)! It's washable, durable, comfortable, and available from size 2-12! Score! Don't expect it to be like leather – it IS polyester, but you will be happy with this one if you're looking for a great Indian kids costume at a great price!
Rated 4 / 5 stars by over 100 reviewers

American Indian Boy Costume
This second costume is probably the one I'd order myself. It's made of polyester but of a faux suede blend that's also washable. It comes with the shirt, pants, and headband, and is available in sizes from 4-14. Whether he wears it playing Davey Crocket, Indian warrior, or for a school function, this will be a costume you won't throw out when he's done with it.
Rated 4.3 / 5 stars by over 80 reviewers

Indian Warrior Boy's Costume
This costume is a fun one, and a little different from the first two. So many boys will be immediately drawn to this costume because of the faux Mohawk headpiece (wig) alone! That along with the cool arm-band and tabard (flap by the waist) will definitely make him stand out from the crowd. Tomahawk not included.
Rated 4.2 / 5 stars by over 65 reviewers

Classic Indian Boy Child Costume – California Costumes
This one is also popular – a fringed vest, pants, belt with tabard (flap), headband and armband are all included. It's available from sizes small to XL! Reviewers say the pants run rather long, so either it'll be perfect for your tall child, or you may need to do some adjusting before your boy goes out in costume. For the price, a great buy.
Rated 4 / 5 by almost 20 reviewers

American Indian Midnight Brave Kids Costume
This is a fairly new costume in the market – but it does stand out from the rest due to it's black "Midnight" coloring. Your boy might really appreciate the deep hue and "different" look. Included are the top, the pants, the belt with tabard/apron, wrist bands, and the headband. Shoes and tomahawk not included. Reviews thus far are solid 5 stars!


---
And there you have it, a collection of the best Native American Indian Costumes For Kids! I hope you've found one that appeals to your child and to you! These are the top rated Indian boy costumes and Indian girl costumes! Whether your child needs one for a school project or performance (Pilgrim Day, Pioneer Day, Cultures Day, etc…) or if you want one for some fabulous dress up fun, any of these should do the trick!
Related posts: