9 of the Most Adorable Halloween Costumes For Baby Girls
Halloween Costumes For Baby Girls
Gathering "the best" Halloween costumes for baby girls for this page was pretty much the most fun I've had while working on this site. There are so, so many adorable baby costumes!! Having a daughter myself who "just" went through the baby stage (she's already 4, but how on earth it went by so quickly I just don't know).
(As an Amazon Associate I may earn a small commission from qualifying purchases made through links on this page, at no additional cost to you. Full Disclosure.)
Tinkerbell Deluxe Infant Costume – by Disguise
Many of us Moms are secretly still in love with fairies… and with Tinkerbell in particular, aren't we? Who doesn't think a baby girl in a Tinkerbell costume complete with a tutu dress and soft wings isn't the sweetest thing… and if you're one of those Mom (aren't we all) who doesn't want their baby to grow up, this costume is conceptually just perfect too. Check it out!
Batgirl Costume For Baby Girl!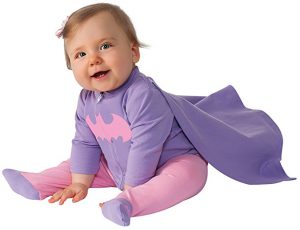 Is your family going out Trick or Treating together with a theme this year? Superhero theme, perhaps? Or just all out Batman? This adorable Batgirl costume for babies is comfy, safe (no tags around the throat… the cape is sewn on at the back), and warm! Love it!(See also: The Best Batman Costumes For Kids)
Carter's Baby Halloween Costume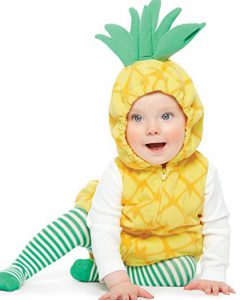 And then there's THIS adorable pineapple costume for baby girl! You're sure to make even the grouchiest of neighbours break out in a smile with this super sweet, super comfy, two-piece front-zip costume! Carter's makes many different baby costumes – click through this pic to see over 20 different options, many available from size NB to 24 months!
Snow White Infant Costume – by Disney

"Mirror, mirror, on the wall, who's the fairest baby of them all?" Yours, of course! If your little sweetheart is your beautiful princess, why not just go with it and dress her up as "the fairest of them all" this Halloween in this beautiful Disney Princess Baby Dress? Shoes and hair-bow not included.
"What A Hoot" Baby's Owl Costume – by InCharacter Costumes

Can you GET any cuter than this baby in this owl costume? The best Halloween costumes for baby girls are definitely needing that "sweetness factor" – and this one has "sweet" written all over it. And "soft" and "adorable". This costumes is machine washable (a MUST for babies, right?), and includes the lined zippered jumpsuit with leg snaps for easy diaper change, the hood with beak, plus slip-on booties with skid resistant bottoms.
Baby's Infant Pumpkin Cutie Pie Costume – by Fun World Costumes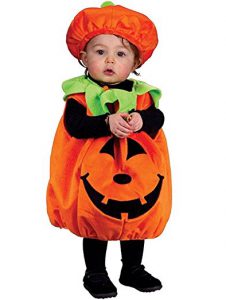 This one is rather gender neutral, but how cute is this?? The smiley pumpkin face will be a huge hit with adults and kids alike!  It's easy to accessorize this one too, I'd think… black pants, black (or white) sleeved shirt, and whatever shoots or boots you're wanting. I think this one would be great for cold areas too – where kids pretty much have to wear a snow suit underneath the costume. Should fit!
OSEPE Unisex-baby Flannel Romper Animal Onesie Pajamas Outfits Suit


Super soft, super sweet… and totally re-usable as an Easter bunny costume. Doesn't this baby look incredibly huggable? That hat… oh, adorable!! This is plush and cozy for a cool night, and the zipper makes this an easy off and on sort of costume!
Rubie's Costume Noah's Ark Pinky Winky Monster Romper Costume

Is your little girl a little monster some times? Why not have some fun with that and go with a cute little pink monster for a baby girl's Halloween costume this year? No one would run from THIS cutie, no doubt!  (Don't you just love the teeth? Haha…)
InCharacter Baby This Lil' Piggy Costume

Ready for tons of giggles and smiles? Dress up your sweetie as a cute little piggy and have some fun! It's a great choice if you are always joking about how much your little one loves to eat ;). The soft material will make it a cozy and super cuddly choice!
---
And there you have it! Some fantastic choice for adorable Halloween costumes for baby girls! There's no end to adorable baby costumes or even just baby costume hats. Sometimes it feels like the older they get, the more options they have, and while that may be true, there's no time like babyhood for CUTE Halloween costumes, right!?