How To Make The Best Princess Costumes For Kids
Girls LOVE to dress up as princesses.
  How do you make the best and prettiest princess costumes for kids? What does she all need? Let's look into what different items are needed to make the "perfect princess outfit" for dress up play, Halloween, a pageant, or a Princess theme party!
THE PRINCESS GOWN – THE OBVIOUS: First off, while it's fun to dress up in Mom's old bridesmaid gowns and feel like you're a grown up Princess, having a few princess costumes for kids that actually FIT properly (or close to it) is seriously awesome.  There's nothing quite like that look on your little girl's face, is there, when she's decked out in her favorite princess gown that's HER size, a tiara, and princess shoes, ready to take on the world as the prettiest Princess there ever was.
So the gown is the first and most important element of the perfect princess costume, but there are other pieces that you need to have as well. What are they?
(As an Amazon Associate I may earn a small commission from qualifying purchases made through links on this page, at no additional cost to you. Full Disclosure.)
Princess Costumes For Kids: What's Needed For the Full Princess Get-Up?
To make a perfect princess costume, you'll need several things, but not necessarily all. In order of importance, consider the following:
A Gown
A Tiara or Crown
Shoes
Jewelry
Other Accessories: Sceptres, Scarves, etc.
1. Princess Gowns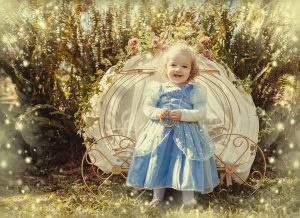 Gowns aren't exactly super cheap. So, what do you do if your girl loves princesses? Spend the big bucks for a big collection of new gowns? Hunt around the second hand stores for a few? (You
might
get lucky! I found a perfect condition gown for $6.50 the other day. SCORE!!  I've also picked up some sweet
girls dress up shoes
a few times at thrift stores for great prices too!)
However, when buying second hand, while shoes can be in top shape, more often than not the gowns are frayed or have holes in the mesh arms, have food stains on them, or just don't look so lovely anymore. And to properly play "princess", your daughter needs to feel like she's as beautiful as Rapunzel, Cinderella, Belle, and the others.
My advice would be to splurge on one or two gorgeous new gowns (they aren't all that pricey, thankfully). I'd also advise that if the situation warrants it (not a birthday gift, for example), have your daughter help with the selection process. That way you'll know she'll love it… and you'll get your money's worth. (Or, if you KNOW she adores a certain Disney princess, or has a favorite color, get that one for her birthday).
Here are some adorable and best selling princess gowns for little girls that you can't go wrong with purchasing, if the dress is a surprise.
2. Princess Headpieces:  Tiaras and Crowns
Nothing says "I'm a princess" like wearing a crown or jewelled tiara. It's the ultimate princess accessory. Here are a few best-selling (aka longest lasting, best quality, most kid-approved) princess tiaras and crowns available on Amazon. (Also check out your local dollar store… although, I've found personally those don't last all that long. Depends on your child.)
3. Princess Shoes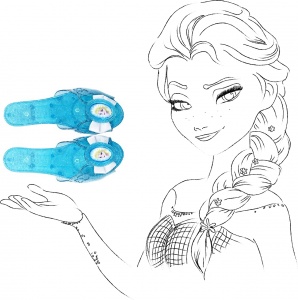 I did a post all about princess dress up shoes – check it out for lots of pretty shoe options and discussions on the many different styles  (Heels, staps, flats, ballet slippers, etc.)
If your little girl loves Disney's Frozen, check out my page completely dedicated to Frozen Dress Up Shoes – there are over 30 options!!
4. Princess Jewelry
Princess Jewelry makes for great gifts or party favors, especially sets of matching clip-on earrings, necklaces, and bracelets (and tiaras often). Girls love to pop on their pretty "jewels" as well as just finger them and enjoy their beauty. There are many popular gift sets for Princess Jewelry for little girls – popular because of their great reviews, good value for the money, and well liked by girls who receive them for gifts, etc. 
5. Other Princess Accessories: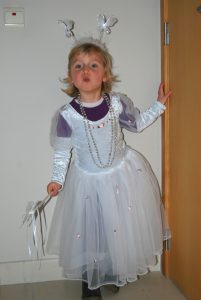 Although not necessary for princess costumes for kids, other princess accessories do go a long way towards achieving that perfect princess feel.
Scarves
Gloves
Wings (think Fairy Princess)
Scepters or Wands
Capes
Purses
Princess Pets (think purse-sized stuffed animals like puppies, kittens, etc.)
Mirrors and Comb Sets
---
If you are looking to add some princess costumes for kids to the dress up box of a girl you know, you'll be making her day! 
I'd love to hear from you and see pics of your pretty princesses – please comment below!
What part of the princess costume get-up is YOUR girl's must-have?
Want some more princess outfit options? Check out the following posts:
Cheers,
Marlaine