10 St. Patrick's Day Costumes For Kids That Will Make You Cheer!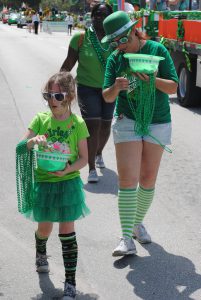 Top 'o the morning to you! Looking for some awesome St. Patrick's Day costumes for kids? You've come to the right place! I've scoured the internet for you, looking for some fantastic options for your little leprechauns. And I've definitely found some adorable St. Paddy's Day kids costumes! 🙂
St. Patrick's Day is usually considered to be a holiday celebration "for grown ups", if you know what I mean. The majority of costumes out there are definitely geared to adults, but if you're wanting your son or daughter to join in on the green fun, perhaps for a St. Patrick's Day parade or costume party, it can be a riot!
Just who WAS this St. Patrick?
Saint Patrick lived around 400 AD, and he is commonly known as Ireland's patron saint. Legend has it that this Christian missionary explained the Holy Trinity (God the Father, God the Son, and God the Holy Spirit) to the pagan Irish people using the shamrock, a three-leaved plant. He has a fascinating story, really… if you care to dig in a bit, check out this article here.
And what's with the shamrock, green, and leprechauns?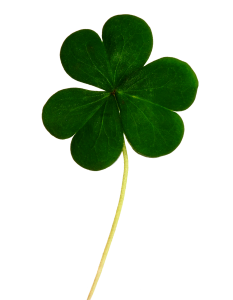 The four-leaf clover, the much rarer sibling of the shamrock, is widely regarded as a symbol of luck and has become the emblem of Saint Patrick's special day. Green is traditionally the color of Ireland and is worn in celebration of that land. And those wee Leprechauns… how do they fit in? Originally they were NOT part of this holiday. Leprechauns are mythical fairy-folk that are exclusive to the Irish – if you are somehow able to catch one, you'll also have great luck… and possibly also a pot of gold!
10 Really Cute St. Patrick's Day Costumes For Kids!
Mr. Leprechaun Complete Costume
Leprechauns are little green men who always have a pot of gold hidden somewhere… and your child will have a lot of fun dodging questions about its whereabouts in this complete Leprechaun costume by Forum Novelties – it's a lot of fun!
This costume comes in child sizes small, medium, and large, and includes the green top hat, bow tie, shirt, pants and vest with the golden clover pattern (pot of gold not included, nor are the shoes).
Previous purchasers rate it an average 4.4/5 stars

Lucky Leprechaun Costume For Girls
How fabulous is this girls "Lucky  Leprechaun" costume?? Your daughter would look stylish and fun marching along in a parade in this get-up!
The costume set includes The leprechaun costume for kid girls is available in 2 sizes based on height, and comes with a St. Patrick's Day attached jacket, a pair of pants, a belt, a pair of socks, a neck tie, and green hat. Love it!
Forum Novelties I'm Invisible Bodysuit, Green 
Morphsuits have become rather popular new costumes for kids – the idea that you become one color from head to toe is a fun one! While completely blending in on one hand, they also completely stand out! 🙂
Wearing a full green morphsuit would be a unique way to join in the St. Patrick's Day fun! Check out all of the (many) positive reviews by customers on Amazon (click link) — Morphsuits are comfortable, easy to breathe in, easy to see out of, and super fun costumes!

Baby's Lil' Leprechaun Costume
Isn't this baby leprechaun costume (by InCharacter Costumes) the funniest and most amazing baby costume ever? I just love it! (So do those who bought it… average review 4.1/5 stars by over 40 people). It's super soft (100% polyester), machine washable, has leg-snaps for easy diaper changes, and comes with the top-hat and booties too, besides the outfit.
Can you just imagine all of the comments and compliments you'd get taking your little guy out to a St Patrick's Day celebration with him dressed up in this?? Check it out for sure!

Girls' Glitter Sequined Bow Princess Gown
Who says that all St. Patrick's Day costumes for kids have to be leprechauns or covered in shamrocks?? If you have a PRINCESS LOVER in your life (like many of us do who have little girls), there is absolutely NOTHING wrong with dressing her up in a glittery green Princess dress for her St. Paddy's costume! She'll sparkle… literally and figuratively! And, count on this gown getting a ton of dress up play time after the parade too!
If this intrigues you even a little bit, be SURE to take a peek at the price on Amazon…  the current low price will knock you over!! And with a 4.6/5 star rating so far by over 45 reviewers, you can't go wrong.

Polyester Satin Superhero Cape for Kids
And then for the boys – if dressing up as a leprechaun or in shamrocks "just isn't cool, Mom", compromise with him by grabbing a satiny green Superhero Cape for his outfit! Why not just go with the "green" Irish theme, and allow him to shine with his favorite style of dress up fun?!
If you're a bit crafty, you could always sew or glue on a shamrock, a pot of gold, or something else. This can be his "Lucky Cape"! After all, the idea of "luck" is a big part of St. Patrick's Day now! Have fun with it!

Baby's 1st St Patricks Day Shamrock Outfit
Not all new parents want their baby girls to be in "funny" costumes… sometimes they just want to go for "cute" and "in the right theme of the day". This romper set is a great compromise between costume and cute outfit. It's available in sizes Small, Medium, and Large (large fitting up to a 2T).
You'll be getting tons of compliments on this one! Other moms have loved it… check out the reviews on Amazon!


Ballerina Girls Dress-Up St Patrick's Day Tutu & Headband
There are some beautiful tutus for little girls that have shamrocks on them like this one here that would be great for use as St. Patrick's Day costumes! This one here is by Rush Dance, a company that makes many little girls tutus for ballet. This tutu and the super-cute headband would certainly get more than one use – count on some lovely dance play time after St. Patrick's Day has come and gone!

Forum Novelties Little Leprechaun Costume
This is another option or a little Leprechaun costume for your boy for that costume party, Shamrock Run, or St. Patrick's Day Parade. It's a fun outfit, comfortable, and easy on the budget.
It comes with the jacket (attached bow tie), hat, shirt front and vest front, pants with attached belt and socks, and the shoe buckles. Unfortunately the beard, pipe, and shoes themselves aren't included. NOTE this costume runs a bit small according to reviewers, but if you size it right, it's a great costume option! 

Girls Irish Princess Dress with Sequins
Looking for a fun Irish Princess dress for your daughter? This one is a fun pettiskirt and matching t-shirt style top. It's fantastic quality, isn't itchy at all, has a fun poofy skirt, bows, and will really make your little girl stand out among the other costumes at the parade!
The shirt can also come in white instead of black if you prefer that, and sizes up to 18months. Your daughter will be the star of the day in THIS St. Patrick's Day costume!
---
Kids St. Patrick's Day Costume Accessories
The Special Items That Make Their Costumes Really Stand Out!
---
Did you find something you can work with for your child's St. Patrick's Day costume? Dressing up celebrations are so much fun, and when you have a great costume like any of these St. Patrick's Day costumes for kids above, you'll have a great time in parade, at the party, on the Shamrock run, or wherever you plan to wear the Irish Green!
Hopefully you've enjoyed this collection of costumes, and at the very least, been inspired with some cool ideas!  

Let me know below! I'd love to hear from you!
Happy St. Patrick's Day, everyone!
Marlaine