St. Patrick's Day Costume Ideas For Kids That You Can DIY!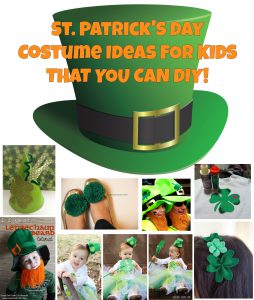 St. Patrick's Day is coming up quickly! If you've left your child's costume for the St. Patrick's Day Parade or Dress Up Party to the last minute, we've got you covered with some fantastic St. Patrick's Day costume ideas for kids that you can DIY!
There are lots of different things you can use or make to get your child looking Irish and Lucky for the fun. Think "GREEN" and think "FUN"… and that's where you start!
---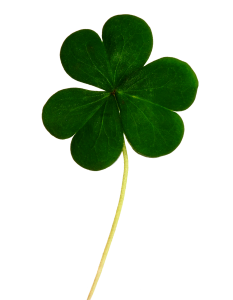 Want to quickly just ORDER the perfect St. Patrick's Day Costume for your child while there's still time? Click here to see our cool collection of fantastic St. Patrick's Day Kids Costumes!
---
(As an Amazon Associate I may earn a small commission from qualifying purchases made through links on this page, at no additional cost to you. Full Disclosure.)
What follows are some easy and great-looking St. Patrick's Day kids costume ideas that fellow Moms and Dads online have come up with for their kids! Give them a look, and see if one of them is something you can pull off!
St. Patrick's Day Costume Ideas for Kids That You Can DIY!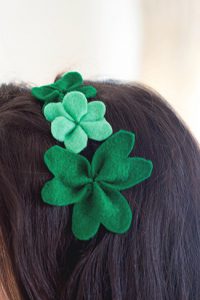 Shamrock Headbands For Girls!
Why not create a super cute St. Patrick's Day themed headband for your little girl? It's a great accessory for your girls who need a costume, but aren't interested in going "All Out" in a big green outfit.  Some felt, string, and a headband base, and you've got what you need.
Check out the tutorial, with pictures, here at Wallflower Kitchen!
DIY St. Patty's Day Shirt With Glitter!
I love this DIY Shamrock shirt done by "Lindsey At Lovin' My Life"!
A simple white t-shirt is transformed into a beautiful green glittery shirt using some fabric paint, a home-made stencil, and some glitter, of course. Why buy a pre-printed shirt for WAYYY more money when you can do it so quickly and easily yourself (if you have the supplies already on hand, that is)?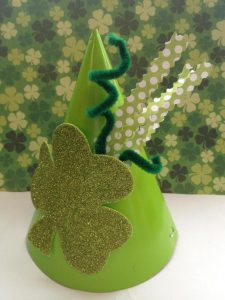 Leprechaun Party Hats!
These would be fun crafts to make with kids at a St. Patrick's Day Party, but they also could be simple and easy DIY kids costume accessories for that St. Paddy's Day Parade or costume party you'll be attending with your kids. Cheap dollar store supplies and a good old glue gun will have these disposable hats looking fabulous in no time!
See details and instructions here at MyTeenGuide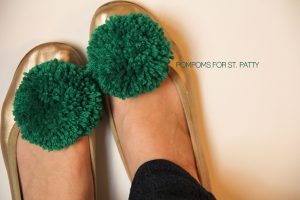 St. Patrick's Day PomPoms!
You can make these pompoms easily and clip them on your child's shoes if you have some green yarn, a glue gun, and some little clips! Add some pizzazz to your child's shoes (or hair band or whatever!) just like these, made by the owner of Lovely Indeed
Leprechaun Construction Paper Hat & Beard
Want a cheap, easy, and fun costume that you can just chuck out after March 17th has passed you by? This is a pretty cute disposable Leprechaun hat and beard, don't you think? Made of construction paper, glue, scissors, and string! Easy, peasy… especially with the free printable templates! Check out PagingSuperMom for details!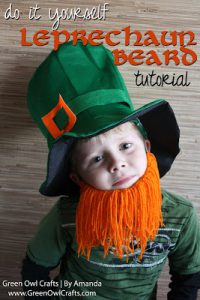 DIY Leprechaun Yarn Beard!
Isn't this beard adorable? It's SUPER EASY and made from just yarn and a pipe cleaner! I love how it looks hairy and full… like I'd imagine the beard of a sly old leprechaun's would look! 🙂
Tutorial here at GreenOwlCrafts.com
DIY St. Patrick's Day Shoes!
I found this idea on Pinterest! No link to the source, unfortunately, but it's a pretty self-explanatory idea. Find some old shoes that you don't mind "wrecking", or even pick up a pair of thongs or cheap crocs at a Dollar Store or Walmart.  Some green glitter glue and time to let them dry, and voila! Leprechaun shoes! 🙂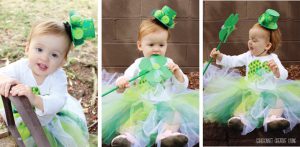 DIY St. Patrick's Day Outfits for Little Girls!
If you have felt, a glue stick, and a few other simple supplies, you can do like the Sonnet does on  SoHoSonnet – and make THE CUTEST little girls DIY St. Patrick's Day Outfits! The adorable hats, green tutu skirts, shamrock shirts from plain white onesies, and the adorable Shamrock Wands!!  Check it out!
---
Happy St. Patrick's Day, everyone! Have a great time with your kids dressing up and having fun!  
And do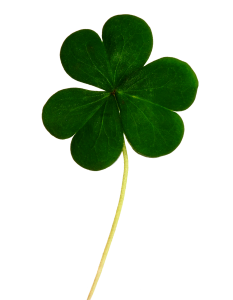 n't forget… if you don't feel like DIYing any of these St. Patrick's Day costume ideas for kids, there are a whole bunch of fun ones you can just ORDER for a few bucks and be done with it! 
Click here to see our cool collection of fantastic St. Patrick's Day Kids Costumes!
---