Little Girls Dress Up Clothes Trunk – Is Cute Or Practical The Better Choice?
Dress up clothes can pile up.
Literally and figuratively
.  Having a good collection of dress up clothes and accessories can make for SUCH a fun play time, but it can also make for SUCH a messy room. If this is the case, and the pile, the
MESS
, is starting to get to you, it may be time for you to bring in a little girls dress up clothes trunk.
So, what type to get? Cute and Girly? Practical, Heavy-duty and Multipurpose? Or somewhere in the middle? Let's dig in a bit and look at some of the pros and cons of both styles. I'll also show you a few ideas and some good finds.
Cute and Girly
If you have a real "girly girl", she might really love the idea of a girly dress up box for all of the dress up clothes for little girls that she has collected.  Something with a theme like princesses, or flowers and butterflies… or something with carved frills and whatnot.  Something that screams "little girl".
There are pros and cons to getting a "cute" little girls dress up clothes trunk. Here are a few of each, as well as two really "cute" dress up boxes I found at Amazon.com.
(As an Amazon Associate I may earn a small commission from qualifying purchases made through links on this page, at no additional cost to you. Full Disclosure.)
Cute Dress Up Trunks: Pros
It's Cute. Pretty. Beautiful, even. (Duh, right? Of course those are pros to a little girl.)
It calls out to a child "come and see what beautiful things are inside me!!!"  Which means "Play Time"!
It fits nicely into her pink or purple bedroom decoration scheme, if that's where you're going to keep it.
If she has a favorite character theme, you can likely find a fairly inexpensive toy box with that character on it that will work nicely for a fair bit of her dress up collection.
Cute Dress Up Trunks: Cons
It has a "shelf life". Often times "cute and girly" fits just a certain age, and the piece won't be loved for a long time.  (If that's not a big con for you, if you're the type who likes to change up the décor or playroom furniture more often, no problem then!)
It's hard to find a BIG dress up trunk that's cute and girly.  (Depends what you're looking for, again, this might not be a Con.)
If you have a boy as well as a girl who share the room where the dress up trunk is, he may need his own boy-ish representation… you probably won't find him being overly excited about storing his boys dress up clothes in it!  Along those same lines, if you want to keep the room décor gender neutral, or if the room doubles as a family room where YOU relax at night, sometimes it's nice not to look at large, childishly decorated items… but maybe that's just me. 😉
Practical, Heavy-duty and Multipurpose
So you can go the "cute" direction, or you can go the "practical" direction.  Sturdy, multipurpose, heavy duty quality for some heavy duty storage.
Perhaps this is a better route for you? Maybe. Or Maybe not.  Here are some pros and cons to some more practical little girls dress up trunks, as well as two nice "practical" options.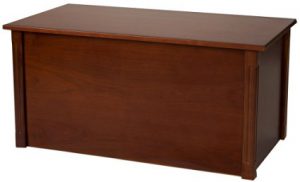 Practical Dress Up Trunks: Pros
It will last her for many years. It is something that can eventually turn into a nice piece of furniture in her room, storing things other than dress up clothes once she grows out of it. It can become a dorm room trunk… or maybe even a traditional "hope chest" (not sure if anyone still does that now, but a lovely, well-built wooden chest is always nice for storage, regardless of the reason).
It can withstand some serious play, meaning that if your little girl is a bit of a monkey (like mine), her jumping on it and standing on it to display her lovely outfits at the best angle won't make a dent in it… and you won't have to worry about her toppling it over.  Her OR her brother… or her and her friends… all standing on it at the same time. Which is what they do for some reason, isn't it??
Usually the sturdy and practical dress up trunks are big. They can fit a LOT of dress up clothes. Which is good if your child has a lot of dress up gear.
Practical Dress Up Trunks: Cons
You get what you pay for, meaning, you get a lot but you'll pay a lot. Nothing too crazy, unless you're going for hand carved cedar or something, but the good trunks aren't cheap.
It's harder to find sturdy dress up trunks that have that childish fantasy aspect in their design.
Sometimes the lids can be heavy, or the latches tricky for little ones.  (If you do go this route, be sure to find one then that has soft-close hinges, and whose maker considers small fingers in his/her design process.)
Can you find one that is both Cute AND Practical?
Yes. You CAN find some very cute but also solidly built and practical dress up trunks out there. It does take some looking around, but I do think you can be satisfied on both accounts. It all depends on what strikes your (or your little girl's) fancy, what suits the room where you'll be keeping it, how much dress up gear you have to fit in it, and your price range.
Here are a few ideas of both girly and practical trunks that caught MY eye!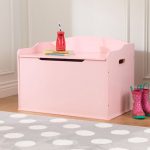 Kidkraft Toy Box – available on Amazon.com  in a variety of colours. It has a 4.7/5 star rating from nearly 10,000 reviewers.
This box has a safety hinge on the lid that keeps fingers from getting pinched, and is made of very sturdy pressed wood. It is heavy duty enough that it doubles as a bench for additional seats, or if you have "energetic" kids who climb on things, it will hold them. 😉     It's 30.6 x 18.2 x 19.6 inches, and weighs about 40lbs when empty. So it's a serious piece that will hold a fair bit, and be quite useful.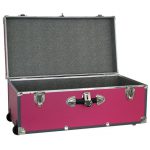 Footlocker / College Trunk   These trunks are, to me at least, a great idea. Cute and girly if you go with a pink or purple (or whichever color is your little girls' favorite these days), but also look like they could easily fit in a teen's bedroom! The style is advertised as a college trunk or footlocker, and as it can even be used as luggage, you'll be sure your little girl will get years of use out of one of these – not just a few years as a little girl's dress up box. Money well spent.
There are so many of these with slightly different dimensions and colors available – this link will take you to the one pictured here, available on Amazon.com that has great reviews and lots of information on its particular specs.
---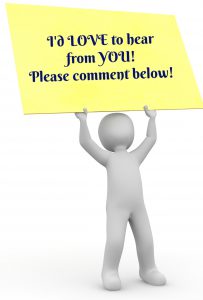 I hope you've found this helpful as you determine which type of dress up trunk to purchase! I'd be happy to answer any questions/give some suggestions or if you have any feedback, please let me know in the comments below!
Want a few more ideas? Here are some places to start!
Cheers,
Marlaine